2016 Lexus GS: What You Need to Know

US News & World Report - Cars
4/30/2018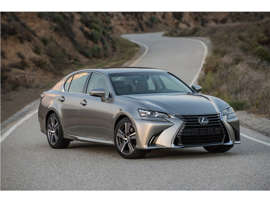 The 2016 Lexus GS has top-tier safety and predicted reliability ratings that help it place near the top of our luxury midsize car rankings.
The 2016 Lexus GS is ranked:
Is the 2016 Lexus GS a Good Used Car?
The 2016 GS is one of the best used luxury midsize cars you can buy. This rear-drive sedan has a powerful engine lineup, athletic handling, and an attractive cabin befitting the class. It also has terrific safety and predicted reliability ratings. There are a few knocks against the GS, the biggest being its cumbersome Remote Touch infotainment system controller –a mouselike touchpad that is overly sensitive to inputs and can take your attention away from the road.
Why You Can Trust Us
To help you decide if the Lexus GS is the right car for you, we've gathered and analyzed 30 professional reviews. We've also included information about the GS' fuel economy, safety, and much more to give you an idea of the GS' strengths and weaknesses.
The U.S. News Best Cars staff has more than 75 years of combined experience in the automotive industry, and we've been ranking the best vehicles since 2007. To keep our reviews free from outside influence, we don't accept expensive gifts or trips from automakers, and the ads on our site are placed and sold by a third party.
How Much Is the 2016 Lexus GS?
Based on the more than 130 listings on our site for a used 2016 GS, you can expect to pay between $30,000 and $43,500 for this vehicle. The average list price is $38,400. The GS' condition, mileage, features, and location affect the price.
How Much Does the 2016 Lexus GS Cost to Own?
Over five years of owning the 2016 Lexus GS, you can expect to spend $27,930 on fuel, insurance, maintenance, and repairs. That's nearly $5,600 per year. Rivals like the 2016 Mercedes-Benz E-Class and 2016 Audi A6 will cost more to run.
Is It Better to Buy a Used or New GS?
The starting price of a new 2018 GS is around $8,000 more than the average price of a used 2016 model. With few major differences between them, it's hard to recommend buying a 2018 GS over a used one. With a new model, however, you'll be the first owner, so you won't have to worry about the car's maintenance history. And, of course, you'll receive a new-car warranty.
Read about the new Lexus GS »
If you're interested in a new luxury midsize car that's comparably priced to a used 2016 GS, the 2018 Lexus ES should be at the top of your shopping list. While it's a bit smaller than the GS, it has many of the features and benefits of its larger sibling, including a history of excellent safety and reliability ratings. Keep in mind that you'll have to buy a base ES model to fit in your budget, so it may not be as well-equipped as a comparably priced 2016 GS. The 2018 Acura TLX has a lower predicted reliability score, but it is a comfortable sedan, and thanks to its much lower base price, you can buy a higher trim with more features for around the same price as a used 2016 GS. Several high-ranking luxury small cars could fit your budget as well, including the 2018 Kia Stinger, 2018 Alfa Romeo Giulia, and 2018 Audi A4.
How Reliable Is the 2016 Lexus GS?
The 2016 Lexus GS has a perfect predicted reliability rating of five out of five from J.D. Power. Few cars on the road achieve this recognition.
2016 Lexus GS Recalls
At the time of this writing, there are no recalls on the 2016 GS.
See more information on Lexus GS safety recalls »
Which Model Year of the Lexus GS Is Best?
The 2016 model is part of a GS generation that launched with the 2013 model year and includes the 2018 GS. The 2016 model received an exterior refresh and saw the introduction of the new base GS 200t and the performance-oriented GS F trims. If you're not interested in those two models, consider an older GS, which should be less expensive. Be aware that there are some minor feature differences between model years.
Which Used Lexus GS Model Is Right for Me?
There are three GS trims available, each with a different powertrain. The standard 200t trim should satisfy most buyers, but you'll want to find a model with the Lexus Safety System package, which adds a slew of active safety features. Models with the F Sport package include some minor performance and appearance upgrades.
The GS 200t comes with the base turbo-four engine, an eight-speed automatic transmission, and rear-wheel drive. Standard features include power-adjustable front seats, a power tilt-and-telescopic steering wheel, leather upholstery, a rearview camera, blind spot monitoring, rear cross traffic alert, a 12-speaker surround-sound audio system, Bluetooth, satellite radio, HD Radio, a USB port, and the Lexus Remote Touch interface with an 8-inch display screen.
The GS 350 adds a 311-horsepower V6 engine, a 12.3-inch Remote Touch display screen, navigation, voice controls, and smartphone app integration. The top-of-the-line GS F has a 467-horsepower V8 engine and most of the features from the available packages in lower trims.
Certified Pre-Owned Lexus GS Warranty
Lexus offers one of the best CPO programs available. For its certified pre-owned vehicles, Lexus extends its original new-car warranty to cover six years or unlimited mileage. Lexus puts its CPO vehicles through a 161-point inspection. Additional benefits like towing and roadside assistance may be available, so read the Lexus warranty page carefully. The model's original sale date determines whether it is eligible for the CPO program.
How Safe Is the GS?
The GS received great scores for the few crash tests it underwent. It received the highest rating of Good in the Insurance Institute for Highway Safety's front, side, and roof crash tests. It wasn't put through rear crashes or small overlap front crash tests by the IIHS, and it didn't undergo any testing by the National Highway Traffic Safety Administration. Because of the high costs of testing, it isn't unusual for luxury cars to undergo limited or no crash testing. 
Standard driver assistance features in the 2016 GS include a rearview camera, blind spot monitoring, and rear cross traffic alert. Adaptive cruise control, lane departure warning, lane keep assist, forward collision warning, pedestrian detection, and automatic braking are available.
2016 Lexus GS Versus the Competition
Which Is Better: 2016 Lexus GS or 2016 Audi A6?
Like the GS, the 2016 Audi A6 has a muscular engine lineup, sharp handling, and precise steering. The Audi's base 252-horsepower four-cylinder engine is more fuel-efficient than the GS', at 24 mpg in the city and 34 mpg on the highway. Inside, the A6 has ritzy materials and a tasteful design. Its largest engine is a twin-turbocharged 4.0-liter V8 that generates 450 horsepower – a bit less muscle than the GS F's V8. The A6 has more rear-seat legroom than the GS, as well as a user-friendly infotainment system. However, the Audi has a lower predicted reliability rating of three out of five. These cars are very similar, but the GS' higher predicted reliability rating makes it the better choice for many shoppers.
Which Is Better: 2016 Lexus GS or 2016 Mercedes-Benz E-Class?
If you're more interested in comfort than agility, the 2016 Mercedes-Benz E-Class is tough to beat. It has a smooth ride, a posh interior, and spacious seating in the front and back. The E-Class is no slouch in terms of performance, either; its base turbodiesel four-cylinder engine delivers ample power and brisk acceleration. With estimates of 28 mpg in the city and 40 mpg on the highway, it's also significantly more fuel-efficient than the GS. The E-Class isn't particularly sporty, but it handles corners with composure.
2016 GS Performance
How Does the 2016 Lexus GS Drive?
No matter what type of performance you want, the 2016 GS can deliver it. The standard 241-horsepower, turbocharged four-cylinder engine has more than enough muscle for common driving situations. The 311-horsepower V6 has even better acceleration, and the 467-horsepower V8 delivers a thrilling ride and is one of the more powerful engines in the class. The V8 puts out 467 pound-feet of torque and gives the GS F a top speed of 168 mph.
Regardless of the engine powering it, the GS has precise steering and an athletic ride that can quickly take corners and curvy roads while retaining the comfortable ride that Lexus cars are known for. Models with the F-Sport package have a retuned suspension for added sportiness. Rear-wheel drive is standard and all-wheel drive is available. An eight-speed automatic transmission is also standard, but the six-speed automatic comes with AWD.
Does the 2016 Lexus GS Get Good Gas Mileage?
With the base engine, the GS gets 22 mpg in the city and 32 mpg on the highway, which are solid estimates for the class. These numbers dip a bit with the V6 to an EPA-estimated 20 mpg in the city and 28 mpg on the highway. Not surprisingly, the V8 has the worst estimates: 16/24 mpg city/highway. We review the Lexus GS Hybrid separately
2016 GS Interior
How Many People Does the 2016 GS Seat?
The GS has room for five on standard leather seats. Both rows of seats are roomy enough for adults. It's easy for the driver to get into a comfortable position. Available upgrades include heated and ventilated front seats, heated rear seats, and sport seats that offer more side support.
How Many Car Seats Fit in the 2016 Lexus GS?
There are two complete sets of LATCH child-seat connectors on the rear outboard seats.
2016 Lexus GS Features
There are many standard features in the GS, including a moonroof, push-button start, a 12-speaker surround-sound stereo, a USB port, Bluetooth, satellite radio, and an infotainment system with an 8-inch display (a larger, 12.3-inch display is available). Though the infotainment system's Remote Touch controller can be cumbersome to use, basic climate and audio control buttons and knobs are smartly arranged on the center stack and easy to use. For a more seamless infotainment experience, check out the Audi A6 and Mercedes-Benz E-Class.
2016 Lexus GS Dimensions
Lexus GS Cargo Space
The GS has 18.4 cubic feet of cargo room in the trunk, which is above average for the class.
2016 GS Length and Weight
The GS is just over 16 feet long, and its curb weight ranges from 3,726 to 4,034 pounds, depending on trim.
Where Was the 2016 Lexus GS Built?
The 2016 GS was assembled in Japan.
Read the full 2016 Lexus GS reviewon U.S. News & World Report for more details, photos, specs and prices.
More from U.S. News & World Report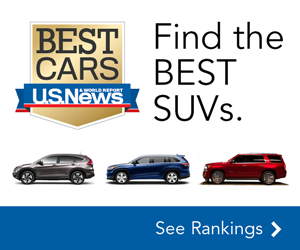 US News & World Report - Cars