The Jeep Wrangler Pickup Truck Will Debut at LA Auto Show

Car and Driver
10/31/2018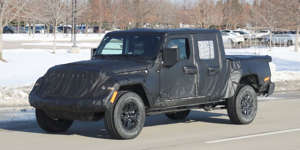 We've seen the spy shots, interpreted the rumors, and read the forum posts-and now we're finally going to see the new pickup-truck version of the Jeep Wrangler for real. This new model will make its official debut at the end of November at the 2018 Los Angeles auto show, ending years of anticipation for a rebirth of the Jeep pickup truck.
The one big piece of information that we're still missing about the new Jeep truck is its name. There's been speculation that it'll revive the Scrambler name first used on a CJ Jeep truck, but we're not so sure that will be the case, as Jeep may want to capitalize on the Wrangler's name recognition. After all, the new pickup truck will share its styling, underpinnings, and powertrains with the new JL Wrangler.
That means it'll come with either a 3.6-liter V-6 or a turbocharged 2.0-liter four-cylinder. Four-wheel drive should be standard, with the V-6 offering a manual and an automatic transmission and the four-cylinder being automatic only. There has been some talk of a diesel engine, but if there is one, it probably won't be available at launch.
Also in store will be some sort of removable roof panels like the standard Wrangler's. We've also gotten hints of a special tailgate setup that may be offered, with a few different loading and access settings. Spy photos have only shown a four-door pickup body style so far, but a two-door version may also be on the menu at some point.
After the Jeep pickup is revealed, production is expected to start sometime at the end of this year. That puts its arrival date sometime next spring, meaning it could either wear a 2019 or a 2020 model year. All of this remains to be seen, but we'll find out more about this long-awaited Jeep soon enough.
Research the latest Jeep models on MSN Autos | Research the latest trucks on MSN Autos