2017 Mazda CX-5: What You Need to Know

US News & World Report - Cars
8/6/2018
The 2017 Mazda CX-5 sits in the top half of our compact SUV class rankings. It offers athletic handling, a luxurious interior, and a spacious passenger cabin.
Is the 2017 Mazda CX-5 a Good Used SUV?
The 2017 Mazda CX-5 is a very good compact SUV. It delivers robust performance, thanks to a responsive transmission that doesn't hunt for gears. The CX-5 also has comfortable seating in the front and the back. Its above-average predicted reliability rating and outstanding safety scores add to its appeal, as does its good fuel economy.
Why You Can Trust Us
We do not base our used car rankings and reviews on our personal opinions. Instead, we collect information like safety and reliability reports, total cost of ownership estimates, and the views of the automotive press. We analyzed 20 professional evaluations for this 2017 Mazda CX-5 review to help you make an informed buying decision.
Our experienced team of writers, editors, and analysts has been ranking and reviewing the best cars, trucks, crossovers, and SUVs since 2007. We remain unbiased by refusing pricey gifts and trips from auto manufacturers and employing an independent agency to manage the advertising on our site.
How Much Is the 2017 Mazda CX-5?
Based on the nearly 500 listings for this vehicle on our site, you can expect to pay between $22,500 and $30,000 for a used 2017 Mazda CX-5. The average list price is $26,300. Prices vary depending on the vehicle's condition, mileage, features, and location.
How Much Does the 2017 Mazda CX-5 Cost to Own?
Projected five-year costs for gas, insurance, maintenance, and repairs for the 2017 CX-5 are estimated to be $23,072. That's well below average for the compact SUV segment.
Is It Better to Buy a Used or New CX-5?
The 2018 Mazda CX-5 ranges in price from $24,150 to $30,945. That range isn't far off from the 2017 CX-5's prices. There are few differences between the model years, so finding the best price for the trim and features you want will determine whether you buy new or used. Before making your final decision, be sure to look at Mazda's monthly car deals to see what types of cash back and finance options are available.
Read about the new Mazda CX-5 »
While a new CX-5 may prove to be a good choice, there are other 2018 compact SUVs you may want to consider that have lower average prices than the used 2017 CX-5. The top-ranking 2018 Honda CR-V has a starting price of $24,250, and the well-regarded 2018 Ford Escape starts at an even lower $23,940. Other compact SUVs worth a look include the 2018 Kia Sportage ($23,600) and the 2018 GMC Terrain ($24,995).
Which Model Year of the Mazda CX-5 Is Best?
Mazda completely redesigned the CX-5 for 2017. It received a new standard engine with an extra 30-plus horsepower, as well as improved handling with a stiffer suspension and less body roll. However, the 2016 CX-5 has more cargo space (64.8 cubic feet versus 59.6 cubic feet) and an available manual transmission. The latter was eliminated for 2017. You'll save money with CX-5 models from 2016 and earlier, but they will lack the extensive improvements made for 2017.
How Reliable Is the 2017 Mazda CX-5?
The 2017 Mazda CX-5 has a predicted reliability rating of 3.5 out of five, which is above average for the industry.
2017 Mazda CX-5 Recalls
As of this writing, the 2017 Mazda CX-5 is subject to one recall: the available trailer wiring harness may come into contact with the muffler and deactivate the trailer lights.
See more information on Mazda CX-5 safety recalls »
Which Used Mazda CX-5 Model Is Right for Me?
The 2017 Mazda CX-5 comes in three trims: Sport (base), Touring, and Grand Touring. A 187-horsepower engine and a six-speed automatic transmission are standard. The Sport trim is fairly basic, offering cloth upholstery, a four-speaker stereo, and manually adjusting front seats. The Touring trim with its six-way power-adjustable driver's seat, heated front seats, dual-zone automatic climate control, and six-speaker sound system is the best choice among the three. The Grand Touring trim adds adaptive headlights, leather upholstery, and an eight-way power-adjustable driver's seat, which does little to justify what is likely to be a higher price.
Certified Pre-Owned Mazda CX-5 Warranty
Though the CX-5 has a good predicted reliability score, you may still want to consider a certified pre-owned model. For each CPO vehicle, Mazda extends the original limited powertrain warranty to seven years or 100,000 miles and provides a one-year/12,000-mile limited vehicle warranty. To qualify as CPO, each vehicle must pass a 160-point inspection. Additional benefits like towing and roadside assistance may be available, so read the Mazda warranty page carefully.
According to our research, Mazda offers a solid CPO program. However, you will get more robust programs with Chevrolet, Honda, and Toyota, among others.
How Safe Is the CX-5?
The Insurance Institute for Highway Safety awarded the CX-5 the top rating of Good in all crash tests and named it a 2017 Top Safety Pick+. The IIHS also gave the CX-5 a top rating for its available front crash prevention technology. The National Highway Traffic Safety Administration gave the CX-5 an overall rating of four out of five stars. It scored five stars in the front and side crash tests, and four stars in the rollover test.
The CX-5 comes standard with a rearview camera and low-speed automatic braking, dubbed Smart City Brake Support. Blind spot monitoring and rear cross traffic alert are standard in the CX-5's higher trims. Other available safety features include lane departure warning, lane keep assist, adaptive headlights, automatic high beams, adaptive cruise control, forward collision warning, and high-speed automatic braking.
2017 Mazda CX-5 Versus the Competition
Which Is Better: 2017 Mazda CX-5 or 2017 Honda CR-V?
The 2017 Honda CR-V can't compete with the CX-5's agile handling – but then again, no vehicle in the compact SUV class can. However, the CR-V is the better vehicle in almost every other way. We named it our 2017 Best Compact SUV for the Money for its value and quality, as well as our 2017 Best Compact SUV for Families for its combination of space, family-friendly features, and positive automotive reviews. We also named it a 2017 Best New Car for Teens.
Which Is Better: 2017 Mazda CX-5 or 2017 Kia Sportage?
The 2017 Kia Sportage is another compact SUV with an upscale interior that mimics a luxury-class vehicle. Both the CX-5 and the Sportage have a comfortable ride, but the Mazda's handling is much more engaging. The CX-5 is the better choice for those who enjoy an engaging drive.
Which Is Better: 2017 Mazda CX-5 or 2017 Mazda CX-3?
The 2017 Mazda CX-3 is a subcompact SUV. Both it and the CX-5 have athletic handling and quality interiors. However, if you need to haul cargo and people, the CX-5 is the better choice. It has more cargo space (59.6 cubic feet versus 44.5 cubic feet) and better second-row legroom.
2017 CX-5 Performance
How Does the 2017 Mazda CX-5 Drive?
Handling is the Mazda CX-5's strength; it delivers precise steering through curves. However, that handling comes at the expense of ride comfort. The CX-5's suspension is a bit stiff, meaning you'll feel bumps in the road.
The redesigned 2017 CX-5 comes standard with front-wheel drive and a 187-horsepower four-cylinder engine with a six-speed automatic transmission. All-wheel drive is available. While some rivals have more powerful turbocharged engines, the CX-5 delivers enough oomph for most driving situations.
Does the 2017 Mazda CX-5 Get Good Gas Mileage?
The CX-5 has EPA-estimated fuel economy ratings of 24 mpg in the city and 31 mpg on the highway. Models with all-wheel drive get 23/29 mpg city/highway. Those ratings are above average for the compact SUV segment.
2017 Mazda CX-5 Towing Capacity
The CX-5 has a towing capacity of 2,000 pounds.
2017 CX-5 Interior
How Many People Does the 2017 CX-5 Seat?
There's room for five on standard cloth seats in the CX-5. Manually adjusting seats come standard, while power-adjusting seats for the driver and passenger are available. Also available are leather upholstery and heated front and rear seats.
How Many Car Seats Fit in the 2017 Mazda CX-5?
The CX-5 has complete sets of LATCH child-seat connectors on the outboard rear seats and an upper tether anchor on the middle seat. The Insurance Institute for Highway Safety rated the system as Acceptable – the second-highest score – for ease of use. The organization noted that the anchors are buried too deep in the seats.
2017 Mazda CX-5 Features
Standard features inside the CX-5 include a four-speaker sound system, two USB ports, Bluetooth, HD Radio, push-button start, a 7-inch touch-screen infotainment system, and voice-command activation. Some might find the infotainment system frustrating to use because the touch function locks when the CX-5 is moving. Instead, you have to use the control knob while driving, which can be tough to master.
Available features include dual-zone automatic climate control, a six-speaker audio system, a 10-speaker Bose audio system, satellite radio, four USB ports, a universal garage door opener, rain-sensing windshield wipers, and navigation.
2017 Mazda CX-5 Dimensions
Mazda CX-5 Cargo Space
There is 30.9 cubic feet of cargo space in the 2017 CX-5 when the second-row seats are up. That number grows to 59.6 cubic feet when the seats are folded down.
2017 CX-5 Length and Weight
The 2017 Mazda CX-5 is 14.9 feet long. The CX-5's curb weight ranges from 3,527 to 3,655 pounds. The CX-5's gross vehicle weight rating ranges from 4,515 to 4,643 pounds.
Where Was the 2017 Mazda CX-5 Built?
The 2017 Mazda CX-5 was built in Japan.
Read the full 2017 Mazda CX-5 review on U.S. News & World Report for more details, photos, specs and prices.
More from U.S. News & World Report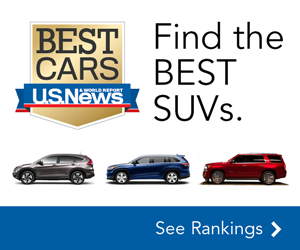 US News & World Report - Cars