2015 Acura RDX: What You Need to Know

U.S. News & World Report - Cars
7/17/2017
The 2015 Acura RDX offers a comfortable ride and a luxurious interior. However, it ranks in the middle of the pack because its predicted reliability rating – while good for the industry as a whole – can't match other luxury compact SUV's scores. 
The 2015 Acura RDX is ranked:
Is the 2015 Acura RDX a Good Used SUV?
The 2015 Acura RDX is a well-rounded luxury compact SUV, providing a fairly agile and comfortable ride, an upscale interior, lots of space, and an impressive safety score. However, buyers looking for a luxury SUV with advanced driver assistance features may want to shop around, as the RDX is one of the few that offers only an available rearview camera.
Used 2015 Acura RDX Performance and Interior
Powering the Acura RDX is a 273-horsepower V6 engine mated to a six-speed automatic transmission. The RDX's powertrain is smooth and responsive, offering quick highway acceleration. The EPA estimates that the RDX achieves 20 mpg in the city and 28 mpg on the highway, which is respectable for a V6-powered crossover. Its zippy handling around corners makes it a fairly fun-to-drive SUV, though it isn't quite as agile as some competitors. It's also comfortable over rough roads.
The 2015 Acura RDX seats five in two rows. The cabin features top-notch materials, including standard leather upholstery, which is unusual for the class. Its front seats are spacious and comfortable, and the back seats are some of the roomiest in the class. Cargo space is also good for the segment, with a maximum capacity of 61.3 cubic feet.
Standard features include push-button start, dual-zone automatic climate control, Bluetooth, and a USB port. A surround-view 10-speaker ELA stereo and a navigation system with real-time traffic and weather updates are available in models with the Technology package. The RDX's tech features – including its radio, climate features, and navigation – are easy to use. However, most rivals are available with more driver assistance features than the RDX.
Used 2015 Acura RDX Prices
A used 2015 Acura RDX has an average cost of about $24,700 for the base trim. With all-wheel drive and the available Technology package, the cost rises to about $27,800. However, exact pricing depends on the vehicle's condition, mileage, equipment, and location.
We Did the Research for You: 36 Reviews Analyzed
Our used car rankings and reviews are based on our analysis of an array of other professional reviews, as well as data like crash test ratings, reliability scores, and ownership costs. We researched and analyzed 36 reviews on the Acura RDX to give you an assessment of its pros and cons.
Why You Can Trust Us
The U.S. News Best Cars staff has been ranking cars for a decade, and our team has more than 75 years of combined automotive industry experience. To ensure our reviews are neutral, we don't take expensive gifts or trips from automakers, and the advertising on our site is managed by another team.
How Reliable Is the 2015 Acura RDX?
The 2015 RDX has a predicted reliability rating of 3.5 out of five from J.D. Power and Associates, which is an above-average score for the industry. However, a number of the RDX's class rivals are projected to be much more reliable. 
How Safe Is the RDX?
The 2015 RDX received a rating of Good – the highest score possible – in all four Insurance Institute for Highway Safety (IIHS) crash tests. It earned a perfect five-star overall crash test rating from the National Highway Traffic Safety Administration (NHTSA). While the RDX earns a great safety score for the class, so do most of its rivals.
The RDX is available with a rearview camera, but it lacks the advanced safety features offered by many competitors. Most rivals are available with features like lane departure warning, blind spot monitoring, pre-collision braking, and more.
Should I Consider Another Used RDX?
The 2015 RDX is a part of the SUV's second generation, which began with the 2013 model year and includes the 2017 RDX. You may want to consider purchasing a 2013 or 2014 RDX, as they are nearly identical to the 2015 model and may cost less. 
Which Used Acura RDX Is Right for Me?
The RDX has just one trim, so you won't have to spend much time comparing models. The base RDX comes standard with leather upholstery, power-adjustable and heated front seats, a power moonroof, dual-zone climate control, an infotainment display screen, a seven-speaker stereo, satellite radio, Bluetooth connectivity, and push-button start.
Some RDX models may come with a Technology package, which adds navigation, real-time traffic and weather alerts, a rearview camera, and an upgraded 10-speaker ELS stereo.
For greater assurance when shopping for a used car, consider a certified pre-owned model. With Acura's CPO program, there is a one-year/12,000-mile limited warranty, and the original new-car powertrain warranty is extended to seven years or 100,000 miles. Acura CPO models must pass a 182-point inspection. Additional benefits may be available, so read Acura's warranty page carefully.
2015 Acura RDX and Other SUVs to Consider
Which Is Better: 2015 Acura RDX or 2015 Volvo XC60?
Few SUVs offer as many advanced safety features as the Volvo XC60. It comes standard with pre-collision braking (City Safety) and is available with several other driver assistance systems, including lane departure warning and adaptive cruise control. Its base engine is also more fuel-efficient than the RDX's. We named the XC60 the 2015 Best Luxury Compact SUV for Families.
Which Is Better: 2015 Acura RDX or 2015 BMW X3?
If you prefer performance to refinement, the BMW X3 is the more exciting SUV. It offers three engines, including a fuel-efficient base diesel engine. The X3 has some of the sharpest driving dynamics in the class, with its quick steering and nimble handling through turns. Still, its ride is on the firm side. The X3 also has a spacious interior and cargo area.   
Which Is Better: 2015 Acura RDX or 2015 Acura MDX?
If you need more than five seats, go with the Acura MDX; it has three rows and seven seats. It has more cargo space than the RDX as well, but it is otherwise very similar. It comes with more standard features, including a rearview camera and an 8-inch touch screen. It also offers many more available features than the RDX, including forward collision warning, pre-collision braking, and remote start.
Read the full 2015 Acura RDX reviewon U.S. News & World Report for more details, photos, specs and prices.
More from U.S. News & World Report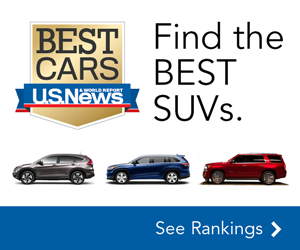 U.S. News & World Report - Cars