2015 Nissan Versa: What You Need to Know

U.S. News & World Report - Cars
7/27/2017
Available as either a sedan or hatchback, the 2015 Nissan Versa is a roomy little car that's good on gas. However, it trails the competition due to a shortage of standard features, a cheaply made interior, and unsupportive seats.
The 2015 Nissan Versa is ranked:
Is the 2015 Nissan Versa a Good Used Car?
With so many other good subcompact cars on the market, you can do better than the Versa. While it has some appeal, others in the class offer more utility, nicer cabins, and better performance.
Used 2015 Nissan Versa Performance and Interior
The Versa's four-cylinder engine has adequate power, but it gets noisy when you're trying to climb hills or pass on the highway. A five-speed manual gearbox comes standard. Two automatic transmissions are available: a four-speed in the base model and a continuously variable automatic transmission (CVT) in all others. Fuel economy is excellent for the class, especially with the CVT-equipped models. Expect 26-31 mpg city and 35-39 mpg highway. The Versa has a comfortable ride and predictable steering. However, much like many other economy cars, it has dull handling.
The five-seat Versa's interior is teeming with hard plastic. There's plenty of room in the front and rear seats, but the seats become uncomfortable on long drives. For some, it may be difficult to find the optimal driving position, given the lack of a height-adjustable driver's seat and telescoping steering wheel. There are two complete sets of LATCH car-seat connectors on the outboard seats and a tether-only connection on the middle seat. At 14.9 cubic feet in the sedan, trunk space is good for the class. The Versa Note – the hatchback model – handles up to 38.3 cubic feet of cargo, and its Divide-N-Hide cargo system provides a place to hide your valuables.
The Versa's instruments and controls are legible and functional. Standard features include Bluetooth, an auxiliary audio input, and two front speakers. You may expect some of the Versa's available features to be standard as well, such as cruise control, rear speakers, and power door locks and windows. The SL trim offers the best assortment of features, like the NissanConnect infotainment system with a 5- or 5.8-inch screen, hands-free text messaging, and available navigation.
Used 2015 Nissan Versa Prices
Prices range from about $6,800 for a used base model Nissan Versa S sedan to around $12,574 for an SL sedan. Prices change with demand and depend on the vehicle's condition, mileage, and location.
Rather than basing this overview on our personal opinions, we analyzed 65 professional reviews to give you a snapshot of the Versa's strengths and weaknesses.
The U.S. News Best Cars team has over 75 years of experience in the automotive industry. We've been ranking cars, trucks, and SUVs for a decade. To remain objective, we don't accept expensive gifts or trips from car companies, and an outside team handles our advertising.
How Reliable Is the 2015 Nissan Versa?
According to J.D. Power and Associates, the 2015 Nissan Versa has a predicted reliability rating of three out of five. This is a typical rating for a subcompact car.
How Safe Is the Versa?
The 2015 Versa earns an overall rating of four out of five stars from the National Highway Traffic Safety Administration, which is an average score for the class. A rearview camera and a 360-degree parking camera are available. Like many other economy cars, the Versa doesn't offer driver assistance features.
Should I Consider Another Used Versa?
The 2015 model is part of the Versa's second generation, which debuted for 2012 and includes the 2017 Nissan Versa. For 2015, the Versa received standard Bluetooth as well as an interior and exterior style refresh. Although a four-speaker audio system became standard for 2016, you're better off getting a 2015 Versa in a higher trim.
Which Used Nissan Versa Is Right for Me?
The 2015 Nissan Versa sedan comes in four trim levels: S, SV, S Plus, and SL. The Versa Note hatchback has a fifth trim, the SR, which sits between the SV and SL models. While the fuel-efficient CVT is available in the Nissan Versa S Plus, we'd recommend going for the SV trim. It has many of the features that most shoppers expect to be standard, like power windows and door locks, cruise control, and a USB port.  
You may be able to find great deals on certified pre-owned vehicles, which could give you less headache down the road. For its CPO vehicles, Nissan extends the original new-car warranty to seven years or 100,000 miles. To become certified pre-owned, each vehicle must pass a 167-point inspection. Additional benefits like towing and roadside assistance may be available, so read the Nissan warranty page carefully.
2015 Nissan Versa and Other Cars to Consider
Which Is Better: 2015 Nissan Versa or 2015 Nissan Sentra?
Like its smaller stablemate, the Nissan Sentra has excellent fuel economy and good cargo space. However, both Nissans also have meager engine power and seats that lack support for long drives. The Sentra's ride gets jittery over broken pavement, and body roll is evident through turns. However, on the inside, the Sentra outshines the smaller Versa with upscale materials and roomier seats. The Sentra also has more standard features, such as Bluetooth and a four-speaker audio system. Its available infotainment system is easy to use. Even though the Sentra is a compact car, it has about the same amount of cargo space as the subcompact Versa sedan. However, the Versa Note has the most cargo space of the three.
Which Is Better: 2015 Nissan Versa or 2015 Toyota Yaris?
The Toyota Yaris has a stellar predicted reliability rating, a well-made interior, and similar cargo and seating dimensions to the Versa. The Yaris' outdated and unrefined transmissions fail to make the most of the engine's decent power. Like the Versa, the Yaris isn't particularly fun to drive, even with its available sport suspension. If a smooth ride is a priority, you'll appreciate the Versa's calmer suspension. However, if features are driving your buying decision, consider the Yaris instead. Unlike the Versa, it comes standard with a 6.1-inch touch-screen infotainment system, a six-speaker audio system, HD Radio, a USB port, and voice recognition.
Which Is Better: 2015 Nissan Versa or 2015 Honda Fit?
The Honda Fit is one of the best values in the subcompact car class. Its unique seating configurations make it more versatile, allowing it to carry cargo of all shapes and sizes. The Fit boasts superior fuel economy, upscale cabin materials for the class, an additional 14.4 cubic feet of cargo space, and stellar safety and reliability scores. The Fit comes standard with features the Versa doesn't, like an infotainment system, a rearview camera, and cruise control. The Fit also has agile handling, a comfortable ride, and quicker acceleration than most subcompacts.
Read the full 2015 Nissan Versa reviewon U.S. News & World Report for more details, photos, specs and prices.
More from U.S. News & World Report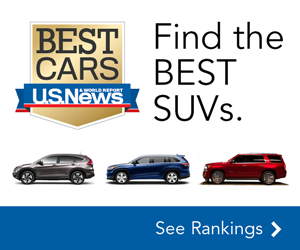 U.S. News & World Report - Cars