2017 Audi R8: What You Need to Know

U.S. News & World Report - Cars
6/20/2017
After a year hiatus, the Audi R8 returns for 2017 fully redesigned. The brief pause has paid off in spades. The R8 skyrockets in our rankings thanks to handling improvements, an impressive V10 engine, and a refined, high-tech cabin. 
The 2017 Audi R8 is ranked:
Is the Audi R8 a Good Car?
There's a reason the Audi R8 is called a supercar, and not just because of its price or midengine configuration. Its powertrain includes a phenomenally powerful V10 engine that can accelerate the R8 to 60 mph in as little as 3.2 seconds. Drivers choose whether they want to let the dual-clutch seven-speed automatic transmission find the right gears – which it does blisteringly fast – or shift themselves with the steering wheel-mounted paddles. But the Chemical X of the R8 is its handling: it's aggressive enough to put in serious hot laps on a race track, but amicable enough that you don't feel like you need a special permit to operate one on the street. The interior complements the exotic outer styling, with upscale materials and a striking 12.3-inch "virtual cockpit" display.
Should I Buy the Audi R8?
Driving a supercar can be daunting, and not just because you're nervous about its $170,000 price tag. Shifting, steering, braking, and suspension are often harsh – more like a race car than a street car – and if you aren't accustomed to it, the overall experience can feel more like work than play. If you want the illustriousness of owning a supercar but don't want to be muscling with a formidable two-door, you want an Audi R8. Its handling (including the steering) feels much more approachable, and its inviting cabin is a pleasant place to spend the day.
We Did the Research for You: 10 Pieces of Data Analyzed
Combing through countless car reviews online can leave you whirling. We are here to help and have gathered everything you need in our comprehensive Audi R8 review. Side-by-side comparisons, performance specs, information on different trims, details on the interior, and more can all be found in our comprehensive review. We've collected and analyzed 10 pieces of data on the R8 to give you everything you need to know in one location.
The Audi R8 was originally launched for the 2008 model year and is fully redesigned for 2017.
Why You Can Trust Us
Buying a luxury sports car is a big decision and you need a resource you can trust. At U.S. News & World Report, our automotive team has been ranking and reviewing cars for nearly a decade, drawing from a combined 75 years of experience. Plus, we don't accept expensive gifts or trips from car companies, and all advertising on our site is handled by a third party, so you can rest assured that our reviews are unbiased and accurate.
How Much Does the Audi R8 Cost?
For its initial release of the redesigned 2017 R8, Audi is offering two trims, both in coupe form only (the convertible R8 Spyder will be available later this year). The R8 V10, now the base model, has a starting price of $162,900. It's the more comfort-focused of the two (as much as that is imaginable in a midengine supercar) with added interior amenities and tuning that imparts a slightly more laid-back demeanor. The V10 Plus is more aggressive, with robust shift points and racing-style front seats, in addition to more power. It costs $189,900. The R8 is one of the most expensive models in our luxury sports car rankings, though rivals like the Porsche 911 and Mercedes-Benz SL offer top-line trims with $200,000-plus price tags.
Check out our U.S. News Best Price Program for great savings at your local Audi dealer. You can also find excellent manufacturer incentives on our Audi deals page.
Audi R8 Versus the Competition
Which Is Better: Audi R8 or Nissan GT-R?
In the spectrum of luxury sports cars, the Nissan GT-R is one of the pricier entries, with the base model ringing up at almost $110,000. Godzilla (the GT-R's nickname) gets a makeover of its own for 2017, boasting better handling and a more powerful turbocharged V6 engine. Even with these improvements, though, the GT-R can't quite match the proficient performance chops of the R8. Inside, the GT-R's cabin also falls short in a comparison. While the GT-R is certainly an impressive sports car, it's not on the same level as the supercar R8.
Which Is Better: Audi R8 or Porsche 911?
Audi often edges Porsche by offering a comparable amount of German styling and performance at a lower starting price. That flips when you compare the Audi R8 alongside the Porsche 911, which can you save as much as $73,000 with its lower starting price. The 911 has room for four people in a pinch (though the rear seats are miniscule), has a shorter wheelbase that makes city streets and parking lots more manageable, and tends to be more reliable, all of which make the 911 easier to live with on a regular basis. Its diverse lineup (more than 20 trims are available) gives you the freedom to pick from an $89,400 911 Carrera to a $200,400 911 Turbo S Cabriolet, or anywhere in between. Though the 911 is one of the most renowned luxury sports cars, it is still not a supercar. If joining the exclusive club of supercar ownership is what you're after, you want to stay with the R8.
R8 Interior
How Many People Does the R8 Seat?
The Audi R8 has room for the driver and one passenger; there is no rear seat. The heated, 18-way power-adjustable seats (standard in the V10, optional in the V10 Plus) are comfortable and come upholstered in Nappa leather. The R8 has enough space for even tall adults, but outward visibility is somewhat constricted, and getting in and out of the car can be tricky for some. The V10 Plus model comes standard with shell-type seats that have a fixed backrest angle, though they provide supreme support.
R8 Interior Quality
Engineers have scrapped most of the previous R8's cabin, replacing it with one that is driver-focused, upscale, and fitting for an exotic car. Materials are high quality and include Nappa leather upholstery, an Alcantara (faux suede) headliner, anthracite inlays, and stainless steel pedals.
R8 Cargo Space
Cargo space typically isn't high on a supercar's priority list, but you still need a certain amount of usability from your car, especially if you want to use it for more than just daytime outings. In the R8, cargo can go in two places: behind the seats, or in the front trunk (since this is a midengine car, there's no rear trunk). Overall, that's 8 cubic feet of space, which is about enough for a couple of small suitcases.
R8 Infotainment, Bluetooth, and Navigation
Instead of placing the infotainment screen in the center stack – where it's located in most cars, as well as in the 2015 R8 – the new R8 features a 12.3-inch display screen directly in front of the driver. Dubbed the virtual cockpit, this screen combines the driver's gauges with infotainment details like maps and music. The new layout keeps the center stack sleek and button-free (though the passenger now has a hard time seeing the screen). The interface is controlled with buttons on the steering wheel or by using a touch knob, located in between the seats, that includes handwriting-recognition technology. Other standard features include navigation, a 13-speaker Bang & Olufsen sound system, HD Radio, satellite radio, two USB ports, and Bluetooth.
R8 Performance
R8 Engine: Outrageously Powerful, but Civilized
The 2017 Audi R8 comes only with a 5.2-liter V10 engine and a seven-speed automatic transmission, but there's a significant difference between the powertrain of the base model and that in the V10 Plus trim. The first has a 540-horsepower setup. The 610-horsepower output of the V10 Plus delivers frighteningly fast acceleration times (cutting the base model's zero-to-60-mph sprint time of 3.5 seconds down to only 3.2 seconds) and has noticeably different gearing in the transmission. Top speed is 199 mph in the V10 and 205 in the V10 Plus. What's especially impressive is that Audi achieves these scorching numbers without the aid of a turbocharger or supercharger, as both trims are naturally aspirated. There's no option for a manual transmission, but the automatic transmission employs a dual-clutch setup for lightning-fast shifts that feel on-point every time.
R8 Gas Mileage: Gas Guzzler
The R8's excessive power comes at a price, as this car gets one of the lowest fuel ratings in the class. Under normal city driving, you'll get 14 mpg. This increases to 22 mpg on the highway if you're gingerly with the gas pedal. In comparison, the turbocharged Porsche 911 Turbo S gets 19 mpg in the city and 24 on the highway (albeit with a smaller 3.8-liter six-cylinder engine).
R8 Ride and Handling: Poised At Any Speed
The R8's handling is one of its standout qualities not just because this is a genuine race track-worthy car – capable of taking high-speed turns while remaining balanced and composed – but mostly because it's so agreeable to drive every day. In other words, you won't feel like you need special lessons just to get behind the wheel of an R8 and take it for a Sunday drive. Steering is accurate, braking is incredibly strong, and standard all-wheel drive boosts your grip the entire time.
R8 Dimensions and Weight
The Audi R8 has a 104.3-inch wheelbase and stretches 174.3 inches, which is about 14.5 feet. Both trims are 48.8 inches high and 80.2 inches wide (76.4 inches if you don't include the mirrors). Curb weight on the V10 is 3,737 pounds, while the V10 Plus weighs in at 3,627.
R8 Reliability
Is the Audi R8 Reliable?
J.D. Power and Associates has not yet rated the predicted reliability of the 2017 Audi R8.
Audi R8 Warranty
The 2017 Audi R8 comes with a four-year/50,000-mile limited warranty.
R8 Safety
R8 Crash Test Results
The Audi R8 has not undergone any crash tests from either the Insurance Institute for Highway Safety or the National Highway Traffic Safety Administration, which is typical for luxury sports cars.
R8 Safety Features
The Audi R8 comes standard with automatic high beams, rain-sensing windshield wipers, a rearview camera, and front and rear parking sensors. No additional driver assistance features are available, unlike others in the class. For example, available safety features for the Mercedes-AMG SL63 include adaptive cruise control, blind spot monitoring, and lane keep assist.
Which Audi R8 Model Is Right for Me?
The Audi R8 is a midengine supercar with room for two people and little else. For 2017, the new generation launches as two different trims: the V10 and the V10 Plus, both in coupe configurations. Picking the right Audi R8 comes down to how much power you need (or want), and how much money you are willing to spend. The V10 is more for street driving and has a $162,900 starting price. The V10 Plus is more powerful and is slimmed down, losing some interior amenities. This is ideal if you are serious about running your R8 on a race track. Likewise, the V10 Plus' $189,900 price tag is not for everyone.
For most, the R8 V10 is the ideal balance between power and price, with added amenities that create a more luxurious cabin. Standout indulgences include 18-way power-adjustable seats and a Bang & Olufsen sound system that comes with 12 active speakers and a subwoofer.
Audi R8 V10
The R8 V10 comes with a 540-horsepower 5.2-liter V10 engine mated to a seven-speed automatic transmission. Standard interior features include automatic climate control; Nappa leather seats; 18-way power-adjustable, heated sport seats; a 12.3-inch digital driver's display screen; a Wi-Fi hot spot; a proximity key; push button start; automatic high beams; rain-sensing windshield wipers; a rearview camera; and front and rear parking sensors. The infotainment system features Audi's MMI interface, navigation, a 13-speaker Bang & Olufsen sound system, HD Radio, satellite radio, two USB ports, and Bluetooth. The 2017 R8 V10 starts at $162,900.
Audi R8 V10 Plus
A 5.2-liter V10 engine with a seven-speed automatic transmission also powers the R8 V10 Plus, but output intensifies to 610 horsepower. This trim doesn't build on the base V10 by adding extra luxury features but focuses more on extreme performance as a supercar. Authenticating this are racing shell seats (in place of the 18-way adjustable sport seats) and a five-speaker Audi sound system. Not every comfort feature was deleted, however. Heated front seats upholstered in Nappa leather, automatic climate control, and most other infotainment and driver assistance features remain part of the V10 Plus' features list. The R8 V10 Plus has a starting price of $189,900.
Check out our U.S. News Best Price Program for great savings at your local Audi dealer. You can also find excellent manufacturer incentives on our Audi deals page.
The Final Call
The Audi R8 is fast, fun, and certain to turn heads anywhere you go. For a 540-horespower midengine supercar, it's remarkably easy to drive, thanks in part to a smooth-shifting automatic transmission. Don't confuse this approachability with dullness; the R8 is as at home on a race track as it is on the open road. A refined, high-tech interior and comfortable seats round out the R8 as an outstanding sports car.
Don't just take our word for it. Check out comments from some of the reviews that drive our rankings and analysis.
Read the full 2017 Audi R8 reviewon U.S. News & World Report for more details, photos, specs and prices.
More from U.S. News & World Report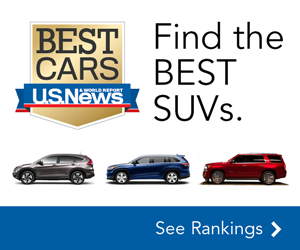 U.S. News & World Report - Cars