2017 BMW 3-Series: What You Need to Know

US News & World Report - Cars
9/27/2018
The 2017 BMW 3 Series' splendid driving dynamics and spacious interior help earn it a spot in the top third of our luxury small car rankings. However, its weak base engine and lack of standard safety features hold it back.
Is the 2017 BMW 3 Series a Good Used Car?
Yes, the 3 Series is a great used luxury small car. Sporting a fantastic mix of performance and luxury, the 3 Series has lithe handling, a comfortable ride, and several potent available engines. Its roomy cabin features quality materials and supportive seats. Plus, the BMW comes with one of the most intuitive infotainment systems out there. Still, this Bimmer has a high average list price, an underpowered base engine, and no standard advanced safety technology.
Why You Can Trust Us
To give you a complete overview of the 2017 3 Series – and make your car-shopping experience easier – we analyzed 47 BMW 3 Series reviews alongside reliability ratings, safety scores, and more.
U.S. News Best Cars has been ranking and reviewing vehicles since 2007, and our crew has more than 75 years of combined experience in the auto industry. To ensure our objectivity, we do not accept expensive gifts from carmakers, and an external company manages the ads on our site.
How Much Is the 2017 BMW 3 Series?
Based on nearly 130 listings on our site for the 2017 BMW 3 Series, prices range from about $27,300 to $43,900. The average list price is roughly $34,400, which is above average compared to class rivals. The price you pay depends on the vehicle's condition, mileage, features, and location.
How Much Does the 2017 BMW 3 Series Cost to Own?
The 2017 BMW 3 Series' estimated five-year ownership costs are about $29,260, or roughly $5,850 per year. That's slightly above average for the class.
Is It Better to Buy a Used or New 3 Series?
There are few reasons to choose a new 2018 BMW 3 Series over a 2017 model. There were no changes for 2018 other than a rearview camera becoming standard. You're better off skipping the new model and saving money with a very similar 2017 model.
Read about the new BMW 3 Series »
You may want to consider several new luxury small cars that retail for around the same price as the 2017 3 Series. These include the 2018 BMW 2 Series and 2018 Kia Stinger. Like the 3 Series, both models are fun to drive and have a good balance of comfort and agility. They also have stronger base engines than the 3 Series.
The 2017 BMW 3 Series is part of a generation that debuted for the 2012 model year. The 2013 3 Series gained a new 320i trim and available all-wheel drive (also known as xDrive) in sedan models. The 2014 3 Series added the redesigned Sports Wagon to the lineup, made the four-cylinder diesel engine available in sedan and wagon models, and added a new four-door Gran Turismo hatchback. This was also the year that the 3 Series coupe and convertible models were spun off as the 2014 BMW 4 Series. BMW added a fully redesigned M3 model for 2015. The 2016 3 Series received mild interior and exterior styling updates. Also, the 335i and the ActiveHybrid3 trim replaced the 340i trim and 330e Plug-in Hybrid. For 2017, wireless charging and Apple CarPlay became optional, and the 328i trim was replaced with the 330i trim.
With so many changes over the years, there's a lot to consider. If you're interested in Sports Wagon and Gran Turismo hatchback models, consider 2014 models or later. Performance-minded shoppers will want to focus on redesigned M3 models from 2015 and later. These models are lighter and have more horsepower than previous M3 models. Opt for either the 2012 or 2013 model if you want a coupe or convertible 3 Series. Techies will most likely prefer a 2017 model, which has available Apple CarPlay and wireless device charging.
How Reliable Is the 2017 BMW 3 Series?
J.D. Power gives the 2017 BMW 3 Series a predicted reliability rating of three out of five, which is slightly below average for the class but average for the industry.
2017 BMW 3 Series Recalls
At the time of this writing, there are no safety recalls on the 2017 BMW 3 Series.
See more information on BMW 3 Series safety recalls »
Which Used 3 Series Model Is Right for Me?
The 2017 BMW 3 Series comes in three body styles, including the sedan, Sports Wagon, and the coupe-like Gran Turismo. Sedan models come in five trims: 320i, 330i, 328d, 330e, and 340i. Sports Wagon models come in 330i and 328d trims. Gran Turismo models come in 330i and 340i trims.
The base 320i sedan has a fairly weak base engine, so we recommend opting for the 330i sedan, which comes with a stronger turbocharged 2.0-liter engine. Aside from the extra horsepower, the 330 has the same standard features as the 320i, including leatherette upholstery, dual-zone automatic climate control, a push-button ignition, rain-sensing windshield wipers, an iDrive infotainment system with a 6.5-inch display screen, a nine-speaker audio system, HD Radio, Bluetooth, and a USB port. It also adds power-adjustable front seats.
The 330i also comes as either a Sports Wagon or Gran Turismo model. The performance-oriented M3 has a potent 3.0-liter twin-turbocharged six-cylinder engine, upgraded styling, a sports-tuned suspension, and performance tires.
Certified Pre-Owned BMW 3 Series Warranty
Some shoppers may feel more secure in their purchase decision by opting for a certified-preowned vehicle. The BMW CPO program is slightly below average among luxury brands. It's available on vehicles with less than 60,000 miles on the odometer. The program covers buyers for one year with unlimited mileage after the expiration of the four-year/50,000-mile new-vehicle limited warranty for passenger cars and SUVs for a maximum of five years of coverage. Each BMW undergoes an inspection before earning CPO status. Additional benefits like towing and roadside assistance may be available. Restrictions apply on transferring certified-pre-owned coverage to subsequent owners. Read the BMW warranty page carefully.
How Safe Is the 3 Series?
The Insurance Institute for Highway Safety named the BMW 3 Series a 2017 Top Safety Pick+, the agency's most prestigious honor, also giving it the highest rating of Good in five crash safety tests. The National Highway Traffic Safety Administration gave the 3 Series a five-star overall rating, with four out of five stars in frontal crash tests and five stars in side and rollover crash tests.
Unfortunately, the 3 Series doesn't come with any standard advanced safety features. However, it offered a vast array of available safety features when it was new, including a rearview camera, front and rear parking sensors, blind spot monitoring, automatic high beams, a head-up display, a surround-view parking camera, lane departure warning, forward collision warning, pedestrian detection, city collision mitigation, and active driving assistant.
2017 BMW 3 Series Versus the Competition
Which Is Better: 2017 BMW 3 Series or 2017 Mercedes-Benz C-Class?
The strength of the 2017 Mercedes-Benz C-Class lies in its luxuriousness. Its roomy interior has premium materials and plush seats, along with a generous list of standard features, including a substantial amount of safety tech. The C-Class isn't as athletic as the 3 Series, but it comes with a stronger base engine, a smoother ride, and a powerful group of available engines. Nonetheless, the 3 Series is a more well-rounded option on account of its slightly higher predicted reliability rating, lower ownership costs, and easier-to-use infotainment system.
Which Is Better: BMW 3 Series or 2017 Audi A4?
The 2017 Audi A4 sits near the top of the class thanks to its engaging driving dynamics and lavish cabin. While not as driver focused as the 3 Series, the A4 delivers a comfortable yet sporty ride and one of the most refined cabins in the class, with standard leather upholstery that costs extra in the BMW and many other class rivals. You'll also spend less money on the A4. For many buyers, the Audi makes more sense.
2017 3 Series Performance
How Does the 2017 BMW 3 Series Drive?
With sharp handling and a composed ride, the 3 Series is a joy to drive yet comfortable enough for your daily commute. A 180-horsepower turbocharged four-cylinder engine powers the base 2017 BMW 3 Series sedan. Although it's not the most powerful base engine in the class, there are a lot of more potent engines available in the 3 Series lineup.
The 330i models come standard with a strong 248-horsepower, turbocharged four-cylinder engine. The 340i Gran Turismo models is powered by a 300-horsepower turbocharged six-cylinder, while 340i sedan adds 20 more horses to that output.
BMW also offers a 180-horsepower turbodiesel four-cylinder engine in 328d models, as well as a 248-horsepower turbocharged four-cylinder paired with an electric motor in plug-in hybrid 330e models. Rear-wheel drive and a six-speed manual transmission are standard, and all-wheel drive (also known as xDrive) and an eight-speed automatic transmission are available. Both transmissions pair exceptionally well with either engine.
If you want to get the most power out of this BMW, look for the M3. This rear-wheel drive high-performance trim comes with a 425-horsepower, twin-turbocharged six-cylinder. A six-speed manual transmission is standard and a seven-speed, dual-clutch automatic transmission is available.
Does the 2017 BMW 3 Series Get Good Gas Mileage?
The standard 2017 BMW 3 Series delivers 23 mpg in the city and 35 mpg on the highway, which is average among class rivals. Fuel-saving options include the 328d and 330e models. The 328d's turbodiesel engine delivers 31/43 mpg city/highway. The 330e is a plug-in hybrid with a 14-mile all-electric range and a combined city/highway mileage rating of 71 MPGe. For more information, check out What Is MPGe?
2017 3 Series Interior
How Many People Does the 2017 3 Series Seat?
The 2017 BMW 3 Series seats five, and for a luxury small car, it has a good amount of space in both rows. The seats are comfortable and supportive, and the cabin has high-quality materials throughout. Leatherette upholstery is standard, and power-adjustable front seats, a heated steering wheel, sport seats, and heated front and rear seats are available.
How Many Car Seats Fit in the 2017 BMW 3 Series?
The 2017 BMW 3 Series sedan has two full sets of LATCH car-seat connectors and an additional upper tether for the middle seat. Depending on the trim level, the Insurance Institute for Highway Safety gave it a Marginal or Poor designation for ease of use. The lower anchors are too deep in the seats, difficult to maneuver around, and need too much force to attach.
2017 BMW 3 Series Features
Standard features include the iDrive infotainment system with a 6.5-inch display screen, a nine-speaker audio system, HD Radio, Bluetooth, and a USB port. BMW's iDrive is one of the most intuitive infotainment systems on the market. It's quick to respond to inputs from its rotary knob, and the upgraded infotainment system even allows you draw out numbers and letters with your finger.
Upgrades like navigation, Apple CarPlay, wireless charging, a larger infotainment screen, and an updated audio system are also available.
2017 BMW 3 Series Dimensions
BMW 3 Series Cargo Space
At 13 cubic feet, the 3 Series sedan's trunk is typical for the segment. If you're looking for more room, opt for either a Gran Turismo or Sports Wagon model. The Gran Turismo comes with 24.6 cubic feet of space behind the second row, or 56.8 cubic feet of space with the second row folded. Sports Wagon models have 27.5 cubic feet of space with the second row upright, or 61.5 cubic feet of space with the back row folded down.
2017 3 Series Length and Weight
The 3 Series sedan is roughly 15.2 feet long. Its curb weight is between 3,000 and 4,000 pounds, depending on the trim level.
Where Was the 2017 BMW 3 Series Built?
BMW built the 3 Series in Germany.
Read the full 2017 BMW 3-Series review on U.S. News & World Report for more details, photos, specs and prices.
More from U.S. News & World Report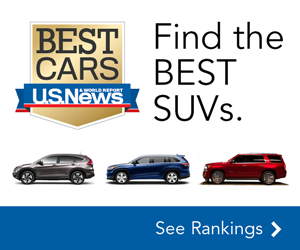 US News & World Report - Cars