2017 Lexus GS: What You Need to Know

US News & World Report - Cars
9/4/2018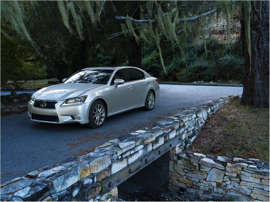 The 2017 Lexus GS' perfect predicted reliability rating, range of potent engines, and luxurious cabin earn it a top-tier ranking in the luxury midsize car class.
Is the 2017 Lexus GS a Good Used Car?
The 2017 Lexus GS is a great used car. With its inviting interior and stellar performance, it outpaces most of its rivals. The GS's cabin boasts first-rate materials and an alluring design, along with a bevy of tech and active safety features. This sedan is roomy in both rows, and it has an above-average amount of trunk space.
Engine choices range from a base four-cylinder to a muscular V8. All deliver swift acceleration and plenty of power for passing other cars on the highway. The handling is excellent, with sharp steering and athleticism that inspire confidence around corners. Like many in its class, the GS delivers a comfortable ride.
The car's few demerits come from its base infotainment system, which has an outdated non-touch display. It employs an unintuitive touchpad controller, which can be distracting to use while driving.
Why You Can Trust Us
Our used car rankings and reviews are based on our analysis of professional automotive reviews, as well as data like crash test scores, reliability ratings, and ownership expenses. We researched 33 Lexus GS reviews to help you decide if it's the right used car for you.
The U.S. News Best Cars team has been ranking cars, trucks, and SUVs since 2007, and our staff has a combined 75 years of automotive industry experience. To ensure our impartiality, our staff never takes expensive gifts or trips from car companies, and an outside team handles the advertising on our site.
How Much Is the 2017 Lexus GS?
Our site has nearly 60 listings for the 2017 Lexus GS, with prices ranging from $41,000 to $50,000. The average list price is $45,800, which is high for the class. The exact price you pay depends on the model you choose, as well as its condition, mileage, location, and features.
How Much Does the 2017 Lexus GS Cost to Own?
The 2017 Lexus GS' five-year estimated costs for gas, insurance, maintenance, and repairs are about $31,800, which is about what you could expect to pay for rivals like the 2017 Volvo S90 and 2017 Audi A6.  
Is It Better to Buy a Used or New Lexus GS?
The 2018 Lexus GS starts at $46,510, which is just $710 higher than the average price of a 2017 GS, but $5,500 more than a used base model. Aside from the renaming of the base trim, there are no major changes to the Lexus GS for 2017. Buying the 2017 model usually costs less, making it a great choice for those who want to pay less for a vehicle that is similar to the new model.
You can also purchase a brand new 2018 Genesis G80 (starting price of $41,750) for several thousand dollars less than the average price of a used 2017 GS. The G80 is one of our top-ranking new luxury midsize cars. It offers a luxurious interior with a wealth of features, all at a lower price than most of its classmates. The 2019 Cadillac CTS ($46,995) costs a bit more than the 2017 GS, but it has some of the best driving dynamics in the class, as well as strong engines and high-tech features.   
Which Model Year of the Lexus GS Is Best?
The 2017 Lexus GS is part of a generation that began with the 2013 model year. When shopping used, focus on the 2014 and later models. For 2014, the GS received an eight-speed transmission for the RWD model and gained two available tech features (rear cross traffic alert and power trunk lid). Infotainment fans will want the 2015 model, when the new multimedia system premiered. In 2016, the GS got a refreshed exterior, and the GS F performance model was introduced. Though the 2017 GS is the most expensive of these, it comes standard with the Lexus Safety System+. It's the best of them all – if you can afford it.
How Reliable Is the 2017 Lexus GS?
The 2017 GS received a perfect predicted reliability of five out of five from J.D. Power. All other classmates that earn a perfect rating are made by Lexus. 
2017 Lexus GS Recalls
As of this writing, the 2017 Lexus GS F has one reported recall for a fuel pump that may leak or crack. Make sure this issue is resolved before purchasing a used Lexus GS.
See more information on Lexus GS safety recalls »
Which Used Lexus GS Model Is Right for Me?
The Lexus GS is available in three models: 200t, 350, and GS F. The base Lexus GS 200t is an excellent value, and it'll suit most buyers. Its upscale interior comes loaded with technology and safety features that rivals typically offer only in expensive packages or in upper trims. The GS 200t's performance is just as appealing as its interior. Its twin-turbocharged four-cylinder engine delivers satisfying acceleration, and it's the most fuel-efficient engine available in the GS.
Each trim has a different engine, so you'll have to upgrade to one of the other two trims for more power. The Lexus GS 350 offers a little more muscle with its V6 engine, but this trim doesn't add many other appealing features aside from heated front seats. It's also the only trim available with all-wheel drive. Performance enthusiasts will prefer the Lexus GS F, which is powered by a brawny V8 engine. It also comes with leather sport seats, an adaptive variable suspension, and speed-sensing electric power steering.
Certified Pre-Owned Lexus GS Warranty
Certified pre-owned cars provide used car shoppers with protections against some problems that may arise when purchasing used. Based on our analysis, Lexus has one of the best CPO programs available. However, Infiniti's CPO program is just as impressive. 
For its CPO vehicles, Lexus extends its original new-car warranty to cover six years or unlimited mileage. Lexus puts its CPO vehicles through a 161-point inspection. Additional benefits like towing and roadside assistance may be available, so read the Lexus warranty page carefully.
How Safe Is the GS?
The 2017 GS earned the top rating of Good in three crash tests at the Insurance Institute for Highway Safety. The National Highway Traffic Safety Administration has not crash tested the 2017 GS.
Every 2017 GS comes standard with Lexus Safety System+. It includes adaptive cruise control, automatic high beams, lane departure warning with steering assist, and a pre-collision system that features pedestrian detection and brake assist. The GS also comes with blind spot monitoring, rear cross traffic alert, hill-start assist, and a rearview camera.
2017 Lexus GS Versus the Competition
Which Is Better: 2017 Lexus GS or 2017 Genesis G80?
The 2017 Genesis G80 is another highly ranked luxury midsize car. Both the G80 and the GS have standard rear-wheel drive and powerful engines. The G80's base engine is a V6, while the GS comes standard with a twin-turbocharged four-cylinder that is less powerful but more fuel-efficient. Each car comes with an abundance of technology, but the G80 has an easier-to-use infotainment than the GS. The Genesis sedan comes with several active safety features, but not as many as the GS. With lower average list prices and projected ownership costs, the G80 is the better value. However, the GS' perfect predicted reliability rating might give used car shoppers more peace of mind.
Which Is Better: 2017 Lexus GS or 2017 Audi A6?
The 2017 Audi A6 has great performance dynamics, thanks to its powerful engine lineup, nimble handling, and sharp steering. The Audi's base engine has a higher horsepower rating than the Lexus', and it returns better gas mileage. Inside, the A6 has elegant styling and high-class materials. Its largest engine is a twin-turbocharged 4.0-liter V8 that generates 450 horsepower. That's a bit less power than the GS F's V8 puts out. The A6 is a better car for back-seat passengers, as it has more legroom than the GS. It also has a user-friendly infotainment system. However, the Audi has a lower predicted reliability rating than the Lexus. It also has fewer standard features and a firmer suspension. Choose the model that best fits your priorities.
2017 Lexus GS Performance
How Does the 2017 Lexus GS Drive?
The base 2017 Lexus GS 200t has a twin-turbocharged 2.0-liter four-cylinder engine that puts out 241 horsepower. This refined engine feels energetic in both city driving and highway cruising.  
The GS 350 comes with a 3.5-liter V6 with 311 horsepower. This naturally aspirated V6 delivers muscular acceleration, but it's a bit noisier than the base engine. The high-performance Lexus GS F features a 467-horsepower 5.0-liter V8 with an advanced fuel delivery system. This model can sprint from zero to 60 mph in 4.5 seconds.
Does the 2017 Lexus GS Get Good Gas Mileage?
The GS 200t is the most fuel-efficient model in the lineup, delivering 22 mpg in the city and 32 mpg on the highway. Compared with the class, these estimates are about average. For even better fuel economy, consider the 2017 Lexus GS Hybrid. Fuel economy for other models in the lineup ranges from 16-21 mpg in the city to 24-30 mpg on the highway.
2017 Lexus GS Interior
How Many People Does the 2017 Lexus GS Seat?
The GS seats five on synthetic leather upholstery. Both rows of seats have sufficient space for adults, and it's easy for the driver to settle into a comfortable position.
The cabin has a handsome design, along with excellent fit and finish and top-notch materials. Available upgrades include a heated steering wheel, heated and ventilated front seats, heated rear seats, and sport seats with extra side support.
How Many Car Seats Fit in the 2017 Lexus GS?
Two full LATCH car-seat connectors are located in the rear outboard seats.
2017 Lexus GS Features
The base infotainment system features an 8-inch display, Bluetooth, Siri Eyes Free, a 12-speaker surround-sound stereo, a USB port, HD Radio, satellite radio, and a DVD player. The standard navigation system comes a 12.3-inch display screen and smartphone integration via the Lexus Enform App Suite.
Unlike most of its competitors, the GS doesn't have a standard or available touch-screen display. Instead, settings can only be adjusted using an unintuitive controller that functions like a laptop touchpad.
Available features include a 17-speaker Mark Levinson surround-sound audio system, a head-up display, a rear window power sunshade, manual sunshades for the rear windows, rear audio and climate controls, and rain-sensing windshield wipers.
2017 Lexus GS Dimensions
Lexus GS Cargo Space
The trunk in the 2017 GS has 18.4 cubic feet of space, which is more than what you'll find in most luxury midsize cars. The Lexus GS F model is limited to only 14 cubic feet, which is a little below average for the class. The rear seats of the GS do not fold down, but there is a rear-seat pass-through for storing long (but thin) items.
2017 GS Length and Weight
The 2017 Lexus GS is 16 feet long. Its curb weight ranges from 3,726 to 4,034 pounds, depending on trim.  
Where Was the 2017 Lexus GS Built?
Lexus assembled the 2017 GS in Japan.
Read the full 2017 Lexus GS review on U.S. News & World Report for more details, photos, specs and prices.
More from U.S. News & World Report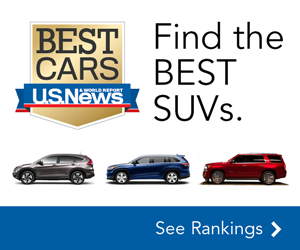 US News & World Report - Cars