2018 Acura MDX: What You Need to Know

US News & World Report - Cars
11/13/2018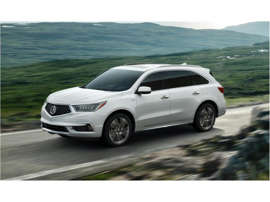 The 2018 Acura MDX finishes near the top of our rankings thanks to great safety scores, an abundance of features, and a smooth ride. While there's a lot to like about this SUV, it still isn't as athletic or upscale as some class rivals.
Is the Acura MDX a Good SUV?
Yes, the Acura MDX is a good SUV. Its standard V6 engine puts out ample power for daily driving and highway cruising. The MDX also delivers a smooth ride and composed handling – all while getting pretty good gas mileage. Technophiles will love the long list of standard and available features, including new-for-2018 Android Auto and Apple CarPlay. These features are housed in a dual-screen infotainment setup. There are plenty of quality cabin materials, but some aren't up to snuff. A few other drawbacks include the SUV's clunky transmission and below-average cargo space. However, the MDX has the best combination of overall quality and value in the class, which is why we named it our 2018 Best Luxury 3-Row SUV for the Money. 
Should I Buy the Acura MDX?
The MDX is a good luxury midsize SUV, and its below-average retail price makes it a good value and buy. Still, several competitors earn awesome overall ratings and give the MDX tough competition in the class. With that in mind, you may want to shop around to see if your money is better spent on another vehicle.
The Lexus RX 350 costs less than the MDX but ranks slightly lower as well. It's a versatile class rival that shares many similarities. Both models also offer a hybrid model. The Volvo XC90 costs a little more, but it's one of the most upscale SUVs in the class. It can go toe-to-toe in luxury quality with other class heavyweights.
Compare the MDX, RX 350, and XC90 »
Should I Buy a New or Used Acura MDX?
If you're looking to save money and are open to driving a used car, you may want to consider an older model instead of a new Acura MDX. However, you'll need to balance your potential savings against the handful of improvements that Acura has made since the current generation began in 2014. For 2018, the infotainment system is refreshed, with a more responsive touch screen. Android Auto and Apple CarPlay are present for the first time, and they're standard equipment. If you can live without these improvements, a used model may be right for you. The 2016 MDX received a new nine-speed automatic transmission and an upgraded all-wheel-drive system. Road departure mitigation, pedestrian detection, and automatic emergency braking were also available for the first time in the 2016 model. The 2017 MDX saw a slight exterior refresh, and the AcuraWatch package of driver assistance features became standard.
To research some other models in this generation, check out our reviews of the 2015, 2016, and 2017 Acura MDX. If you decide an older model is right for you, check out our Used Car Deals page for savings and incentives on used vehicles.
Compare the 2016, 2017, and 2018 Acura MDX »
We Did the Research for You: 45 Reviews Analyzed
Our car reviews include everything you need to know before heading to the dealership. We combine the opinions of the automotive press with quantifiable data like crash test results and reliability ratings to form a complete picture of every vehicle we rank. This 2018 Acura MDX review incorporates applicable research for all model years in this generation, which spans the 2014 through 2018 model years.
Why You Can Trust Us
U.S. News Best Cars has been ranking vehicles since 2007, and our team has more than 75 years of combined experience in the automotive industry. Our car reviews are objective. To keep them that way, our editorial staff doesn't accept expensive gifts or trips from automakers, and a third party handles all the advertising on our site.
How Much Does the Acura MDX Cost?
The MDX has a starting price of just above $44,000. That's a below-average starting price for the class, and it's tens of thousands of dollars less than some competitors. There's only one MDX trim, but there are some notable option packages that tack several thousand dollars onto the price. Still, you can get a fully loaded MDX for under $60,000, which is a great deal for a luxury midsize SUV.
Check out our U.S. News Best Price Program for great savings at your local Acura dealer. You can also find excellent manufacturer incentives on our Acura deals page.
Acura MDX Versus the Competition
Which Is Better: Acura MDX or Lexus RX 350?
The Lexus RX 350 and Acura MDX have similar starting prices and class rankings, so deciding which is better may come down to your personal preferences. Each has a potent V6 engine, as well as a hybrid variant if you're looking to cut your fuel costs. Prior to this year, the MDX held the practical advantage with its seating for seven across three rows. However, Lexus introduced a 3-row RX L model for 2018, which evens the score. The MDX has much more total cargo space, regardless of configuration. Both SUVs have a high-end cabin design and quality, but given their (relatively) low price points, you may notice some midgrade materials. Acura takes the crown for features with newly available Android Auto and Apple CarPlay (you can't get those in the RX). However, the RX 350 has a higher predicted reliability rating than the MDX.
Which Is Better: Acura MDX or Volvo XC90? 
The Volvo XC90 has a couple of advantages over the MDX. Chief among them are a nicer interior and more total cargo space (in 3-row models). In fact, the XC90 might have the most upscale cabin in the class. Both the MDX and XC90 have plenty of tech and advanced safety features, but you'll probably find the Acura delivers slightly better performance. When it comes to price and capacity, there are some things to consider. The MDX has standard seating for seven, while the XC90 seats five in its base trim and seven in higher trims. The MDX costs significantly less than a 3-row XC90, but you'll find a difference of only a couple thousand dollars between base models.
Compare the MDX, RX 350, and XC90 »
MDX Interior
How Many People Does the MDX Seat?
The MDX seats six or seven people, depending on whether you opt for second-row captain's chairs. The first two rows are comfortable and have plenty of room, but the third row will be a tight squeeze for most adults. On the bright side, accessing the third row is easy.
MDX and Car Seats
The MDX has a full set of LATCH car-seat connectors in every second-row seat. The system is generally usable, but there are a couple of issues. The tether anchors can be hard to find, and the lower anchors are tough to maneuver around.
MDX Interior Quality
This Acura's cabin looks great and features plenty of premium materials, but you will find some low-grade plastics if you look closely. Some competitors are also more upscale overall.
MDX Cargo Space
With all seats in use, the MDX has just under 15 cubic feet of cargo space, which isn't as much as some rivals. Still, that's enough room for about 10 pieces of carry-on luggage, which should be plenty for a family's weekend getaway.
Fold the second and third rows down, and you'll have more than 68 cubic feet of room. While this space is also below-average for the class, it will still hold large outdoor gear. The seats fold flat, making it easy to load and unload cargo.
MDX Infotainment, Bluetooth, and Navigation
Standard features in the MDX include four USB ports, Bluetooth, an eight-speaker audio system, satellite radio, a moonroof, Apple CarPlay, Android Auto, Siri Eyes Free, and a dual-screen infotainment system with an upper 8-inch display and a lower 7-inch touch screen.
Available features include navigation, a 10- or 12-speaker ELS audio system, two USB ports in the third row, the AcuraLink telematics system, and a 9-inch or 16.2-inch rear-seat entertainment system with wireless headphones.
The infotainment system's dual-screen setup may take some getting used to, but it gets easier to use as time progresses. The touch screen is responsive, and the MDX's 2018 updates include the addition of Apple CarPlay and Android Auto as standard features.
For more information, read What Is Apple CarPlay? and What Is Android Auto? Then, see the Best Cars With Apple CarPlay and Best Cars With Android Auto.
MDX Performance
MDX Engine: A Quick V6
This Acura comes with a 290-horsepower V6 engine and a nine-speed automatic transmission. You'll have no complaints about the engine; acceleration is quick and there is ample power to move the MDX in any situation. But you might take issue with the transmission, which occasionally shifts at odd times, resulting in uneven power delivery.
MDX Gas Mileage: Great Mpg Ratings
The MDX is more fuel-efficient than many competitors, earning 20 mpg in the city and 27 mpg on the highway. Compared to the Mercedes-Benz GLE, the MDX will save you about $200 per year in gas money. However, a couple of rivals best the Acura's ratings; the Volvo XC90, for example, will save you about $250 per year over the MDX.
MDX Ride and Handling: Surprisingly Nimble  
Whether you stick with front-wheel drive or opt for all-wheel drive (Acura MDX SH-AWD), the MDX feels planted around turns and exhibits good agility for an SUV of its size. It provides a smooth ride even when the pavement gets a bit rough.
MDX Reliability
Is the Acura MDX Reliable?
The 2018 MDX has a below-average predicted reliability rating of 2.5 out of five from J.D. Power.
Acura MDX Warranty
The Acura MDX is covered by a four-year/50,000-mile limited warranty and a six-year/70,000-mile powertrain warranty. The Acura's warranty terms are a little better than competitors' – many luxury vehicles only provide a four-year/50,000-mile warranty.
MDX Safety
MDX Crash Test Results
The 2018 MDX earns a perfect five-star overall crash test rating from the National Highway Traffic Safety Administration. From the Insurance Institute for Highway Safety, the MDX receives the top score of Good in all five crash tests, as well as a 2018 Top Safety Pick designation.
MDX Safety Features
Standard active safety features include a rearview camera and the AcuraWatch suite of driver assistance features, which comes with active lane keep assist, road departure mitigation, forward collision warning, automatic emergency braking, and adaptive cruise control.
Available features include advanced adaptive cruise control, front and rear parking sensors, a surround-view camera system, blind spot monitoring, and rear cross traffic alert.
Which Acura MDX Model Is Right for Me?
The Acura MDX does things a little differently than most other luxury midsize SUVs. It doesn't offer multiple trims; instead, it comes in one trim, and you can add certain option packages to it. The higher packages generally incorporating the features found in the lower ones.
It's not a bad way to do things, as it allows you to only pay for the features that you want (as opposed to getting a high-end trim of another vehicle that has some features you don't care about). Some features can be added independently, such as all-wheel drive ($2,000).
While the Advance package looks tantalizing, it includes mostly high-end comfort features and a few driver assistance features that you can probably do without. The Entertainment package is also worth staying away from, as it doesn't provide much value for the extra money it costs.
Honestly, the base MDX is a great choice, as it comes well-equipped. Adding the Technology package is also worthwhile because it comes with useful tech and active safety features.
There is also an MDX Hybrid, which we cover in a separate review.
The base MDX has a starting price of $44,200. It features a 290-horsepower V6 engine, a nine-speed automatic transmission, 18-inch wheels, a moonroof, heated front seats, satellite radio, Bluetooth, Apple CarPlay, Android Auto, a rearview camera, and the AcuraWatch suite of safety features.
The MDX with Technology package starts at $48,600. Standard features include 20-inch wheels, a 10-speaker ELS audio system, HD Radio, navigation, blind spot monitoring, and rear cross traffic alert.
The MDX with Advance package has a starting price of $54,650. Standard features include the Technology package's features as well as premium Milano leather seats, ventilated front seats, second-row captain's chairs, heated second-row seats, a heated steering wheel, a surround-view camera system, and front and rear parking sensors.
The MDX with Entertainment package is a little different because it requires you to buy another package as well. The MDX with Entertainment and Technology package starts at $50,600. The MDX with Entertainment and Advance package has a starting price of $56,650. In this setup, you'll get all the features included in either the Technology or Advance packages – plus an HDMI-compatible rear-seat entertainment system with a 9- or 16.2-inch screen and one or two extra speakers for the ELS audio system.
Check out our U.S. News Best Price Program for great savings at your local Acura dealer. You can also find excellent manufacturer incentives on our Acura deals page.
See 2018 Acura MDX specs and trims »
The Final Call
The 2018 Acura MDX brings a lot to the table – and it doesn't take much off it. This well-rounded SUV earns a high ranking in a very competitive class. While there are some things that rivals do better, this Acura is a good value. The MDX deserves a look from any luxury midsize SUV shopper.
Don't just take our word for it. Check out comments from some of the reviews that drive our rankings and analysis.
Read the full 2018 Acura MDX review on U.S. News & World Report for more details, photos, specs and prices.
More from U.S. News & World Report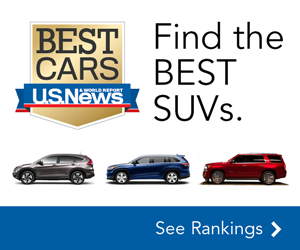 US News & World Report - Cars