2018 Audi A6: What You Need to Know

U.S. News & World Report - Cars
3/12/2018
The 2018 Audi A6 ranks as one of the elite choices in the luxury midsize car class. This is one of the most well-rounded sedans on the market.
The 2018 Audi A6 is ranked:
Is the Audi A6 a Good Car?
The A6 is the vehicular equivalent of that friend you find mildly annoying at times because they're really good at everything. Inside, it has an interior that's upscale even by luxury-car standards, with two rows of spacious seats and plenty of user-friendly technology. You have three engine choices, all of which have more than enough power, and the A6 handles extremely well for a midsize sedan. It also gets above-average gas mileage, and its price tag is lower than several of its class rivals. Due to the A6's combination of space, family-friendly features, and perfect crash test scores, we named it our 2018 Best Luxury Midsize Car for Families.
Should I Buy the Audi A6?
You'd be hard-pressed to find a reason not to buy the A6. Among luxury midsize cars, the A6 is at or near the top of the pack in every category. There are luxury midsize cars that cost less than the A6, but they don't provide nearly as much value as this Audi.
If you are going to shop around – and you might as well – then the Mercedes-Benz E-Class is a good car to look at. Like the A6, it excels in nearly every area, and though it's among the most expensive cars in the class, it's worth the cost. The Cadillac CTS is another good comparison. It costs a bit less than the A6, but it still delivers an engaging driving experience and has a high-quality interior.
Should I Buy a New or Used Audi A6?
Last redesigned for 2012, the Audi A6 has seen a few changes over the past few model years. You can likely save thousands of dollars by shopping for a used A6, though you'll want to sort through the differences from each year. For 2016, the A6 received updated styling inside and out, and the continuously variable automatic transmission was discontinued. Each of the three available engines got a good bump in horsepower, from 220 to 252, 310 to 333, and 420 to 450, respectively. Android Auto and Apple CarPlay became available with the 2017 model, and a new Competition trim with sport seats, a sport suspension, and sportier styling debuted. Audi also made a rearview camera and parking sensors standard for 2017 – you can find them in older models, you just have to hunt around.
The MMI infotainment system with navigation became standard for 2018, and the supercharged V6 engine received a 333 to 340 horsepower boost. If these changes aren't important to you, consider shopping for a used A6. To research other models in this generation, check out our reviews of the 2015, 2016, and 2017 Audi A6. If you decide that an older model is right for you, check out our Used Car Deals page for information and incentives on used vehicles.
We Did the Research for You: 45 Reviews Analyzed
We don't inject our own opinions into our car reviews. Instead, we combine the opinions of professional test drivers with hard data like reliability and safety ratings and mpg estimates. For the 2018 Audi A6, we analyzed 45 professional reviews. This Audi A6 review incorporates applicable research for all model years in this generation, which spans the 2012 through 2018 model years.
Why You Can Trust Us
U.S. News & World Report has been ranking cars, trucks, and SUVs for a decade, and our Best Cars team has more than 75 years of combined experience in the automotive industry. We craft unbiased car reviews that you can use for your research before you hit the dealership. To ensure objectivity, our editorial staff doesn't accept expensive gifts or trips from automakers, and a third party handles all advertising on our site.
How Much Does the Audi A6 Cost?
The Audi A6 has a starting price of $49,700. That's not the highest base price in the class, but it is above average. However, it's worth noting that the class average is skewed somewhat because of a few low-ranking vehicles that cost about $8,000-$10,000 less than many peers. The A6 is competitively priced among vehicles at or near the top of the class rankings.
That was a long-winded way of saying that the A6 provides plenty of value for the money. Even the base trim is well-equipped, but you can step up to the Premium Plus (starting at $51,900) or Prestige (starting at $61,400) trims if you want more features. And if you want the most power, there are two high-performance variants: the S6 Premium Plus (starting at $71,900) and the S6 Prestige (starting at $74,400).
Check out our U.S. News Best Price Program for great savings at your local Audi dealer. You can also find excellent manufacturer incentives on our Audi deals page.
Audi A6 Versus the Competition
Which Is Better: Audi A6 or Mercedes-Benz E-Class?
The Mercedes-Benz E-Class is another vehicle with no real drawbacks, and it might be the A6's biggest competition in this class. The E-Class has an interior so upscale you have to see it to believe it, and the already-comfortable seats have a number of premium upgrades available. The E-Class has a litany of features, including some that the A6 doesn't offer, such as driver drowsiness monitoring and evasive steering assist. The E-Class' trunk is smaller than the A6's, however.
Like its Audi rival, this Mercedes features several engine options, though none are as fuel-efficient as the A6's. The E-Class delivers a smoother ride (some would say the best ride in the class), but it is a bit less athletic than the Audi. The Mercedes also costs a few thousand dollars more. If you're choosing between them, let your personal preferences be the ultimate deciding factor.
Which Is Better: Audi A6 or Cadillac CTS?
The Cadillac CTS finishes in the middle of our luxury midsize car rankings, but that's just a product of how competitive this class is, because this is another great vehicle. The CTS has a slightly lower price than the A6 but still comes packed with features like Apple CarPlay, Android Auto, a Teen Driver monitoring system, a rearview camera, three USB ports, an 8-inch touch screen, an 11-speaker sound system, and adaptive remote start.
The CTS has a slightly more powerful standard engine than the A6, but it isn't as smooth as the A6's base engine. Like the A6, the CTS offers more-powerful engines and has sharp handling and a comfortable ride. Its nicely styled interior has high-quality materials, but it isn't up to the A6's standards. The A6 and CTS are have many similarities, but the Audi is a little ahead of the Cadillac in most areas.
A6 Interior
How Many People Does the A6 Seat?
The A6 seats five people, and both rows of seats are supportive. A number of available seating upgrades improve the already-impressive level of comfort. Drivers have excellent outward visibility, and the rear seats provide more legroom than many competitors do.
A6 and Car Seats
There are two full sets of LATCH car-seat connectors, and the middle seat has a tether anchor. All three tether anchors are easy to find and are visually distinctive from other hardware in the car. Lower anchors are recessed into a plastic housing in the seats, so they are easy to find and maneuver around with little effort required to attach the car seat straps.
A6 Interior Quality
It may be getting up there in years, but this generation of the A6 has lost none of its interior luster. The cabin is among the nicest in the class, and the materials are top-notch.
A6 Cargo Space
The Audi A6 has a smaller trunk than some other midsize cars, though it's about average for the class overall. It has just over 14 cubic feet of space, though the rear seats fold down to provide extra room if you need it. The liftover height is low, but the trunk opening is a bit narrow. Despite the unimpressive trunk, the A6 still has enough room for about 10 shopping bags or pieces of carry-on luggage.
A6 Infotainment, Bluetooth, and Navigation
The A6's standard features include a sunroof, satellite radio, Bluetooth, navigation, and the MMI infotainment system with an 8.3-inch display screen. Available features include quad-zone automatic climate control, a Bose audio system, a Bang & Olufsen audio system, a touchpad with handwriting recognition, Android Auto, and Apple CarPlay.
The MMI system is intuitive and responsive. So much so, that some users think it's easier to use than the available Apple CarPlay and Android Auto connectivity systems. The available audio systems deliver outstanding sound quality.
For more information, read What Is Apple CarPlay? and What Is Android Auto? Then, see the Best Cars With Apple CarPlay and Best Cars With Android Auto.
A6 Performance
A6 Engine: 4, 6, or 8 Cylinders?
The base A6 comes with a turbocharged four-cylinder engine that puts out just over 250 horsepower. It moves this midsize sedan easily, but there are larger engine choices for more power-hungry buyers. Higher trims feature a 340-horsepower supercharged V6, and the performance-oriented S6 comes with a turbocharged V8. These larger engines will throw you back in your seat while accelerating and have power to spare even during high-energy driving maneuvers.
A6 Gas Mileage: Reliable MPG Ratings
The Audi A6 gets better fuel economy ratings than many of its classmates, earning estimates of 25 mpg in the city and 34 mpg on the highway with the base engine. It does require premium gasoline, but so do many other luxury cars.
A6 Ride and Handling: Bust a Move
The A6 has an athletic feel and plenty of agility to let you enjoy driving on curvy roads. Front-wheel drive is standard, but the available Quattro all-wheel-drive system provides better road grip and is the preferred setup. The A6 generally rides smoothly, but it will jolt you occasionally over rough pavement.
A6 Reliability
Is the Audi A6 Reliable?
The 2018 A6 is part of a generation that typically earns predicted reliability ratings of 3.5 out of five from J.D. Power. While that's an above-average rating in general (three is average), it's slightly lower than what many other luxury midsize cars receive.
Audi A6 Warranty
The A6 has similar warranty terms to most other luxury midsize cars. Audi backs the A6 with a four-year/50,000-mile basic warranty.
A6 Safety
A6 Crash Test Results
The 2018 A6 receives top marks in National Highway Traffic Safety Administration crash tests, earning a perfect five-star overall rating, as well as five stars in every individual test. The Insurance Institute for Highway Safety has not yet tested the A6.
A6 Safety Features
Standard active safety features in the A6 include a rearview camera, front and rear parking sensors, and Audi Pre Sense. Available features include blind spot monitoring, adaptive cruise control, automatic high beams, a 360-degree camera, lane keep assist, forward collision warning, automatic emergency braking, and night vision assistant.
Which Audi A6 Model Is Right for Me?
The Audi A6 has several trims to choose from, and like many luxury cars, all are well-equipped. Nobody would blame you for sticking with the base trim, particularly since the 2018 model has more standard features than in previous years. The A6 Premium Plus is worth a look, though, because it has more available features and its starting price is only slightly more.
There's really no need to go higher than the Premium Plus unless you want the V8 engine, which packs an outstanding punch but will cost you an additional $10,000 at least. The V8 is only available in the S6 trims.
Audi A6 Premium
Despite the name, the A6 Premium is actually the base trim. It has a starting price of $49,700 and comes standard with front-wheel drive and a turbo-four engine. You can add all-wheel drive for $2,200, or you can add the supercharged V6 engine and all-wheel drive for $6,800 (FWD models aren't available with the V6). You can also add heated seats and a heated steering wheel for around $500.
Audi A6 Premium Plus
The A6 Premium Plus starts at $51,900. FWD and the turbo-four are standard, and AWD and the V6 are available. In addition to the Premium's features, the Premium Plus comes with quad-zone automatic climate control, a Bose audio system, and blind spot monitoring. The Driver Assistance package adds helpful features like adaptive cruise control, lane keep assist, forward collision warning, and automatic emergency braking, but it costs more than $2,500.
Audi A6 Prestige
The A6 Prestige has a starting price of $61,400. The supercharged V6 is the standard engine in this trim, and all-wheel drive is standard as well. In addition to the lower trims' features, the Prestige comes with a power trunk, ventilated front seats, and a head-up display. For about $2,500, you can add the Night Vision Assistant. You can upgrade to the Bang & Olufsen audio system, but that will set you back nearly $5,000. The Comfort Seating package costs around $3,400 and adds contoured, massaging front seats.
Audi S6 Premium Plus
The Audi S6 Premium Plus is the high-performance variant of the A6, and it starts at $71,900. All S6 models come standard with all-wheel drive and a turbocharged V8 engine. Its features list is nearly identical to the A6 Premium Plus', though the S6 edition adds a few sport-oriented touches like larger brakes and a sport-tuned suspension.
Audi S6 Prestige
The S6 Prestige is the highest trim, with a starting price of $74,400. Like the Premium Plus, the S6 Prestige's features list closely mirrors the A6 Prestige's, with the exception of a few performance upgrades.
Check out our U.S. News Best Price Program for great savings at your local Audi dealer. You can also find excellent manufacturer incentives on our Audi deals page.
The Final Call
The Audi A6 is a yearly threat to top our luxury midsize car rankings, and the 2018 model upholds that tradition. It has powerful engines, athletic handling, and an interior that is nice even by luxury car standards. It also gets good fuel economy ratings and has easy-to-use tech features. There are no real flaws with this car. All in all, this is one of the best cars on the market.
Don't just take our word for it. Check out comments from some of the reviews that drive our rankings and analysis.
Read the full 2018 Audi A6 reviewon U.S. News & World Report for more details, photos, specs and prices.
More from U.S. News & World Report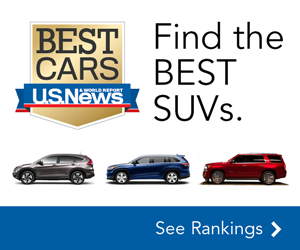 U.S. News & World Report - Cars