2018 Audi R8: What You Need to Know

U.S. News & World Report
5/14/2018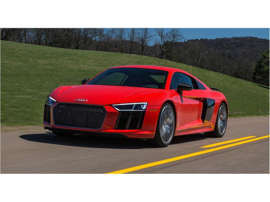 The 2018 Audi R8 ranks in the top half of a very competitive class. Audi's supercar delivers incredible performance, with few notable shortfalls compared to rivals.
The 2018 Audi R8 is ranked:
Is the Audi R8 a Good Car?
The R8 is a great luxury sports car, and that may still be underselling it. Its standard V10 engine puts out a ludicrous amount of power, and there's an even more souped-up version available. Pinpoint steering, strong brakes, and standard Quattro all-wheel drive prepare it to attack any stretch of road. Because this is an Audi, the interior is beautiful and the tech features are user-friendly. However, like many sports cars, the R8 is short on practicality. There are only two seats and not much cargo space, though it still has more room than some competitors do. Unsurprisingly, the R8 also gets poor gas mileage. Its predicted reliability score is below average.
Should I Buy the Audi R8?
The R8 is definitely worth considering if you want a car that is fun to drive on a track or out on the open road. This class is chock-full of outstanding cars, so it's worth looking around. The Acura NSX also delivers dynamic performance, with its all-wheel drive and hybrid powertrain. If you're looking for more of a subtle, refined cruiser that also has an opulent interior, consider the Mercedes-Benz SL roadster.
Should I Buy a New or Used Audi R8?
Following a one-year absence from the market, the Audi R8 returned as a fully redesigned model for 2017. Audi brought standard Apple CarPlay and Android Auto to the R8 for 2018, so if you absolutely must have those technologies in your R8, a 2018 model is your only choice. If those don't matter to you, consider a 2017 model, which is otherwise identical to the 2018 R8 and likely less expensive.
You can probably save even more by shopping for a previous-generation R8, though you won't get the benefits of the full redesign. The redesign brought a more upscale cabin, a completely new 12.3-inch virtual cockpit infotainment interface, and more-powerful available engines. To research some other used R8 models, read our review of the 2017 R8 and the prior-generation 2015 R8. If you decide an older model is right for you, check out our Used Car Deals page for savings and incentives on used vehicles.
We Did the Research for You: 12 Reviews Analyzed
We analyzed 12 Audi R8 reviews – along with safety and reliability ratings, cost of ownership estimates, and more – to help you decide if the 2018 R8 is the right new car for you. This 2018 Audi R8 review incorporates applicable research for all model years in this generation, which spans the 2017 and 2018 model years.
Why You Can Trust Us
U.S. News Best Cars has been ranking and reviewing vehicles for a decade, and our team has more than a combined 75 years of experience in the automotive industry. To maintain objectivity, we don't accept incentives or expensive gifts from car companies, and an outside team handles the ads on our site.
How Much Does the Audi R8 Cost?
The base Audi R8 has a starting price of $164,900. That's the highest starting price among luxury sports cars, and it's tens of thousands of dollars more than many of its class rivals. However, the R8's price is in line with those of other track-ready supercars like the Acura NSX.
The R8 Spyder delivers the same outstanding performance and luxury but in a convertible model, and it starts at just over $177,000. There's also an even more high-performance R8, the V10 Plus, which starts around $194,000.
Check out our U.S. News Best Price Program for great savings at your local Audi dealer. You can also find excellent manufacturer incentives on our Audi deals page.
Audi R8 Versus the Competition
The Audi R8 is a supercar that's primarily designed to go fast. As such, it compares against supercars from automakers like McLaren, Lamborghini, and Ferrari. However, the R8 is also comparable to other powerful sports cars and supercars made from mainstream manufacturers such as Mercedes-Benz and Acura.
Which Is Better: Audi R8 or Mercedes-Benz SL?
The Mercedes-Benz SL isn't track ready like the R8, but it's designed to provide obscene amounts of luxury. It has plush and comfortable seats that keep you coddled on long drives. A massaging feature further increases the opulence. Thanks to Mercedes' Airscarf system, you can also pop the top in cooler weather and still stay warm. Neither of these cars are practical, but the SL has considerably more trunk space than the R8.
In terms of performance, the SL is more of a throwback roadster, with its cushioned ride and poised handling. There are several powerful engine choices, including two Mercedes-AMG versions that put out 577 and 621 horsepower, respectively. Cost is a major distinction between the two; the SL's base price is about half the R8's. But move up to any of the higher performance trims, and it costs about the same (or more in the case of the top-of-the-line SL) as an R8. Both of these cars are great choices. It just depends on what your priorities are and how much you're willing to spend.
Which Is Better: Audi R8 or Acura NSX?
Reintroduced for the 2017 model year after a decade-long hiatus, the Acura NSX is a supercar with a twist: it's a hybrid. This midengine car features a twin-turbocharged V6 engine and three electric motors that together put out 573 horsepower. The NSX dashes from zero to 60 mph in under three seconds, which is faster than the R8. The Acura also gets better fuel economy. Both cars boast world-class handling and feature all-wheel drive. Inside is where the Audi gets a leg up on this Acura. While the NSX has plenty of soft-touch materials befitting its high price, it doesn't have the outright luxury of some rivals, including the R8. The NSX is a great car, but it's still just a hair below the R8 overall.
R8 Performance
R8 Engine: You Shall Not Pass!
… The R8, that is. If you get passed in this car, you have only yourself to blame. A V10 engine and a seven-speed dual-clutch automatic transmission come in all models. It produces 540 horsepower in the base model and 610 in V10 Plus models. All R8s have a top speed of at least 199 mph and go from zero to 60 mph in 3.5 seconds or less. This Audi has enough power and acceleration for you to test the theory of relativity if you want to.
R8 Gas Mileage: Whaddaya Got There, Numbers?
If there's a downside to the R8's outstanding performance, it's its paltry fuel economy. The Audi R8 V10 gets up to 14 mpg in the city and 25 mpg on the highway. Those are low ratings even by luxury sports car standards. To make matters worse, the R8 requires premium gasoline (though so do many class rivals).
The R8 will cost you much more at the gas pump than most of its rivals. You'd save about $450 a year by fueling the Acura NSX rather than the R8. That number jumps to $650 if you compare the R8 to the Mercedes-Benz SL.
R8 Ride and Handling: Doesn't Get Any Better Than This
This Audi is one of the most athletic cars on the road, and its sharp steering helps you navigate winding roads. Quattro all-wheel drive comes standard, helping you stay planted around turns. V10 Plus models feature a sport-tuned suspension, and other Audi R8 V10 models feature an adjustable suspension with different settings.
R8 Interior
How Many People Does the R8 Seat?
The R8 seats two people. Its standard seats are comfortable on long drives. The racing shell seats that come in the V10 Plus model offer more side bolstering, but they're less comfortable for people with wide shoulders and offer fewer adjustments. The standard seats are available in V10 Plus models, however.
R8 and Car Seats
The R8 doesn't feature LATCH car-seat connectors.
R8 Interior Quality
The R8 has a beautifully styled interior and top-notch materials. It also has some stylistic touches befitting a supercar. The overall aesthetic is beautiful, and this Audi truly feels like a blend of luxury and performance.
R8 Cargo Space
The R8 offers a bit more cargo space than some supercars, but its cargo hold still isn't that useful. There's just 8 cubic feet of total storage space, split between the front trunk and a space behind the seats. You'll have enough room for a few pieces of carry-on luggage, but don't expect to haul any large or even moderately sized items.
R8 Infotainment, Bluetooth, and Navigation
Standard features in the R8 include a Bang & Olufsen audio system, satellite radio, Audi's virtual cockpit, two USB ports, Bluetooth, a Wi-Fi hot spot, Apple CarPlay, Android Auto, and the MMI infotainment system with navigation, handwriting recognition, and voice control.
The virtual cockpit features a 12.3-inch screen behind the steering wheel, in place of a traditional gauge cluster. It shows all the typical driver information and acts as the sole infotainment screen. While the graphics are sharp and the MMI system is responsive, some users lament the absence of a secondary display screen mounted in the dash that the passenger can easily see.
For more information, read What Is Apple CarPlay? and What Is Android Auto? Then, see the Best Cars With Apple CarPlay and Best Cars With Android Auto.
R8 Reliability
Is the Audi R8 Reliable?
The 2018 Audi R8 has a predicted reliability rating of 2.5 out of five from J.D. Power. A score of three is considered average for a vehicle in general.
Audi R8 Warranty
The R8 has a similar warranty to most other luxury sports cars. Audi covers the R8 with a four-year/50,000-mile limited warranty.
R8 Safety
R8 Crash Test Results
The 2018 Audi R8 has not been crash tested by the National Highway Traffic Safety Administration or the Insurance Institute for Highway Safety.
R8 Safety Features
Standard active safety features in the R8 include a rearview camera and front and rear parking sensors.
Which Audi R8 Model Is Right for Me?
There aren't many differences between the various R8 models, so choosing the right trim boils down to two basic questions: Do you want the most track-oriented performance, and do you want a convertible? If the answer to both is no, stick with the standard Coupe model, which will save you some money. If you want a convertible, the R8 Spyder is your answer. If you want to really get after it on a track, go with the Coupe V10 Plus, which has a more powerful engine and other performance upgrades.
The Audi R8 Coupe has a starting price of $164,900. It has plenty of standard features, including Nappa leather upholstery, power-adjustable heated seats, a 12.3-inch driver's display screen, Android Auto, Apple CarPlay, a Wi-Fi hot spot, the MMI infotainment system and more. It also comes with a 540-horsepower V10 engine and standard Quattro all-wheel drive. There aren't a lot of optional features, but you can upgrade to the V10 Plus, which starts at $194,400.
There are a few differences with the V10 Plus. It features racing shell seats and adds a sport-tuned suspension. Also, the engine puts out 610 horsepower instead of 540, as the V10 Plus is all about maximizing performance.
Audi R8 Spyder
The Audi R8 Spyder has a starting price of $177,100. It's identical to the standard R8 Coupe with one notable exception: The R8 Spyder is a convertible. The top will fold down at speeds of up to 31 mph.
Check out our U.S. News Best Price Program for great savings at your local Audi dealer. You can also find excellent manufacturer incentives on our Audi deals page.
The Final Call
The 2018 Audi R8 is a supercar that fares well in our luxury sports car rankings. It delivers breathtaking performance, both in terms of engine power and handling ability. Many regard it as one of the easiest and most comfortable supercars to drive regularly. It also has a refined interior with plenty of soft-touch materials and user-friendly technology. This Audi isn't the most practical vehicle, but it excels in the areas you expect it to.
Don't just take our word for it. Check out comments from some of the reviews that drive our rankings and analysis.
Read the full 2018 Audi R8 review on U.S. News & World Report for more details, photos, specs and prices.
More from U.S. News & World Report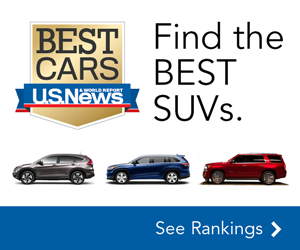 U.S. News & World Report