2018 BMW 3-Series: What You Need to Know

U.S. News & World Report
10/11/2018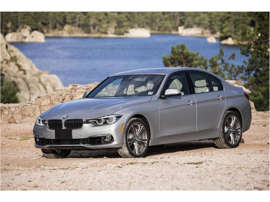 Handsome styling complements athletic performance in the 2018 BMW 3 Series, earning this well-rounded sports sedan a ranking in the top half of its class. 
The 2018 BMW 3-Series is ranked:
Is the BMW 3 Series a Good Car?
The 3 Series is a brilliant example of a well-made, well-balanced sports sedan. Highlights of its fun-to-drive nature include responsive handling paired with a selection of robust engine options. The current generation is backed by capital crash test results and above-average reliability scores. Most experts recommend the 3 Series as one of the best in the luxury small car segment, as echoed in our rankings.
Should I Buy the BMW 3 Series?
If owning an athletic four-door is your ultimate goal, the BMW 3 series is a good pick. As long as you bypass the base engine (which will feel unenergetic to spirited drivers), you'll enjoy the sprightly handling that comes with every model. In addition to the ample offering of powertrains, BMW tenders a wide range of possibilities for customizing your 3 Series, including three body styles (sedan, wagon, and hatchback) and a long list of stand-alone goodies. This gives you more flexibility than most to build the car that best fits you – though be cautious when adding on options, as they will quickly swell your final price.
The 3 Series isn't alone in the grouping of sport-tuned compact cars – the Audi A4 has similar performance, and most test drivers say the Alfa Romeo Giulia wins out overall. You may also want to consider waiting for the 3 Series' next generation, which is expected to be debut for the 2019 model year.
Should I Buy a New or Used BMW 3 Series?
The current 3 Series generation was launched for the 2012 model year. There have been minor changes since then. For example, the 2017 model year added new standard and available features, like forward collision warning, automatic emergency braking, Apple CarPlay, and wireless phone charging. It also replaced the 328i trim with the 330i. The 2018 model gains a standard rearview camera.
You can potentially save money by shopping for a used car instead of a new one, but you should be aware that older models may not have as many features. If you're interested in a used model, be sure to visit our overviews of the 2016 BMW 3 Series and 2017 BMW 3 Series. Also, check out our Used Car Deals page to learn about savings and discounts on used vehicles.
Compare the 2016, 2017, and 2018 3 Series »
We Did the Research for You: 50 Reviews Analyzed
Our BMW 3 Series review combines 50 professional evaluations with research on performance specs, standard features, available safety technology, and more. This 3 Series review incorporates applicable data from all model years of the current generation, which spans the 2012 through 2018 model years.
Why You Can Trust Us
The U.S. News Best Cars team has more than 75 years of combined experience in the automotive industry. Since 2007, we've been ranking and reviewing cars, trucks, and SUVs. To prevent bias in our recommendations, we don't accept expensive gifts or trips from car companies.
How Much Does the BMW 3 Series Cost?
Prices for a new BMW 320i (the base model) start at $34,900, which is about $1,000 under the average sticker price for a luxury small car. For 2018, the 3 Series is available in three different body styles. The four-door sedan starts between $34,900 and $50,950, while the 3 Series Sports Wagon costs between $44,650 and $46,150. The hatchback Gran Turismo starts at $45,050, and the performance-tuned M3 rings up at $65,500. BMW's plug-in hybrid model, the 330e iPerformance, costs $45,600 and is eligible for a $4,001 federal tax credit.
Check out our U.S. News Best Price Program for great savings at your local BMW dealer. You can also find excellent manufacturer incentives on our BMW deals page.
BMW 3 Series Versus the Competition
Which Is Better: BMW 3 Series or Audi A4?
The Audi A4 and BMW 3 Series are both fine examples of German performance. If your budget is small, you'll get a brisker engine with the base Audi than with the BMW. If you have a higher spending limit, you'll want to pick the BMW M3 and its extra 71 horsepower over the performance-oriented Audi S4 model.
Which Is Better: BMW 3 Series or Mercedes-Benz C-Class?
The Mercedes-Benz C-Class is polished, with tuning that leans more toward comfort than sport. It's the better pick if you value a refined interior over performance, though Mercedes-Benz does offer two potent versions of the C-Class as well. The final decision between these two comes down mostly to the price and level of features you want.
Which Is Better: BMW 3 Series or Jaguar XE?
Powertrain options in the Jaguar XE include a turbodiesel and a supercharged V6, but even the base turbocharged four-cylinder is brisk. When comparing this Jaguar to the 3 Series, take a look inside to see which one offers the styling and space that most speaks to you.                      
3 Series Interior
How Many People Does the 3 Series Seat?
The 3 Series seats five people, with standard synthetic leather and manually adjustable front seats. Upgrades include power-adjustable front seats and leather upholstery. For a vehicle this size, there's ample legroom and headroom in both rows, and the front seats are quite comfortable.
3 Series and Car Seats
The 3 Series comes with three tether anchors and two sets of lower anchors in the back row for securing child safety seats. The tether anchors are easy to use, but the lower anchors are mounted deep in the cushions and are hard to maneuver around. For this reason, the Insurance Institute for Highway Safety gave the 3 Series' LATCH system a Marginal rating for ease of use.
3 Series Interior Quality
The cabin of the 3 Series is handsome, featuring clean styling that's not overly fussy. Most will find the ambiance high-quality for this starting price. Still, some feel the standard synthetic leather seats – along with a few other elements – aren't as opulent as the quality of rivals from Mercedes-Benz or Audi.
3 Series Cargo Space
The 3 Series sedan has a nice size trunk for this class at 13 cubic feet. You can pack even more in the back of the Gran Turismo (24.6 cubic feet) and Sports Wagon (27.5 cubic feet). Some trims come with split-folding rear seats to expand cargo capacity, but there's no hands-free or power trunk lid available.
3 Series Infotainment, Bluetooth, and Navigation
The iDrive infotainment interface in the 3 Series is mostly easy to use, but plan on spending some time getting used to it. The base system comes with a slim set of standard features, but a multitude of options are available, including Apple CarPlay, a 16-speaker Harman Kardon audio system, a Wi-Fi hot spot, and navigation.
3 Series Performance
3 Series Engine: Bypass the Base
The 3 Series' 180-horsepower engine (paired with either a standard eight-speed automatic transmission or an available six-speed manual) is fine if spirited driving isn't your cup of tea. But for drivers who enjoy a brisk takeoff, the standard engine may feel sluggish. These drivers should consider one of BMW's additional engine offerings, which include a 248-horsepower four-cylinder, a 180-horsepower turbodiesel, and the 425-horsepower M3.
3 Series Gas Mileage: Typical for the Class
The BMW 320i gets 24 mpg in the city and 35 mpg on the highway, which is slightly above average for a luxury small car. The turbodiesel-powered BMW 328d is a better option if you do a lot of highway travel. It's rated at 31 mpg city/43 mpg highway.
3 Series Ride and Handling: Decently Sporty
The 3 Series has sharp steering and strong brakes, and it's one of the more athletic models in its segment. Over the years, its ride has softened somewhat. It is now a more comfortable car for cruising, and though the suspension isn't quite as controlled as it was in previous generations, only those looking for extreme performance will complain. Rear-wheel drive is standard, with upgrades like all-wheel drive, the M Sport performance package, and adaptive suspension systems among the available options.
3 Series Reliability
Is the BMW 3 Series Reliable?
The 3 Series received an above-average predicted reliability rating of 3.5 out of five from J.D. Power.
BMW 3 Series Warranty
The 3 Series comes with a four-year/50,000-mile limited warranty.
3 Series Safety
3 Series Crash Test Results
The 2018 3 Series has an overall safety rating of five out of five stars from the National Highway Traffic Safety Administration. It aced almost every crash test simulation, though it received only four stars for its frontal crash rating. The Insurance Institute for Highway Safety named the 2018 3 Series a Top Safety Pick and gave it the highest rating of Good in all five crash tests.
3 Series Safety Features
A rearview camera is standard in the 3 Series sedan. Available safety features include adaptive headlights, automatic high beams, speed limit information, a head-up display, active park assist, parking sensors, a 360-degree camera system, adaptive cruise control, lane departure warning, blind spot monitoring, forward collision warning with pedestrian detection, and automatic emergency braking.
Which BMW 3 Series Model Is Right for Me?
Shoppers have a wide range of choices when building their new BMW. Available body styles include a four-door sedan, the Sports Wagon, and the Gran Turismo hatchback. These come in four trim levels, each with its own unique powertrain. (Not every trim is available in every body style.) The high-performance M3 trim boasts the most power and comes with sport-tuned components. Rear-wheel drive is standard in the sedan, and all-wheel drive is available as a $2,000 upgrade. The Sports Wagon and Gran Turismo come standard with all-wheel drive. A wealth of stand-alone and bundled options are available, giving you the ability to customize your ride more than you normally can. Just keep an eye on the final price, which can quickly increase.
If you're eager to get behind the wheel of the ultimate driving machine – as BMW calls itself – you should start with at least the BMW 330i. Its twin-turbocharged engine has more horsepower than the base four-cylinder for faster launches and extra oomph on your cruise.
The base 3 Series is the 320i, which comes only as a sedan. Starting at $34,900, the 320i comes with a 180-horsepower engine, synthetic leather seats, a 6.5-inch display screen, the iDrive infotainment system, a nine-speaker stereo system, Bluetooth, a USB port, HD Radio, dual-zone automatic climate control, and push-button start.
A 248-horsepower four-cylinder engine comes in the 330i. This trim level is available as a sedan ($40,250), the Sports Wagon ($44,650), and the Gran Turismo ($45,050).
The 340i has a 320-horsepower six-cylinder engine with a twin turbocharger. It starts at $48,950 for the sedan and $50,900 for the Gran Turismo.
The M3 ($65,500) is the most muscular trim in the lineup, with a 425-horsepower six-cylinder engine. Performance enhancements include upgraded brakes, suspension, and steering.
BMW 3 Series Alternative Fuel Trims
BMW offers two fuel-saving options. The 328d comes with a turbodiesel engine and is available in sedan ($41,750) and Sports Wagon ($46,150) body styles. The plug-in hybrid 330e iPerformance has a total output of 248 horsepower and costs $45,600. Some buyers may be eligible for the $4,001 federal tax credit.
Check out our U.S. News Best Price Program for great savings at your local BMW dealer. You can also find excellent manufacturer incentives on our BMW deals page.
The Final Call
The 2018 BMW 3 Series should absolutely be on the short list of any new car shopper in search of fun-to-drive, European luxury. From the affordable base model to the potent M3, this lineup is highly diverse and customizable, giving you a long leash to build the model that fits you best.
Don't just take our word for it. Check out comments from some of the reviews that drive our rankings and analysis.
Read the full 2018 BMW 3-Series review on U.S. News & World Report for more details, photos, specs and prices.
More from U.S. News & World Report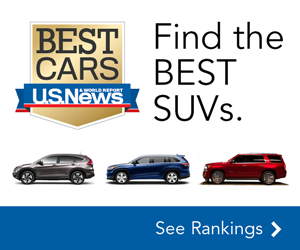 U.S. News & World Report