2018 BMW i3: What You Need to Know

US News & World Report - Cars
8/15/2018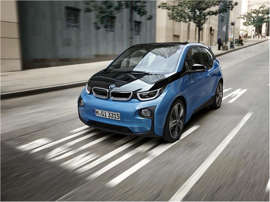 The 2018 BMW i3 is spunky and light on its feet, with nimble driving dynamics and distinct styling. Elements like a spacious cabin and a high mpg-equivalent rating make the i3 easy to live with. Overall, it ranks midpack among luxury small cars.
The 2018 BMW i3 is ranked:
Is the BMW i3 a Good Car?
The BMW i3 is an OK car, though it depends on which set of rivals you are comparing it with. Among hybrid and electric cars, this BMW is peppy and nimble, which are two ideal qualities of an efficient city car. Its 114-mile range is also decent, and you can even opt for the i3 REx (range extender) models for up to 180 miles of range. These models mitigate range anxiety with a small gasoline engine that acts as a generator and has a gas tank you can refill.
However, you can go farther for less with some competitors. For example, the Chevrolet Bolt EV has an all-electric range of 238 miles and undercuts the i3's price by $7,800. The i3 lacks the athletic handling traditionally associated with luxury small cars like the BMW 3 Series and Audi A4. Inside, the i3's matte wood trim and coarse fabrics feel out of place for a BMW in this class. The i3's rear-seat legroom is also substandard for the class.
Should I Buy the BMW i3?
A BMW i3 is a good choice if you want a high-end EV with immediate availability and a widespread dealer base. The i3's peppy performance belies the electric vehicle stereotype, and its high mpg-e rating means you'll spend less per mile than with most gas-only luxury small cars. However, with a starting price of nearly $45,000 (without tax credits), the i3 sets you back more than any other car in the class. That's a lot to pay for a cabin design and materials quality that some feel don't match the luxury badge. You can find a richer interior in a car like the Tesla Model S, but you'll pay a lot more. There's also the Nissan Leaf and other zero-emissions options out there that cost much less.
Should I Buy a New or Used BMW i3?
For 2018, BMW introduced the sport-focused i3s model. It puts out 181 horsepower and features a sport suspension and larger wheels. Apple CarPlay is newly available in all i3 models for 2018. If you can live without these changes and you're open to driving a used car, you may want to consider shopping for an older i3. Aside from a larger optional battery made available for 2017, there were few other notable changes over the previous couple of years. Used models also tend to have lower sticker prices by thousands of dollars compared to new models. However, the federal tax credit of up to $7,500 is only available for new models, which could factor into your decision.
To research some other models in this generation, check out our reviews of the 2015, 2016, and 2017 BMW i3. If you decide an older model is right for you, check out our Used Car Deals page for savings and incentives on used vehicles.
We Did the Research for You: 29 Reviews Analyzed
Our goal is to make shopping for your next car as easy as possible. You'll find everything you need to know about the i3 in our comprehensive review. It combines concrete data (like range estimates, horsepower specs, and cargo space dimensions) with 29 professional BMW i3 reviews. This 2018 BMW i3 review incorporates applicable research for all models in this generation, which spans the 2014 through 2018 model years.
Why You Can Trust Us
The Best Cars team – a division of U.S. News & World Report – has been reviewing cars, trucks, and SUVs since 2007. With more than 75 years of combined automotive experience, our editors, writers, and analysts rank a wide variety of new and used cars and issue three annual awards: Best Cars for the Money, Best Cars for Families, and Best Vehicle Brands. To keep our recommendations unbiased, we decline expensive gifts from carmakers, and a third party handles our advertising.
How Much Does the BMW i3 Cost?
Prices for the all-electric BMW i3 start at $44,450, while the base version of the range-extended i3 has a $48,300 sticker price. That's around $8,000 more than the average starting price of a luxury small car, though it's one of the least expensive luxury hybrid and electric cars in our rankings. The available federal tax credit can save some shoppers $7,500 off the purchase of a new i3, which puts the i3 price in line with its gasoline-powered rivals. You might be able to save even more at your local BMW dealer using our U.S. News Best Price Program. You can also find excellent manufacturer incentives on our BMW deals page.
BMW i3 Versus the Competition
Which Is Better: BMW i3 or Nissan Leaf?
The Nissan Leaf is fully redesigned for the 2018 model year, and it emerges much improved. It starts at just under $30,000 (before tax credits), making it a great pick if you're looking for enviro-friendly driving at an affordable price. On a full charge, the Leaf can go about 150 miles, which should be more than enough for the average commuter. That's about 37 more miles than the i3, but the electric-only Leaf doesn't offer a range-extending gasoline option like the i3 does. Even though Nissan isn't a luxury brand, you can get high-tech upgrades that aren't available in the i3, such as Android Auto, automatic emergency braking, and a 360-degree camera system.
Which Is Better: BMW i3 or Volkswagen e-Golf?
The BMW i3 and Volkswagen e-Golf have nearly equal estimates when it comes to range and mpg-e, but the e-Golf does it all for about $14,000 less. The hatchback e-Golf has a voluminous cabin with plenty of legroom, a five-person capacity instead of four, and 7.7 extra cubic feet of cargo space behind the back seat.
Which Is Better: BMW i3 or Tesla Model S?
The Tesla Model S is one of few other battery-electric cars that are luxury grade. Still, it's worlds ahead of the i3. The Model S is faster, roomier, and able to drive 335 miles on a single charge. However, its starting price is more than $30,000 higher than the i3's, so your budget is the deciding factor. If you're interested in a Tesla, you may want to give the smaller Tesla Model 3 a look. This model starts closer in price to the i3, and it boasts a long all-electric driving range.
i3 Interior
How Many People Does the i3 Seat?
The four-seat i3 has loads of headroom and feels quite spacious thanks to its domelike roof. Its front seats are comfy, and though the back seat doesn't set any legroom records, the area still feels roomy. The rear-hinged back doors create a wide opening – a plus when loading items – but can be awkward when dropping kids off, as the front doors always have to be opened first.
i3 and Car Seats
The i3 comes with two sets of LATCH anchors, one for each rear seat. Before clipping in a car seat, caregivers should double-check the tether anchor, which can be confused with other hardware. The lower anchors are easier to find but are a bit tricky to maneuver around when installing a car seat.
i3 Interior Quality
The i3's finely crafted cabin includes first-class materials like matte wood accents, high-quality plastics, and soft leathers. Not everyone will appreciate the two-tone color scheme and bold interior styling.
i3 Cargo Space
Thanks to its hatchback body style, the i3 comes with more cargo room than most luxury small cars, at 15.1 cubic feet. Plus, you can lay the i3's split-folding rear seats flat for up to 36.9 cubic feet of space.
i3 Infotainment, Bluetooth, and Navigation
Notable standard features of the i3 infotainment system include a 6.5-inch display, a centrally mounted iDrive controller knob, and navigation. Overall, the system is straightforward and responsive. To give your entertainment options a boost, we recommend adding Apple CarPlay, which links many smartphone apps to the i3's infotainment system. An 8.8-inch touch screen is available in place of the standard display.
i3 Performance
i3 Engine: Plenty of Punch
The i3 combats the stigma that EVs are slow and boring. Whether you're driving the 170-horsepower i3 or the 181-horsepower i3s, you'll enjoy lively acceleration.
i3 Mileage: Up To 114 Miles of Electric-Only Driving
The i3 is extremely efficient, even among alternatively fueled vehicles. Its mpg-e rating is 129 in the city and 106 on the highway (find out more in our article, Decoding Mpg-e). The i3s gets 126 mpg-e in the city and 99 mpg-e on the highway.
You can drive about 114 miles on a single charge with the i3, or 107 miles with the i3s. That's equivalent to the Hyundai Ioniq Electric but only half the range of the 238-mile Chevrolet Bolt EV. BMW offers both i3 models with a range-extending gasoline engine (designated REx), which grants up to 180 miles of driving range. With a level 2 charger, you can fully recharge the i3 in about 4.5 hours.
i3 Ride and Handling: Like a Go-Kart
With its responsive and nimble nature, the rear-wheel-drive i3 is a fun runabout car for urban environments. Like many EVs and hybrids, it comes with a regenerative brake system, but the i3's aggressive tuning takes more time than most to get used to. When you let off the acceleration pedal, the regen brakes are strong enough to slow you down without using the brake pedal, giving you one-pedal driving abilities.
i3 Reliability
Is the BMW i3 Reliable?
The 2018 BMW i3 has a slightly above-average predicted reliability rating of 3.5 out of five from J.D. Power.
BMW i3 Warranty
The 2018 i3 has a four-year/50,000-mile new-vehicle warranty and an eight-year/100,000-mile battery warranty.
i3 Safety
i3 Crash Test Results
The BMW 2018 i3 received the highest score of Good in four tests and the second-highest score of Acceptable in the fifth test at the Insurance Institute for Highway Safety. It does not have a crash test rating from the National Highway Traffic Safety Administration.
i3 Safety Features
Standard safety features in the 2018 i3 include a rearview camera, rear parking sensors, and rain-sensing windshield wipers. Adaptive cruise control with stop and go capabilities, front parking sensors, and an active parking assistant are available.
Which BMW i3 Model Is Right for Me?
For 2018, BMW offers the pure-electric i3 and the extended-range i3 REX (which acts like a plug-in hybrid). Both models are available as the 170-horsepower i3 or the 181-horsepower i3s. Driving enthusiasts will appreciate the extra get-up-and-go from the i3s, but even the base i3 is peppy, so most shoppers can skip this $3,200 upgrade. Instead, we recommend spending an extra $3,850 for the i3 REX if range anxiety is an issue for you. This expands your total driving range from about 114 miles to 180 miles. Plus, you can simply refuel at a gas station, which can be much easier to find than a recharging station.
Every trim includes the same list of interior amenities. Cloth seats and automatic climate control are standard, along with heated front seats, push-button start, a rearview camera, rear parking sensors, and rain-sensing windshield wipers. Standard features of the infotainment system include a 6.5-inch display, a navigation system, Bluetooth, HD Radio, satellite radio, and a USB port.
In addition to the standard Deka World (BMW-speak for design options), the 2018 i3 is available with the Giga World, Tera World, and Mega World. Wheel size, seat upholstery, and wood trims are the key differences between each. Only one package is currently available: the Technology + Driving Assistant package, which adds extras like an 8.8-inch touch screen, real-time traffic information, and adaptive cruise control with stop-and-go functionality.
The base i3 starts at $44,450. Some buyers may be able to lower this through federal, state, and local tax incentives. The i3 comes with a 170-horsepower electric motor, a 33-kilowatt-hour lithium-ion battery pack, and a single-speed transmission.
The BMW i3 REX increases range from about 114 miles to 180 miles by adding a small gasoline engine. Its price starts at $48,300.
The i3s ($47,650) is the sport-focused trim. It comes with a 181-horsepower electric motor, a sport suspension system, and larger wheels. Battery size and range are the same as the base i3.
For $51,500, you can have the i3s with the range-extending engine.
Check out our U.S. News Best Price Program for great savings at your local BMW dealer. You can also find excellent manufacturer incentives on our BMW deals page.
The Final Call
The 2018 BMW i3 gets a thumbs up for its peppy acceleration and sharp handling. Though its performance doesn't match the driving dynamics of a BMW 3 Series, the i3 is well-suited as an agile city car. It also earns its chops as an appealing green car, thanks to its healthy mpg-e rating and the inclusion of eco-friendly cabin materials.
Unless you're a dedicated BMW fan, though, you should consider an alternative. You can get a longer range at a lower price with a handful of rivals. The all-electric Chevrolet Bolt EV and the plug-in Chevrolet Volt (which is similar to the range-extended i3 REX) are two excellent examples of this.
Don't just take our word for it. Check out comments from some of the reviews that drive our rankings and analysis.
Read the full 2018 BMW i3 review on U.S. News & World Report for more details, photos, specs and prices.
More from U.S. News & World Report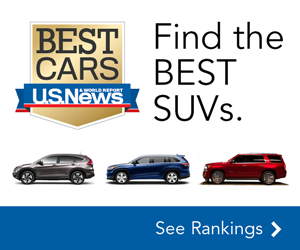 US News & World Report - Cars