2018 Ford Expedition: What You Need to Know

US News & World Report - Cars
11/29/2018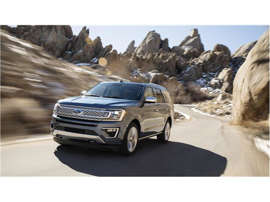 The 2018 Ford Expedition is fresh off a redesign, and it now sits as a leader in our large SUV rankings. It excels in nearly every category, from overall performance to interior quality and space.
Is the Ford Expedition a Good SUV?
The Ford Expedition is a great SUV. Its twin-turbocharged V6 engine delivers swift acceleration and enough power for nearly any situation. In fact, the Expedition boasts a best-in-class towing capacity. It also rides smoothly, has good handling for a large SUV, and can tackle off-road challenges when you need it to.
Thanks to the redesign, the Expedition now features a high-quality cabin with a ton of room for either people or cargo. Even the third-row seat is easy to access, and it has ample space for adult passengers. The Ford Expedition won our 2018 Best Large SUV for Families award because of its ample space, long list of features, and positive praise from automotive critics. It also boasts one of the best predicted reliability ratings in the class.
Should I Buy the Ford Expedition?
The Expedition should satisfy almost anyone shopping for a large SUV. However, it has one of the highest starting prices in the class, and a fully loaded Expedition comes close in price to some luxury SUVs. Still, if you can find room in your budget, give the Expedition serious consideration.
For a little more luxury (and money), check out the Expedition's related cousin, the Lincoln Navigator. Other alternatives like the Chevrolet Tahoe and Chevrolet Suburban are decent alternatives, especially considering their lower prices.
Should I Buy a New or Used Ford Expedition?
The Expedition sees a full redesign for 2018. Ford's biggest SUV brings an all-new aluminum-bodied construction, updated exterior design, and much improved interior quality and materials.
The Expedition now puts out 375 or 400 horsepower (depending on trim) from its twin-turbocharged V6 engine, up from the 2017 model's 365 horsepower. A new 10-speed automatic transmission contributes to the 2018 Expedition's fuel economy estimates of 17/24 mpg city/highway. The outgoing model got 15/21 mpg with its six-speed automatic.
Several driver-assist features are available in the Expedition for the first time: a 360-degree camera, stop-and-go adaptive cruise control, lane keep assist, lane departure warning, and forward collision warning with pedestrian detection and automatic braking.
You can likely save money by shopping for a used model instead of a new Ford Expedition, but you'll miss out on the benefits of the redesign. You can do more research by reading our reviews of the 2016 and 2017 Ford Expedition. Also, check out our Used Car Deals page to learn about savings and discounts on used vehicles.
We Did the Research for You: 8 Reviews Analyzed
Our car reviews include everything you need to know before heading to the dealership. We combine the opinions of the automotive press with quantifiable data like crash test results and reliability ratings to form a complete picture of every vehicle we rank.
Why You Can Trust Us
U.S. News Best Cars has been ranking vehicles since 2007, and our team has more than 75 years of combined experience in the automotive industry. Our car reviews are objective. To keep them that way, our editorial staff doesn't accept expensive gifts or trips from automakers, and a third party handles all the advertising on our site.
How Much Does the Ford Expedition Cost?
The redesigned Expedition has a starting price of nearly $51,800, which is a few thousand dollars more than the outgoing model's base price. That starting price also surpasses the cost of most rivals' base trims. There are two higher trims: the Limited and the Platinum. The Limited starts north of $62,600, and the Platinum starts at roughly $73,000. These are high price tags for the class. A fully loaded Expedition can cost more than $80,000, which is in line with the price of a luxury large SUV.
Check out our U.S. News Best Price Program for great savings at your local Ford dealer. You can also find excellent manufacturer incentives on our Ford deals page.
Ford Expedition Versus the Competition
Which Is Better: Ford Expedition or Lincoln Navigator?
The Lincoln Navigator is essentially the luxury version of the Expedition – both are products of the Ford Motor Company, and they were redesigned together for the 2018 model year. As a luxury large SUV, the Lincoln is more expensive – but not by as much as you'd think, considering a fully loaded Expedition can cost over $80,000. The Expedition has a higher towing capacity and slightly better gas mileage, while the Lincoln's ride is suppler and more relaxing. Cargo space is nearly identical between the two, and each offers a long-wheelbase version that provides more passenger and cargo room. As nice as the Expedition's cabin is, the Navigator's is much better, with seating comfort that is off the charts. The Navigator also offers some features the Expedition doesn't, like a 10-inch touch screen, a head-up display, and adjustable, massaging front seats. These are two phenomenal SUVs, but the Navigator is unquestionably more luxurious.
Which Is Better: Ford Expedition or Chevrolet Tahoe?
The Chevrolet Tahoe sits right behind the Expedition at the top of our rankings. While the Tahoe has gobs of tech features and an upscale cabin, its third row is too small for most adults to sit comfortably. It also has less cargo space and a lower tow capacity than the Expedition. The Ford gets better fuel economy and has better handling composure than the Tahoe. Each of these SUVs is a solid choice, especially since the Chevrolet costs a few thousand dollars less. However, most people will be better off buying the Expedition.
Which Is Better: Ford Expedition or Chevrolet Suburban?
The Chevrolet Suburban is basically a long-wheelbase version of the Tahoe. It competes well with the Expedition Max in terms of size, offering class-leading cargo space and accommodations for up to nine people. The Expedition only seats up to eight. However, these are also two of the only models in the class with adult-friendly third-row space. While the Expedition arguably has the nicest interior in the class, the Suburban's cabin comes close. The Expedition edges out the Suburban in performance as well. It has a stronger and more fuel-efficient powertrain, as well as a higher maximum towing capacity. The Expedition also has a much better predicted reliability rating than the Suburban. Despite the similarities between these two rivals, the Expedition finishes on top.
Expedition Interior
How Many People Does the Expedition Seat?
The Expedition seats eight in its base configuration, but opting for second-row bucket seats will drop seating capacity to seven. Large doors make it easy to get into and out of the vehicle, and all three rows have enough space to accommodate adults. It's even easy to get into and out of the third row, which is not the case with some rivals.
Expedition and Car Seats
The Expedition features either four or five full sets of LATCH car-seat connectors, depending on whether or not you opt for the second-row bucket seats.
Expedition Interior Quality
The cabin looks great, and the Expedition's build quality may surprise you. The materials are nicer than in some rivals. In higher trims, the level of luxury is more on par with a Lincoln than a Ford.
Expedition Cargo Space
You'll have plenty of cargo space in this SUV. The Expedition has more than 20 cubic feet of cargo space behind the rear seats, which is enough room for about 14 pieces of carry-on luggage. It has a maximum capacity of more than 100 cubic feet, letting you haul furniture items or just about anything else you can imagine.
The long-wheelbase Expedition Max has even more room, with 36 cubic feet of space behind the third row and a maximum capacity of more than 120 cubic feet.
Expedition Infotainment, Bluetooth, and Navigation
Standard features in the Expedition include a nine-speaker audio system, satellite radio, four USB ports, and the SYNC connectivity system with a 4.2-inch display screen, Bluetooth, and voice recognition.
Available features include a 12-speaker Bang & Olufsen audio system, wireless device charging, a Wi-Fi hot spot, navigation, a rear-seat entertainment system, and the SYNC 3 infotainment system with Apple CarPlay, Android Auto, and an 8-inch touch screen.
The SYNC 3 infotainment system earns nearly universal praise from reviewers and is worth the extra money. The touch screen features large, easy-to-see buttons. It responds well to inputs, and the interface is intuitive. Apple CarPlay and Android Auto allow users to integrate their smartphones with the SYNC 3 system. For more information, read What Is Apple CarPlay? and What Is Android Auto? Then, see the Best Cars With Apple CarPlay and Best Cars With Android Auto.
Expedition Performance
Expedition Engine: Who Needs a V8?
Most large SUVs feature a V8 engine, but the Expedition features a twin-turbocharged V6. It still has plenty of power – 375 to 400 horsepower, depending on the trim level – for all driving situations, including towing. It also provides quicker acceleration than you'll get from most rivals. A well-matched 10-speed automatic transmission allows the engine to reach its full potential.
Expedition Gas Mileage: Not Exactly a Hybrid
Most large SUVs get similar fuel economy estimates to one another. The Expedition is a hair better than average, but its ratings of 17 mpg in the city and 24 mpg on the highway still don't stand out from the crowd.
Compared to competitors like the Chevy Tahoe and Lincoln Navigator, you'll save about $100 per year in gas money by driving the Expedition.
Expedition Ride and Handling: Generally Truck-Like
Though it doesn't exactly put the "sport" in sport utility vehicle, the rear-wheel-drive Expedition has a fair amount of agility for such a large vehicle. There are better options out there for tackling trails. However, the FX4 package adds several off-road features to make the Expedition capable of traversing dirt roads and tackling light trails. Ride quality is generally pleasant, which isn't always the case for a body-on-frame SUV like the Expedition.
Expedition Towing Capacity
This Ford has a higher maximum towing capacity than many of its rivals: 9,300 pounds when properly equipped. It also offers plenty of helpful towing features like trailer sway control, trailer backup assist, and a trailer brake controller. Even when weighed down with a multi-ton trailer, the Expedition's engine isn't fazed.
Expedition Reliability
Is the Ford Expedition Reliable?
The 2018 Ford Expedition has a perfect predicted reliability rating of five out of five from J.D. Power.
Ford Expedition Warranty
Ford backs the Expedition with a three-year/36,000-mile bumper-to-bumper warranty and a five-year/60,000-mile powertrain warranty. Many other large SUVs have similar warranty terms.
Expedition Safety
Expedition Crash Test Results
The Ford Expedition has not yet been put through crash tests by the National Highway Traffic Safety Administration or the Insurance Institute for Highway Safety.
Expedition Safety Features
Standard active safety features include a rearview camera and rear parking sensors. Available features include blind spot monitoring, rear cross traffic alert, front parking sensors, a 360-degree camera, adaptive cruise control, lane keep assist, lane departure warning, active park assist, and forward collision warning with pedestrian detection and automatic braking.
Which Ford Expedition Model Is Right for Me?
You have three options when picking an Expedition trim. All three options feature a twin-turbocharged V6 engine (though it has 25 more horsepower in the Platinum trim), a 10-speed automatic transmission, and rear-wheel drive. All trims are offered in the long-wheelbase Expedition Max body style for about $2,700 more. You can also add four-wheel drive to any trim for a little over $3,000.
Several option packages are available, and availability varies from trim to trim (higher trims have more standard features). Some packages focus on adding comfort and convenience features, others focus on technology, and others focus on performance by improving towing and off-roading capability. Depending on which features you desire, you could end up adding several thousand dollars to your bottom line.
The higher trims do offer a few more features than the base XLT, but most of them are premium add-ons that you may not need. With that in mind, many buyers will be happy sticking with the base trim and saving some money.
The Expedition XLT has a base price of $51,790. Standard features include a nine-speaker audio system, satellite radio, four USB ports, a rearview camera, rear parking sensors, and the SYNC infotainment system with Bluetooth and voice recognition.
The Expedition Limited has a starting price of $62,675. In addition to the XLT's features, the Limited comes with a hands-free power liftgate, blind spot monitoring, rear cross traffic alert, leather upholstery, heated and ventilated front seats, power-adjustable front seats, heated second-row seats, a heated steering wheel, wireless device charging, a Wi-Fi hot spot, a 12-speaker premium audio system, and the SYNC 3 infotainment system.
The Expedition Platinum has a starting price of $73,030. Though it has the same powertrain as the other two trims, the Platinum's engine setup puts out 400 horsepower. This trim also comes with nearly every feature you can get in an Expedition.
Check out our U.S. News Best Price Program for great savings at your local Ford dealer. You can also find excellent manufacturer incentives on our Ford deals page.
The Final Call
Ford redesigned the Expedition for the 2018 model year – and they did a bang-up job. This Ford is a class leader when it comes to performance and interior quality, and it should appeal to all but the most brand-loyal large SUV shoppers. After all, it tops our class rankings by a wide margin – and for good reason.
Don't just take our word for it. Check out comments from some of the reviews that drive our rankings and analysis.
Read the full 2018 Ford Expedition review on U.S. News & World Report for more details, photos, specs and prices.
More from U.S. News & World Report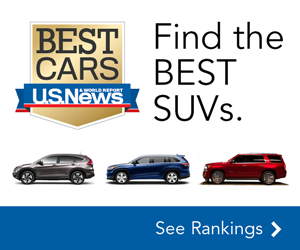 US News & World Report - Cars