2019 Jaguar I-Pace: What You Need to Know

US News & World Report - Cars
8/9/2018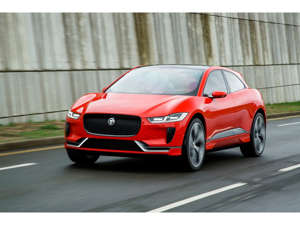 With the 2019 I-Pace, Jaguar proves that it can build a battery electric vehicle that's as thrilling, polished, and comfortable as you want it to be, while also delivering a notable 240 miles of all-electric range. These assets drive it toward the top of our luxury compact SUV rankings.
The 2019 Jaguar I-Pace is ranked:
Is the Jaguar I-Pace a Good SUV?
The Jaguar I-Pace is an excellent SUV. It's a fun-to-drive crossover and one of the most well-rounded electric vehicles you can buy. Finding fault with the I-Pace's performance requires heavy nitpicking. This EV accelerates with ease (and very little noise) and maintains a solid grip on the road. You can even take it off road if you're so inclined, aided by standard all-wheel drive and an adaptive air suspension system that can raise the SUV (for maximum ground clearance) or lower it (to increase aerodynamics on the highway).
Few will have range anxiety, thanks to the I-Pace's remarkable 240-mile range. This Jaguar's refined interior has lots of high-quality materials, and every model comes loaded with an abundance of technology and safety features. The infotainment interface and associated systems hold the I-Pace back, though, with hiccups that may be a deal breaker for some buyers.
Should I Buy the Jaguar I-Pace?
You should buy the I-Pace if a sporty SUV like the Porsche Macan thrills you. You should also consider buying one if the all-electric range, low charging costs, and zero-emission drive of a Tesla Model X appeal to you. The I-Pace's sticker price – starting at just below $70,000 before incentives – is higher than most other luxury compact SUVs and will likely eliminate this vehicle from many budgets. If the I-Pace is out of your price range, consider the Audi Q5 – a performance-oriented alternative that's almost $30,000 less expensive.
Should I Buy a New or Used Jaguar I-Pace?
Because this is an all-new electric vehicle for 2019, you'll be hard-pressed to find a used model. Your only viable option is to shop for a new Jaguar I-Pace.
We Did the Research for You: 12 Reviews Analyzed
Our Jaguar I-Pace review includes far more than just one person's opinion. We collected professional evaluations from nine sources and combined them with concrete data like fuel economy estimates, safety features, and performance specs to help you make an informed buying decision.
Why You Can Trust Us
At U.S. News & World Report, we rank the Best Jobs, Best Hospitals, and Best Colleges to guide readers through some of life's most complicated decisions. We've been ranking and reviewing the Best Cars since 2007, backed by a team with more than 75 years of combined automotive experience. To keep favoritism out of the picture, we maintain a separate advertising team and decline expensive gifts and trips from car companies.
How Much Does the Jaguar I-Pace Cost?
Pricing for the I-Pace ranges between $69,500 (for the entry-level I-Pace S) and $85,900 (for the range-topping I-Pace First Edition). That starting price is higher than nearly every base model in our luxury compact SUV rankings, but it isn't out of line if you're shopping list is limited to luxury hybrid and electric vehicles. In addition to available federal and local tax incentives, you can save money at your local Jaguar dealer with our U.S. News Best Price Program.
Jaguar I-Pace Versus the Competition
Which Is Better: Jaguar I-Pace or Tesla Model X?
The Tesla Model X and Jaguar I-Pace are among the few luxury hybrid vehicles available, and among the even shorter list of EVs with a range of over 200 miles. It's hard to overlook the notoriety of the Tesla, with its available self-driving systems, access to the network of superchargers, and distinctive falcon-wing doors. As a midsize SUV, the Model X is larger than the I-Pace, offering seating for up to seven people. If you don't need the extra space, though, you'll probably be happier with the I-Pace. Its acceleration – though perhaps not ludicrous – is satisfyingly quick, and its cabin showcases a higher level of overall quality.
Which Is Better: Jaguar I-Pace or Jaguar E-Pace?
Evaluating the Jaguar E-Pace alongside the I-Pace is a bit like comparing apples to oranges. The E-Pace is a smaller, subcompact SUV, and its stunted back seat isn't as adult-friendly as the roomier I-Pace. The powertrains of these Jaguars are also polar opposites. Two gasoline engines are offered for the E-Pace, and both struggle to keep up with the instant torque provided by the I-Pace's electric motors. Between these Jaguars, the I-Pace is the optimal pick. It is worth noting, however, that the E-Pace costs nearly $31,000 less than its electric sibling.
Which Is Better: Jaguar I-Pace or Mercedes-Benz GLC 350e?
For the ultimate level of opulence, slip inside a Mercedes-Benz GLC 350e. Its interior exudes refinement in every corner. The seats are inviting and sumptuous, and materials such as standard linden wood or optional brushed aluminum grace its cabin. The GLC's plug-in hybrid powertrain is just as polished. While it has a scant all-electric range of only 9 miles, the GLC 350e gets 74 mpg-equivalent, and the presence of the gasoline engine erases any concerns over its electric-only range. Between these two, pick the Jaguar for sportier performance or the Mercedes-Benz for a swankier interior.
I-Pace Interior
How Many People Does the I-Pace Seat?
Passenger comfort is a mixed bag inside this five-seater. On the plus side, the I-Pace has a liberal amount of passenger space, and it offers enough knee and legroom for adults to sit comfortably in the rear. The cushions, bolstering, and materials are also delightful. Some reviewers say outward visibility for the driver could be better, though.
I-Pace and Car Seats
You can securely attach a car seat using the I-Pace's LATCH system, which includes a set of lower anchors on both rear outboard seats and a tether anchor for all three rear seats.
I-Pace Interior Quality
The I-Pace is just as elegant as you expect a Jaguar to be. A fixed panoramic sunroof, ambient lighting, and plush synthetic leather seats are standard. To dial up the decadence, Jaguar offers upgrades such as Windsor leather seats with up to 18 power adjustments, along with a suede headliner, a surround-sound system, and illuminated metal door sills.
I-Pace Cargo Space
If you rarely fold the rear seats for extra storage, you'll be pleased with the I-Pace. Its 25.3-cubic-foot cargo hold is generous for this class, and all but the base trim have a power or hands-free liftgate for easier loading. For oversized items, the rear seats have a 60/40 split, folding almost flat to create up to 51 cubic feet of cargo space. Most luxury compact SUVs have more overall cargo space. Additional alcoves are placed throughout the cabin (including a very deep console between the front seats), and a grocery-bag-sized compartment is located under the front hood.
I-Pace Infotainment, Bluetooth, and Navigation
In theory, Jaguar's technology is cutting edge. This is the first Jaguar to feature the InControl Touch Pro Duo infotainment system – almost the same dual-screen interface found in the Range Rover Velar – and the stunning screens boast crisp graphics. The navigation system suggests charging stations along your route and estimates range based on your driving style. The climate controls can account for the SUV's passenger count at any given time, adjusting the air and seat climates as needed to conserve the battery and prolong available range. In reality, though, not everything works smoothly, curtailing ease of use. Menu layouts are complex in the Touch Pro Duo interface and adaptable driver's display, and both can be slow to respond to inputs.
I-Pace Performance
I-Pace Engine: Electrifying Acceleration
The consensus is clear: The battery-powered I-Pace is quick, quiet, and exhilarating to drive. Its two electric motors generate instant torque and 394 horsepower, launching this little SUV to 60 mph in 4.5 seconds.
I-Pace Gas Mileage: Excellent Range
With an impressive estimated range of 240 miles, the I-Pace joins the Chevrolet Bolt, Tesla Model S, and Tesla Model X as one of the few battery electric vehicles with a 200-plus-mile range. Depending on the charger, it takes between an hour (with a DC fast charger) and 10.1 hours (with a 220-volt home charger) to recharge the I-Pace's lithium-ion battery pack to 80 percent.
I-Pace Ride and Handling: Smooth and Athletic
On the highway, the I-Pace is agile, composed, and polished. This surefootedness lets spirited drivers push the I-Pace toward the limit without losing control. An adjustable regenerative braking system gives you the ability to set a light regen brake, so the I-Pace more closely mimics the coasting of a gas-only SUV, or a more aggressive regen brake that grants one-pedal driving (a convenient setting when cruising city streets).
I-Pace Off-Road Performance
By placing one electric motor up front and one in the rear, Jaguar endows every I-Pace with all-wheel drive. This SUV has light off-roading capabilities. Using the standard air suspension system, you can raise the vehicle to have up to 5.6 inches of ground clearance or to wade through almost 20 inches of water.
I-Pace Dimensions and Weight
From bumper to bumper, the I-Pace extends 15.4 feet. Its curb weight is 4,784 pounds, and gross weight is 5,886 pounds.
I-Pace Towing Capacity
Jaguar does not recommend towing a trailer with the I-Pace.
I-Pace Reliability
Is the Jaguar I-Pace Reliable?
J.D. Power has not yet released its predicted reliability score for the I-Pace.
Jaguar I-Pace Warranty
Jaguar covers the 2019 I-Pace with a five-year/60,000-mile new vehicle warranty and an eight-year/100,000-mile battery warranty. Complimentary scheduled maintenance is also included for five years or 60,000 miles.
I-Pace Safety
I-Pace Crash Test Results
Crash test results are not available from the Insurance Institute for Highway Safety or the National Highway Traffic Safety Administration.
I-Pace Safety Features
Every I-Pace comes with an admirable number of safety features. Forward collision warning and automatic emergency braking boost the I-Pace's ability to prevent a front crash. The standard park assist controls the steering to expertly navigate the I-Pace into a parallel or perpendicular parking space. A rearview camera, parking sensors all-around the vehicle, and rear cross traffic alert also alleviate some of your stress when parking in tight quarters. The clear exit monitor alerts back-seat passengers when there's an approaching obstacle (such as a bicyclist or an upcoming car) before they open their door. Lane keep assist, rain-sensing windshield wipers, a driver condition monitor, and traffic sign recognition round out the list of standard safety features.
Optional features include blind spot monitoring, a head-up display, adaptive cruise control with stop-and-go functionality, high-speed emergency braking, a 360-degree camera system, and adaptive cruise control with steering assist.
Explore the Jaguar I-PACE inside and out below. Click, drag and scroll to discover more.
Which Jaguar I-Pace Model Is Right for Me?
You have four I-Pace trim levels to select from: S, SE, HSE, and First Edition, which celebrates the I-Pace's kickoff year. Because mechanical components and battery size are the same in all models, your choices come down to your preferred level of luxury and your budget. Prices top out near $90,000, but you don't have to spend nearly that much for a well-equipped I-Pace. The best value is the entry-level I-Pace S. Its list of standard features is far from skimpy, with niceties that include a comprehensive suite of safety features, an opulent interior, and a surplus of tech features. You can also customize your I-Pace S with add-ons (such as genuine leather seats) and packages (including two bundles of advanced safety systems).
Starting at $69,500, the base I-Pace S comes with synthetic leather seats, eight-way power-adjustable front seats, a fixed panoramic sunroof, and dual-zone climate control. Among its bevy of tech features is a dual-screen infotainment system, a 12.3-inch adaptive driver display, smartphone integration, a Meridian sound system, satellite radio, HD Radio, Bluetooth, six USB ports, three 12-volt outlets, navigation, a Wi-Fi hot spot, and push button start.
There's also a wealth of advanced safety systems, including forward collision warning, automatic emergency braking, a rearview camera, parking sensors on every side, rear cross traffic alert, clear exit alert for the back seat, parallel and perpendicular park assist, lane keep assist, rain-sensing windshield wipers, a driver condition monitor, and traffic sign recognition.
Interior enhancements such as a power liftgate and 10-way power-adjustable, grained leather sports seats with memory settings come with the $75,850 I-Pace SE. This midlevel trim also adds blind spot monitoring, adaptive cruise control with stop-and-go functionality, and high-speed emergency braking.
Standout features of the I-Pace HSE ($80,500) include 18-way power-adjustable, Windsor leather, heated and cooled front sports seats, along with heated rear seats, a hands-free liftgate, a 360-degree camera, and adaptive cruise control with steering assist.
The queen of the trim levels is the I-Pace First Edition, starting at $85,900. Most standard features from the HSE carry over, and a selection of unique interior elements further define this special edition. Besides the Windsor leather seats, the cabin features additional Windsor leather garnishes, along with a suede headliner and gloss charcoal ash wood veneer. Other upgrades include a head-up display, four-zone climate control, an activity key, a heated steering wheel, and a heated windshield with heated washer jets.
Check out our U.S. News Best Price Program for great savings at your local Jaguar dealer.
The Final Call
Jaguar earns high praise for its first battery electric vehicle, the 2019 I-Pace. This luxury compact SUV will appeal to a broad range of people: spirited drivers yearning to zoom through twisty canyons, small families in search of a luxury ride, commuters wanting to keep their fuel costs trim, and eco-minded individuals. Bring a bit of patience for your travels – you'll need it to learn and use some of the I-Pace's buggy technology.
Don't just take our word for it. Check out comments from some of the reviews that drive our rankings and analysis.
Read the full 2019 Jaguar I-Pace review on U.S. News & World Report for more details, photos, specs and prices.
More from U.S. News & World Report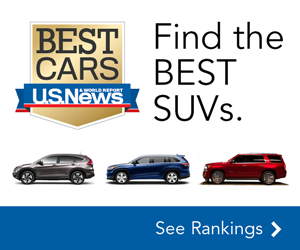 US News & World Report - Cars