Cops Ticket Woman In Speeding Mustang Twice: 92 MPH Then 142 MPH

motor1.com
7/26/2018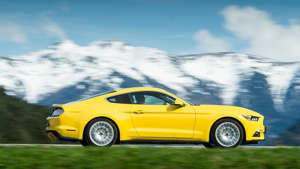 The second ticket came with handcuffs and a free ride to jail.
Nobody likes getting pulled over for speeding. Generally speaking, however, one leaves the traffic stop in a respectful manner because you don't want another ticket, right? Enter Chauntl Wilson, a 31-year old woman who, according to the Lincoln County Sheriff's Office in a Facebook post, was stopped at roughly 1:00 a.m. for going 92 mph (148 km/h) on Interstate 80 in Nebraska. The speed limit on this particular stretch of I-80 is a generous 75 mph (121 km/h), so while she was certainly speeding, it wasn't a tremendous offense. Officers issued a citation and let her go on her way.
Research
Research the Ford Mustang on MSN Autos
Here's where the story goes off the rails. Rather than simply pull away, Wilson apparently punched it. According to a Fox News report, she was driving a yellow 2018 Ford Mustang – not exactly an inconspicuous car – and for reasons we can't fathom decided to show officers what a real speeding ticket looked like. In the Facebook post, the Lincoln County Sheriff's Office says she "accelerated very rapidly" and deputies soon clocked her at 142 mph (228 km/h).
As you probably expect, a new chase ensued but the twist in the plot is that, after a high-speed pursuit for roughly 14 miles, she pulled over on her own accord. Usually such events end in a crash, and well, we don't need to remind you just how often we see Mustangs crashing. Wilson was obviously arrested on the spot and charged with willful reckless driving. Police later found a bit of "suspected marijuana" in the car. We have no idea if wacky tobacky was part of this wacky decision, but we suspect it's a decision she's regretting today.
Joking aside, we're at least happy to see a high-speed pursuit end without a crash. We have no idea of the circumstances leading up to this crazy traffic stop, or why Wilson decided to floor it after being let go. In any case, if you want to blast down a highway in the middle of the night, doing it in a bright yellow Mustang immediately after getting stopped by the cops is probably not the best way to do it.