Dodge Challenger R/T Scat Pack Possessed By Demon For New 1320 Trim
motor1
7/19/2018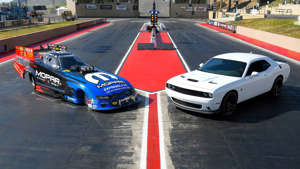 This thing was made for quarter miles.
Can't choose from one of 17 Challenger trim levels? Don't worry, Dodge has a new option optimal for both road and track. The Dodge Challenger R/T Scat Pack 1320 – named for the 1,320 feet in a quarter mile – was designed with grassroots racing in mind. It's completely street legal but made for the drag strip.
Underhood it boats a 392 Hemi V8 good for 485 horsepower (361 kilowatts) and 475 pound-feet (644 Newton-meters) of torque. All that power comes paired to an eight-speed automatic transmission exclusively. But it's not all about power; the R/T Scat Pack 1320 gets exclusive drag strip technology borrowed from the Demon, including an SRT-tuned Adaptive Damping Suspension with Drag Mode, Line Lock, TransBrake, Torque Reserve, and extreme-duty 41-spline half shafts.
More of the Dodge Challenger: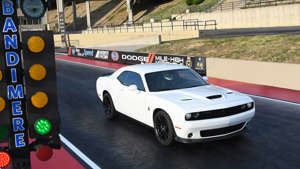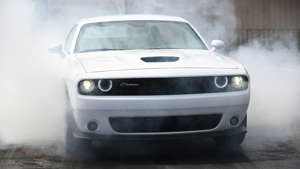 It rides on a set of specially designed Nexen SUR4G Drag Spec 275/40R20 street-legal drag radial tires, features Brembo brakes, and comes standard with a driver's seat only. Inclined buyers can pay $1 to have the front passenger and rear bench installed, of course. All told, the R/T Scat Pack 1320 will take down a quarter mile in 11.7 seconds at 115 miles per hour (185 kilometers per hour). Dodge calls it the fastest naturally aspirated, street-legal muscle car on the planet.
"All it takes is an evening spent at a local drag strip to learn that the grassroots drag-racing community is large and extremely loyal to their cars," says Steve Beahm, Head of Passenger Car Brands. "We created the Dodge Challenger R/T Scat Pack 1320 for the heart of the sport, the bracket racer who wants to drive to the track, suit up, go fast and go home with a big smile and maybe a trophy in the trunk with minimal prep and upkeep."
But it's not all go and no show. An updated version of Dodge's legendary Super Bee logo – dubbed the "Angry Bee" – sits prominently on the front grille, Air Catcher headlights, instrument panel, and startup screen within the gauge cluster. Buyers can choose from 14 different color options, but the purplish Black Eye finish pictured here is only available on the launch model. Dodge says it wants to gauge customer interest on the color for use on future vehicles.
More from Dodge: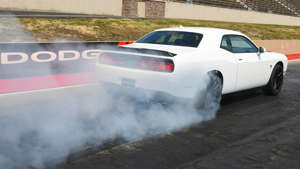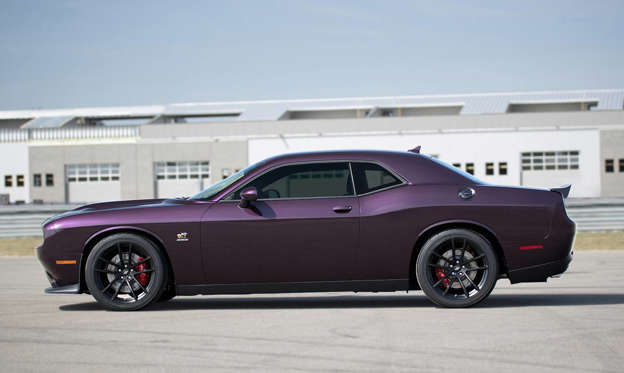 Dodge Challenger R/T Scat Pack 1320
© Motor1.com/Hersteller