Is This The 2020 Ford Bronco, Or Its Baby Brother?
motor1
11/13/2018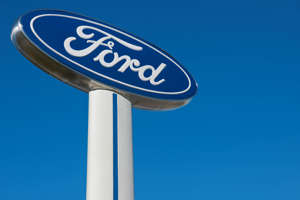 Photos allegedly leaked online say it's the new full-size SUV, but a few things don't add up. Here's something we totally weren't expecting. If these images are legitimate – and they certainly look that way to us – this could be the 2020 Ford Bronco before Ford wants you to see it. Off-road.com reports that these images were found on a publically accessible section of a Ford website. The report also alleges these shots came from the automaker's 2018 dealer meeting recently held in Las Vegas, however something seems a bit off to us.
When you compare these images with the covered teaser photo of the Bronco that Ford officially released earlier this year, things don't quite match up. The rear glass has a different angle, and the teaser suggests there's an external spare tire on the back as well. We aren't suggesting these are fake, but rather than showing the full-size Bronco, we're wondering if these are actually leaked photos of the forthcoming baby Bronco?
Road & Trackactually has a similar theory, one that the magazine says is supported by an unnamed source familiar with Ford's product plan. Looking closer at these photos, they do appear to show a bulky SUV that's a bit smaller in size. We haven't seen any official prototype of a smaller Bronco to compare shapes, but the theory makes sense to us considering the differences we see in these leaked photos versus the official full-size Bronco teaser we have.
We'll give Ford all kinds of credit for keeping a tight lid on the new Bronco. Even if these leaked photos prove to be the real deal, the rebirth and development of this legendary Blue Oval moniker has been a very close secret in the automotive world. That goes for the smaller Bronco – which we know will be based on the Ford Focus platform and shared with the next-generation Ford Escape. We've spied some Fiesta test mules that could be exercising the small Bronco's underpinnings, but so far that's all we've got.
We have a message into Ford asking for any official word on these shots. We will of course plug in an update if any new information is found.