Toyota 86 Gets Three Heritage Liveries Celebrating Le Mans
motor1
6/8/2018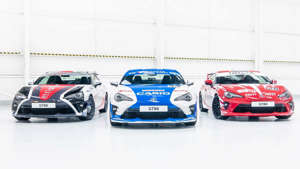 Three 86 models, revealed on 08.06 for the 86th edition of Le Mans.
To get you even more excited about the 86th edition of the Le Mans 24 Hours marathon rally, Toyota has prepared a trio of special versions for its own "86" – the 86 sports coupe. Revealed on the eight day of the sixth month (pun intended), the cars celebrate some of Toyota's great Le Mans cars of the past.
More about the Le Mans:
Porsche Revitalizes Classic Liveries For Le Mans 2018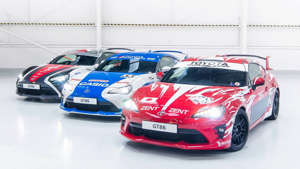 Budget Racing With A Le Mans Legend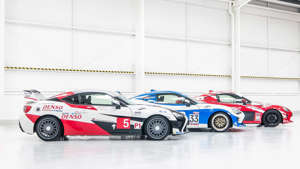 "The 86 gives us a great canvas on which to pay tribute to some of the amazing Toyota race cars that have thrilled the crowds at Le Mans," James Clark, Toyota GB, responsible for the trio of one-off cars, press relations manager, comments. "Response to our earlier retro-liveried coupes was fantastic and we hope these new cars – all strictly one-off creations – will generate the same kind of enthusiasm as we approach this year's 24-hour race."
The first car from the strictly non-production series is paying a tribute to the Toyota TS010 race car of 1992. It was powered by a Formula 1-inspired 3.5-liter V10 engine, producing somewhere in the region of 700 horsepower (522 kilowatts). Next is an 86, inspired by the 1998 TS020, "a pure-bred Le Mans car that proved exceptional in qualifying and a record-breaker in the heat of competition." The third member of the new series gives the TS050 Hybrid a nod. Yes, it's the same car that was oh-so-close to winning the Le Mans 24-hour race in 2016.
All three cars come with big fixed rear spoilers, inspired by the high-downforce aero packages of the Le Mans racers. Also, Toyota has given the 86 trio a lowered suspension by 40 millimeters and new aftermarket wheels, designed to better replicate the designs of the respective original racing wheels. A new stainless steel Milltek sports exhaust system completes the tuning package.
Needless to say, Toyota has no plans to put the special models into production.
Take a look a the press release section below for more information.
Source: Toyota GB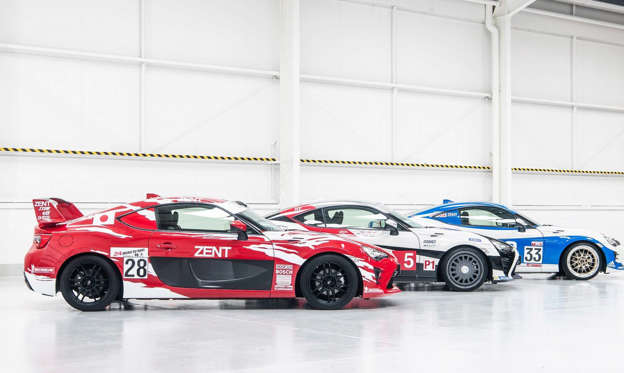 Toyota 86 Le Mans Geritage liveries
© Motor1.com/Hersteller