Volkswagen's Adorable Electric Microbus Concept Now Has a Cargo Version

Car and Driver
9/19/2018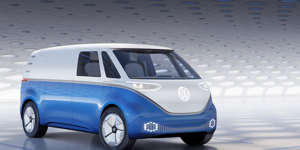 We've known that the Volkswagen Microbus is making its triumphant return as an all-electric, retro-inspired van ever since VW confirmed that the I.D. Buzz concept would reach production within the next few years. What's new is this cargo version of the van concept, which looks awesome in all its slab-sided, windowless, two-tone glory.
Named, not very imaginatively, the I.D. Buzz Cargo, this new concept rides on the same MEB electric architecture as the first I.D. Buzz concept; variants of this platform will underpin nearly all of the Volkswagen Group's electric vehicles going forward. Other than the elimination of the side windows, the cargo version is mostly similar to the passenger version. Key exterior differences include the wide-opening rear cargo doors and smaller, 20-inch wheels that give it a more utilitarian look than the passenger version's huge 22-inchers.
Inside, the cargo van has an interesting three-passenger setup that incorporates a single driver's seat and a two-person bench on the passenger's side. The bench seat can also fold down to become a workspace, and the driver's seat can swivel 15 degrees to the right either when the vehicle is stopped or even when the van is operating in its autonomous-driving mode.
VW claims a payload of 1764 pounds and a driving range of between 205 to 310 miles, depending on the size of the battery pack (MEB is engineered to accommodate a variety of battery sizes).
We'll see how many of these claims come to fruition when Volkswagen eventually releases the production version of these new electric vans. It has said that the passenger version of the I.D. Buzz is coming by 2022, so we would expect the cargo van to arrive somewhere in that timeframe as well. If nothing else, this VW cargo van will certainly bring some retro vibes back to the commercial-vehicle space.
Research the latest from Volkswagen on MSN Autos | Find VW models near you