2017 Nissan Altima: What You Need to Know

US News & World Report - Cars
8/7/2018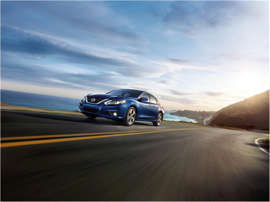 The 2017 Nissan Altima has exceptionally comfortable seats and great crash test results. However, it places in the middle of our rankings because of an aging design and a short list of standard features.
Is the 2017 Nissan Altima a Good Used Car?
The 2017 Altima is a fine option if you have basic needs. It's a fuel sipper with a fairly comfortable ride, and its NASA-inspired front seats provide unparalleled comfort in the class.  However, it doesn't come as well-equipped as rivals, and its outdated cabin design features subpar materials.
Why You Can Trust Us
Our used car rankings and reviews are based on our analysis of professional automotive reviews, as well as data like crash test scores, reliability ratings, and ownership expenses. We researched 43 Nissan Altima reviews to help you decide if it's the right used car for you.
The U.S. News Best Cars team has been ranking cars, trucks, and SUVs since 2007, and our staff has a combined 75 years of automotive industry experience. To ensure our impartiality, our staff never takes expensive gifts or trips from car companies, and an outside team handles the advertising on our site.
How Much Is the 2017 Nissan Altima?
Our site has nearly 5,000 listings for the 2017 Nissan Altima, and the average price is $17,400. However, the Altima's price can range from $14,000 to $22,000, depending on the model you choose. Factors like a vehicle's condition, mileage, location, and features affect its price. The 2017 Toyota Camry has a similar average price of $17,800.
How Much Does the 2017 Nissan Altima Cost to Own?
The 2017 Nissan Altima's five-year estimated costs for gas, insurance, maintenance, and repairs are about $22,500. For comparison, these estimated costs for the 2017 Honda Accord are nearly $24,000. These expenses come to $23,400 for the 2017 Kia Optima.  
Is It Better to Buy a Used or New Nissan Altima?
With a starting price of $23,260, the 2018 Nissan Altima costs nearly $5,900 more than the 2017 Altima's average price. For most shoppers, the extra cost won't be worth the 2018 model's minor updates. For 2018, the Altima gains standard forward collision warning with brake assist. However, that feature is available in the 2017 Altima, and you would probably still save money by finding a used model equipped with it. Apple CarPlay and Android Auto also became available for the 2018 model year. Unless you want those features, the 2017 Altima is the smarter buy. 
No new midsize cars have a lower starting price than the Altima's average list price. However, there are several compact cars that offer lower prices and roomier cabins than the Altima. The 2018 Kia Soul starts at $16,200, and we named it our 2018 Best Compact Car for the Money. It has a quality interior, an excellent warranty, peppy engines, and an outstanding predicted reliability rating. This hatchback also has much more cargo space than the Altima. Another great option is the 2018 Honda Fit ($16,190), which is a subcompact car that has better gas mileage and a larger cargo hold. It also comes with more standard safety features than the 2017 Altima, including a multi-angle rearview camera and a blind spot camera.
Which Model Year of the Nissan Altima Is Best?
The 2017 Altima is part of the sedan's fifth generation, which debuted for 2013 and includes the 2018 model. The Altima has received a few feature and trim updates throughout this generation. Initially, the 2017 Altima saw no major changes. However, Nissan released the 2017.5 Altima later in the year, which added predictive forward collision warning with emergency braking as standard equipment. These features are available as options in the 2016 and 2017 models. The 2016 Nissan Altima offers the best value. Updates for 2016 include new styling and a retuning of the transmission, suspension, and steering. The 2016 model is also the first available with forward collision warning and adaptive cruise control.
How Reliable Is the 2017 Nissan Altima?
The 2017 Altima has an above-average predicted reliability rating of 3.5 out of five from J.D. Power.
2017 Nissan Altima Recalls
As of this writing, the 2017 Nissan Altima has one reported recall involving a rear passenger door inadvertently opening while the vehicle is in motion. Make sure this issue is fixed by a dealer before purchasing.  
See more information on Nissan Altima safety recalls »
Which Used Nissan Altima Model Is Right for Me?
The 2017 Nissan Altima has seven trim levels: 2.5, 2.5 S, 2.5 SR, 2.5 SV, 2.5 SL, 3.5 SR, and 3.5 SL. Nissan discontinued the base 2.5 and 3.5 SR models for the 2017.5 mid-cycle refresh of the Altima.
The base Nissan Altima 2.5 comes with fewer features than most rivals, so you'll probably want to skip it. Instead, start with the Nissan Altima 2.5 S, which comes with a rearview camera, a USB port, a color display, a proximity key, and hands-free text messaging.
Consider one of the midrange or upper trims for more features. The Nissan Altima 2.5 SV adds dual-zone automatic climate control, satellite radio, remote start, blind spot monitoring, and rear cross traffic alert. The Nissan Altima 2.5 SL gives you several comfort features, including a four-way power-adjustable front-passenger seat, leather upholstery, heated front seats, and a heated steering wheel. It also comes standard with a nine-speaker Bose audio system.
The Nissan Altima 3.5 SR comes with the available V6 engine, so frequent highway drivers may want to start here. The Nissan Altima 3.5 SL's features list mirrors the 3.5 SR's, but the SR adds front and rear parking sensors, a moonroof, a navigation system, and the NissanConnect infotainment system with smartphone integration, a 7-inch touch screen, and voice recognition.
Certified Pre-Owned Nissan Altima Warranty
Certified pre-owned vehicles are great options for used car shoppers. For its certified pre-owned vehicles, Nissan extends the original new-car warranty to seven years or 100,000 miles. To become certified pre-owned, each vehicle must pass a 167-point inspection. Additional benefits like towing and roadside assistance may be available, so read the Nissan warranty page carefully.
Before purchasing a certified pre-owned Nissan, you should check out some competing brands' CPO programs. Based on our research, Nissan's CPO program isn't as robust as those of some manufacturers like Dodge, Mazda, and Toyota.
How Safe Is the Altima?
The 2017 Nissan Altima received a perfect five-star overall safety rating from the National Highway Traffic Safety Administration. It also earned five stars in the frontal and side crash tests and four stars in the rollover evaluation. The 2017 Altima earned a top score of Good in each of the six crash tests conducted by the Insurance Institute for Highway Safety, resulting in a Top Safety Pick+ designation.
While many rivals come with a rearview camera, the 2017 Altima doesn't have any standard driver assistance features. Available upgrades include blind spot warning, rear cross traffic alert, adaptive cruise control, predictive forward collision warning, parking assist, automatic forward emergency braking, and a rearview camera.
2017 Nissan Altima Versus the Competition
Which Is Better: 2017 Nissan Altima or 2017 Toyota Camry?
The 2017 Toyota Camry is a better car than the 2017 Altima. It has a roomy interior, and it features a more upscale cabin than the Altima with quality materials and a more modern design. The Camry also has more standard features than the Altima, including a rearview camera and a 6.1-inch touch screen. The 2017 Camry also features Siri Eyes Free, which lets iPhone owners use voice commands to control some infotainment functions. The Camry and its hybrid counterpart are the only two cars in the class to earn perfect predicted reliability ratings.
Which Is Better: 2017 Nissan Altima or 2017 Honda Accord?
The Nissan Altima is a marginally better car than the 2017 Honda Accord. The Altima has a higher predicted reliability rating and uses less fuel than the Accord. The Nissan Altima is also likely to cost less to purchase and maintain than the Accord. Still, the Accord is worth considering for its strong engine, longer list of standard features, and excellent fuel economy.
2017 Nissan Altima Performance
How Does the 2017 Nissan Altima Drive?
The front-wheel-drive 2017 Altima is powered by a 179-horsepower 2.5-liter four-cylinder engine. It's not very powerful, and getting up to highway speeds can take some time. Additionally, the engine grows noisy under hard acceleration. An available 270-horsepower 3.5-liter V6 engine provides sufficient power for easy highway acceleration. A continuously variable automatic transmission (CVT) comes standard. The Altima has decent handling and a fairly comfortable ride on smooth surfaces, which is typical for the class.
Does the 2017 Nissan Altima Get Good Gas Mileage?
The 2017 Nissan Altima has some of the best fuel economy estimates among nonhybrid cars in the class. According to the EPA, the base model returns 27 mpg in the city and 39 mpg on the highway. With the available V6 engine, the Altima gets 22/32 mpg city/highway.
2017 Nissan Altima Interior
How Many People Does the 2017 Nissan Altima Seat?
The Nissan Altima seats five on cloth upholstery. The exceptionally comfortable front seats are what sets the Altima's interior apart from rivals. These NASA-inspired zero gravity seats conform to your body and keep you comfortable through the longest of journeys. The rear seats have adult-friendly legroom, but headroom is tight for taller riders. 
The Altima has not seen a full redesign since 2013. Compared to rivals, it has an outdated cabin design and a lackluster quality of materials.
How Many Car Seats Fit in the 2017 Nissan Altima?
The Altima has a LATCH system for safely securing child seats. There are three upper tether anchors in the rear seat and two sets of lower anchors in the outboard positions. The LATCH system received the IIHS' second-lowest score of Marginal for its ease of use.
2017 Nissan Altima Features
All models come standard with Bluetooth, push-button start, and a four-speaker stereo. That's a shorter standard features list than many competitors offer. Available amenities include hands-free text messaging, smartphone app integration, a moonroof, proximity key, a six- or nine-speaker sound system, a USB port, remote start with Intelligent Climate Control, a 5-inch color monitor, and the NissanConnect infotainment system with a 7-inch touch screen and navigation.
2017 Nissan Altima Dimensions
Nissan Altima Cargo Space
The 2017 Altima has 15.4 cubic feet of trunk space, which is average for the class.
2017 Altima Length and Weight
The 2017 Nissan Altima is about 16 feet long. Its curb weight ranges from 3,212 pounds to 3,258 pounds. The gross vehicle weight is 4,226 pounds.
Where Was the 2017 Nissan Altima Built?
Nissan built the 2017 Altima in Tennessee and Mississippi.  
Read the full 2017 Nissan Altima review on U.S. News & World Report for more details, photos, specs and prices.
More from U.S. News & World Report

US News & World Report - Cars