All-New 2019 Nissan Altima Doesn't Stand Out From the Competition

Consumer Reports
10/23/2018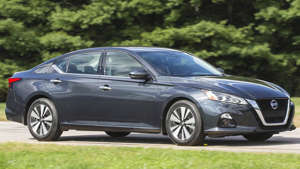 Consumer Reports has no financial relationship with advertisers on this site.
The new Altima is remarkable for being unremarkable. Nothing is alarmingly bad, but there's also nothing that warrants heaps of praise. As sedans continue to lose market share to SUVs, logic would dictate that it's more important than ever to hit it out of the park when designing a new car.
The all-new 2019 Nissan Altima adds some standard safety systems and offers all-wheel drive for the first time (joining the Ford Fusion and Subaru Legacy). But this sixth-generation sedan won't compel anyone to take it for a drive, and it doesn't feel like it has advanced to the level of key rivals such as the Honda Accord, Legacy, and Toyota Camry.
We rented a 2019 Altima from Nissan (shown) and purchased one for our test program. The midlevel SV trim we bought includes a number of comfort features, as well as standard forward-collision warning and automatic emergency braking with pedestrian detection.    
The outgoing 2018 Altima had good fuel economy, but it had fallen to the bottom of our midsized car ratings. To be competitive, Nissan needed to make significant improvements.
How It Drives
The Altima's unremarkable nature starts with the base four-cylinder engine. For example, its abrupt throttle delivery jolts the car off the line. Yet once the car gets going, power feels merely adequate, with little oomph to spare. Our drivers often felt like they needed to push the gas pedal harder than they expected, such as when trying to accelerate to merge onto the highway.
The continuously variable transmission does a good job mimicking the shifts of a traditional automatic transmission. It keeps the revs low and engine noise to a minimum when driving moderately. But when a quick burst of speed is called for, the CVT causes the engine to rev higher than seems natural for the level of acceleration.  
The new Altima is rated at 32 mpg combined by the Environmental Protection Agency. This is 1 mpg better than the last version's rating. We will conduct our own fuel-economy test on the 2019 Altima as part of our program once we complete 2,000 break-in miles.
We found the Altima's handling, like its power, uninspiring. It doesn't turn into corners with the eagerness of the Honda Accord and Toyota Camry, and it certainly lacks the precision of a Mazda6. The Nissan's steering feels vague entering turns, with a mushy sensation that makes the sedan feel larger than it is. 
The ride initially feels smooth, but driving on rough roads pokes through that superficial veneer. Larger bumps strike into the cabin in a more pronounced fashion than we expect for a family sedan. Most road and wind noises are nicely squelched, though, and the engine clamor at full throttle is tamer than that of many of its four-cylinder rivals.
Inside
Our test car's black-and-tan interior combination brightens things up some, but the overall ambience comes across as fairly generic thanks to an abundance of hard plastic surfaces. There are few surprises or delights to be found beyond the leather-wrapped steering wheel and stitched trim on the doors and dashboard. We like the conventional gear selector, though.
Most of the controls don't look very fancy, but we appreciate their simplicity. So far, our staff especially likes the huge climate knobs, with their well-defined detents that let the user choose the exact setting they intend, and that both audio volume and tuning are via knobs and not touch-screen inputs.
Some of the text on the infotainment screen is small, but most functions are clear. There are dense information menus within the instrument panel to wade through, which is particularly hard to do safely while driving. All trim levels come standard with Android Auto and Apple CarPlay compatibility, enabling easy integration with smartphones.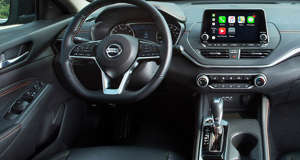 The Altima requires less ducking to get in and out than many competitors, and the interior is notable for its roomy feel. We found it easy to get comfortable, aided by a standard eight-way power driver's seat. Some drivers felt that the seat cushions were a little mushy (although the soft cloth material holds the driver in place nicely), but the driver's seat has two-way power lumbar and the bottom cushion offers good leg support.  
Front headroom isn't restrictive, but the hard plastic center console comes into almost constant contact with the driver's right knee. The door and center armrests are well-placed and nicely padded. Rear-seat room is generous for the class, with good headroom and knee room, although we found toe room under the front seats to be a bit squished.
Safety and Driver-Assist Systems
Forward-collision warning and automatic emergency braking come standard. Stepping up to the SR trim brings blind-spot warning and rear cross-traffic warning systems. Our tested SV trim adds pedestrian detection to the automatic emergency braking system, along with lane-departure warning with steering assist, and rear automatic emergency braking. (Learn more about advanced safety systems.)
We find Nissan's lane-departure warning system to be quite annoying. When the car edges toward the center line, the system vibrates the steering wheel while giving a loud buzzing sound, startling the driver. It's not easy to figure out how to turn it off, either.
SV, SL, and Platinum trims come with Nissan's ProPilot Assist system, which combines adaptive cruise control with lane-centering. This can be helpful to relieve some driver stress in slower, congested traffic conditions.    
CR's Take
We have lots of miles to log and tests to run before we'll give our final verdict on the redesigned Altima. But our initial impressions tell us there is little about the new Altima to make it stand out among a field of strong competitors.
Pricing starts at $23,750 for the base Altima S, with our midlevel SV test car (the one we think most shoppers will buy) starting at $27,930. Check back here to see how the new Altima stacks up against other midsized sedans after we complete our full road test.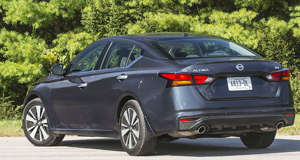 Consumer Reports is an independent, nonprofit organization that works side by side with consumers to create a fairer, safer, and healthier world. CR does not endorse products or services, and does not accept advertising. Copyright © 2018, Consumer Reports, Inc.