2021 Porsche 718 Cayman

Motor Trend
2 days ago
Pros
Research
Perfectly weighted steering
Confidence-inspiring dynamics
Singing flat-six
Cons
Underwhelming four-cylinder
Base car's limit understeer
Plenty of tire noise
The 718 Cayman is a fixed-roof mid-engine sports car from Porsche and the fraternal twin to the drop-top 718 Boxster. Porsche introduced the third-generation Cayman for 2017 as its first modern sports car with a four-cylinder engine, but a six-cylinder offering joined the lineup last year in the form of the track-focused Cayman GT4 and again this year in the Cayman GTS 4.0. It competes with other premium performance coupes including the Chevrolet Corvette, Toyota Supra, and BMW M2.
What's New
Automatic dual-zone climate control, heated seats, auto-dimming mirrors, Apple CarPlay, and upgraded headlights now standard
New 718 Cayman GTS 4.0
Seven-speed PDK transmission now offered on 718 Cayman GT4
What We Think
The 718 Cayman is an easy car to love. It's engineered for the driving enthusiast; when the GT4 competed at Best Driver's Car we lauded the car's near-perfect steering, pedals, and shifter, all of which respond exactly how you'd expect. That kind of consistency inspires real confidence, allowing a driver to push harder and focus on their cornering lines and braking points. It's the kind of car that pushes you to be a better driver.
Porsche caused quite a stir introducing the 718 Boxster and Cayman with turbocharged four-cylinder power, and the results are mixed. The turbo engines in the Cayman and Cayman S provide impressive performance, but the exhaust note and lack of top-end performance can leave something to be desired. Opt for the new Cayman GTS, though, and Porsche's naturally aspirated flat-six delivers a charismatic Porsche soundtrack and linear power delivery. In the Cayman GT4, it's part of a truly sublime driving experience, although—as ever—it remains sandbagged by long gearing.
The base Cayman placed second in a three-car comparison against the Toyota Supra and BMW M2. Porsche's entry provided a confident, buttoned down handling experience that contrasted nicely with its competitors' tail-happy dynamics, but limit understeer, underwhelming midrange power, and an exorbitant price tag kept it from the top spot.
Performance and Fuel Economy
No surprise here; Porsche offers a wealth of choices as to what powerplant is sandwiched between the 718 Cayman's driver and rear wheels. Transmission choices include Porsche's PDK seven-speed dual-clutch automatic and an old-school six-speed manual.
2021 Porsche 718 Cayman, 718 Cayman T
Engine: 2.0-liter turbo flat-four
Horsepower/Torque: 300 hp/280 lb-ft
Efficiency (city/highway): 20-21/26-27 mpg
Acceleration (0-60 mph): 4.1 seconds (Cayman PDK)
2021 Porsche 718 Cayman S
Engine: 2.5-liter turbo flat-four
Horsepower/Torque: 350 hp/309 lb-ft
Efficiency (city/highway): 19/24-25 mpg
Acceleration (0-60 mph): 3.6 seconds (Cayman S PDK)
2021 Porsche 718 Cayman GTS 4.0, 718 Cayman GT4
Engine: 4.0-liter flat-six
Horsepower/Torque: 394-414 hp/309 lb-ft
Efficiency (city/highway): 17-19/23-24 mpg
Acceleration (0-60 mph): 4.1 seconds (Cayman GT4 Manual), 3.4 seconds (Cayman GT4 PDK)
How Much Does a Porsche 718 Cayman Cost?
Early in their model histories, Porsche defied convention with the Boxster and Cayman by charging less for the convertible Boxster and more for the fixed-roof Cayman, but that has changed since. The base 718 Cayman starts at $61,250, a couple grand shy of the base Boxster. Meanwhile, A top-spec Cayman GT4 will set you back even more than a base Porsche 911.
2021 Porsche 718 Cayman Pricing
718 Cayman: $61,250
718 Cayman T: $70,250
718 Cayman S: $73,250
718 Cayman GTS 4.0: $88,150
718 Cayman GT4: $101,550
Cargo Space and Interior Room
For a sports car, the Cayman offers an impressive amount of cargo capacity. It employs both a conventional cargo area beneath the rear hatch as well as a front trunk, which there's room for because the engine is in the middle. Cargo volume measures 9.7 cubic feet out back and 5.2 cubes up front, giving the Cayman more total cargo space than the Chevrolet Corvette, although that car's deep, wide trunk will happily swallow a golf bag that likely wouldn't fit in the Cayman.
Technology
Every Cayman employs a 7.0-inch touchscreen infotainment system in the center stack that for 2021 now includes Apple CarPlay as standard. Sorry Android users—Android Auto is not available. Eight-speaker audio is standard in the Cayman, but a Bose 10-speaker system and Burmester 12-speaker setup are optional on all models. Built-in navigation is available as an optional extra.
Key Competitors:
More from Motor Trend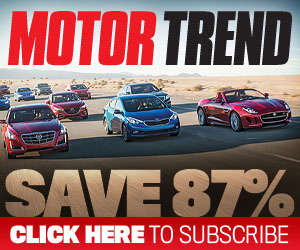 Motor Trend