Awesome to the Max: Coolest Cars of the 1980s

Car and Driver
|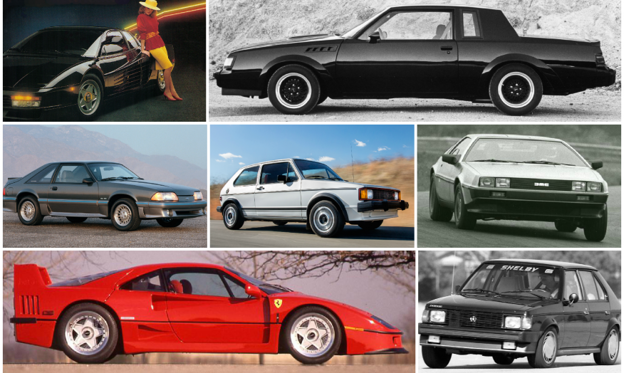 Coolest Cars of the 1980s
The 1980s were marked by corny television, the beginning of the end for the Soviet bloc, "Morning in America," and the arrival of the Japanese car as a mainstream choice instead of a quirky alternative. Japanese gems of the 1980s generally sold on the virtues of reliability, sanity, and efficiency. Or in the case of two cars on this list, the Toyota MR2 and the Honda CRX Si, frugal, sporting fun. On our own shores, the decade saw the beginning of a muscle revival that included Buick's turbocharged V-6s and Ford's V-8–powered Fox-body Mustang—a trend that would culminate in today's Hellcats, big-power Camaros, and factory-fettled Mustangs.
Of course, a huge number of fully realized performance cars came from Europe, stuff like the Lamborghini Countach—updated for the 1980s with flares and those lovely Campagnolo teledial wheels—the straketastic Ferrari Testarossa, and even the simple, perfect Volkswagen GTI. The '80s, of course, also was when the BMW 3-series established itself as a pillar of automotive excellence.
It was the era of Group B rally racing, too. Audi's Quattro—the genesis of the Sport Quattro homologation special—makes our list, as does Mitsubishi's Starion, a rallying version of which arrived too late to compete in the series. Porsche's 959 first appeared as the "Gruppe B" concept but went into production just as the FIA pulled the plug on the Killer Bs at the end of '86. Zuffenhausen sent it to Dakar and Le Mans instead.
If the automobiles of the decade weren't universally great, they were at least often interesting, as the industry discovered how to make emissions-friendly power, experimented heavily with turbocharging, and began serious work on the all-wheel-drive systems we take for granted today. If the sad-sack 1970s marked the end of the postwar performance boom, the '80s signaled a fresh wave of original thinking.
Now cue up some New Wave, crack open a Bartles & James, and scroll through this gathering of 1980s metal, compiled by polling the Car and Driver editorial staff and hashed out via cage matches held in our office garage. (To the underwriters of our health and property insurance, we offer our sincere apologies for all the paperwork.) Enjoy.
© Car and Driver