Car shopping 101: Avoid the upsell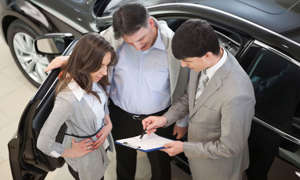 The Internet has done much to empower automotive consumers. You can compare similar vehicles and options and get manufacturer and invoice pricing online before you ever enter a showroom. But those clicks can be out the window when you hit the bricks of a dealer lot, due to vehicle availability. The dealer may have the model you're looking for, but not in the configuration you want.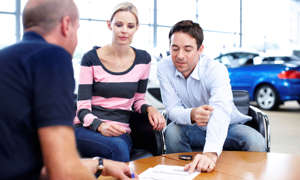 So the dealer has your new ride in stock, but it is has different options. Floor mats — no, sorry, can't sell it without the floor mats. Different paint, pearlescent, costs a bit more. Turbo engine — you're definitely going to want that. Plus the 18-inch alloy wheels instead of the standard 16-inch steel ones. There are also heated seats and mirrors, and a navigation system — it's all part of a package, can't order that stuff a la carte.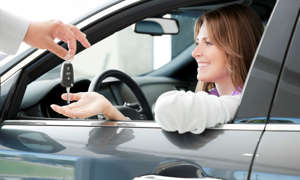 This is a high-demand car, the dealer says. He can check around with other nearby dealerships, but to get it the way you want it will take a few weeks, and if it were special ordered, it may take months. He can probably give you a deal, though — just give him a minute to consult with his manager.
Research
All it takes is a whiff of interest on your part — "hmm, the nav system does look slick, and I've always wanted alloy wheels" — and you're off on the upsell express. Factory options, dealer add-ons, mysterious fees, extended warranties, paint and glass protection -suddenly, the $20,000 car you were expecting has $8,000 to $10,000 in extras tacked on. Your head is spinning: What just happened?
In the cutthroat, low-margin automotive market, the upsell is how many dealers make their profit. "The amount of profit that dealerships earn for each vehicle sold is often smaller than many people realize," says Michael Royce, a former car salesman who now runs the site beatthecarsalesman.com. "To increase their profits, dealerships have to make more money one way or another. Some dealerships realize this extra profit from their service departments. But many dealers try to earn that profit by upselling their car buyers with extras and upgrades."
But it's worth remembering that you are the customer, and you shouldn't be pressured to pay for items you did not want in the first place. Here are the most common upsell tactics dealers try, and the best way to make sure you only get what you came for.
Tactic 1: The package deal
This is less of a dealer tactic than a car industry tactic. For years, automakers lumped together popular options into packages (cold-weather package, technology package, sport package) or discrete model lines (LX, SX, EX, MXLPLX) to streamline production and reduce inventory. But those packages also mean that it's nearly impossible to get the better stereo without getting a navigation system, or to get a moonroof without the 8-way adjustable leather seats. It also serves to hide the true cost of individual components and jacks up the price of a base trim by several thousand dollars at a time.
Fight back: There's not much you can do to tease out packaged options into a la carte selections, but if you do your research online, you can walk into the dealer with a firm grasp of exactly what model and option package you like, and then insist upon it. "If they try to talk you into buying an upgraded vehicle with equipment and options you don't want, stand firm," Royce says. "Don't let them talk you into anything you don't want or need."
Royce suggests shopping at the largest dealership in your area, since it should have the largest selection and the highest likelihood of having the combination of options you want. Or better yet, call the dealership to see if it has the model before you show up. Never email them unless you want a new friend sending you messages every week. Finally, pay attention to the difference between factory options — typically such things as moonroofs, leather seats, rear backup cameras and the like — and dealer- or port-installed options, such as spoilers, floor mats and roof racks. The latter are more likely to be sold a la carte. If the dealer tries to inflate the price by insisting dealer options are part of a factory package, call his bluff.
Tactic 2: Monthly payment shenanigans
Rather than negotiating on price, dealers would always rather talk about how to fit a vehicle into your monthly budget. That's because they have an enormous amount of latitude when it comes to stretching out the length of loans, and plenty of incentive to do so, because the longer the loan, the more interest you pay. This is essentially a pure financial upsell, and often it's a way to persuade you to buy more car than you need.
Fight back: Always negotiate the price of the car before you talk about trade-ins or financing. Use MSN Autos to determine the dealer price of the exact model of vehicle you want with options, compared with the manufacturer's suggested retail price. With most cars, your target negotiating price should be halfway between the two numbers. Don't even discuss how the vehicle is going to be paid for until you've settled on a price that you're comfortable with.
Tactic 3: Extra warranties, insurance and other stuff
After you've settled on a price with the car salesman, you'll be shown to the dealership's business manager to sign the paperwork and work out financing. "Remember that the business manager, at most dealerships, is actually a salesperson working on commission," Royce says. "As he goes over your paperwork with you, he'll offer you lots of extras, such as an extended warranty, car alarm, window tinting, etc."
You may never have heard of some of these extras — "What's window VIN etching?" — and the business manager will have a perfectly good explanation for why you need them: "Etching the vehicle identification number on parts discourages theft and may reduce your insurance rates." Sometimes you'll be told that VIN etching, rustproofing or paint protection have already been done to the vehicle, and the charge is automatically added to the bill.
Fight back: Sitting in the business manager's office, you're an uninformed consumer. You came in prepared to discuss loans and interest rates; you have no idea how much an extended warranty or etched window glass should cost, or what the relative value of these options are to you.
"Be very cautious about buying any of these extras," Royce says. "Most items they offer are overpriced and unnecessary." Flatly refuse to pay for anything that has already been done to the car but wasn't part of the original negotiation; the business manager will usually throw it in for free rather than lose the sale over it. If any of the business manager's pitches do sound interesting to you, tell him you will check other sources and get back to him if you're still interested. If he tells you that the deal is no good once you walk out the door, then switch your answer to a definitive, "No, thank you."
Tactic 4: The tyranny of fees
Here's where things get really tricky, because on the final bill there are a variety of legitimate, nonnegotiable closing costs that are often bundled together with dodgy price-padding fees that are worth fighting over. Let's start with the ones that are legitimate.
Sales tax. Remember, if your state's sales tax rate is 8 percent, that means a $30,000 car will cost you $2,400 in tax; painful, but unavoidable. However, it's worth looking into your state's laws about trade-ins and rebates. Some states tax only the difference between the trade-in and the new car. Some states assess the tax on the new car before rebates, some after.
Destination fee. This is the cost to ship the vehicle from the manufacturer to the dealership. It should be on the window sticker and should be considered part of the cost of the vehicle.
Title and registration. This service is provided for you to save you the hassle of going to the Department of Motor Vehicles to register proof of ownership and get license plates assigned to the car. The fee is set by the state and goes to the state. Still, it varies wildly: Some states set registration fees as low as $20, while in others the fees are close to $600. Regardless, there's no wiggle room here — it's required by law.
There are a few semi-legitimate fees that you have an obligation to pay but should keep an eye on, since some dealerships can manipulate them for profit. These include documentation fees, regional ad fees, holdback and financial reserve fees.
Finally, there are the fees that represent nothing other than a pure money grab by dealerships. These include dealer preparation fees (washing the vehicle, checking the tire pressure and peeling off stickers), additional shipping and handling (the cost of getting a vehicle from another dealer's lot to your dealer's lot), floor-plan fees (the cost of keeping a vehicle on the lot), and a variety of other strange and indecipherable terms followed by the word "fee."
Fight back: As we've mentioned, some taxes and closing costs are unavoidable, but others are negotiable or downright laughable. Before you go into the dealership, look up the tax rate in your state, as well as title and registration fees with the DMV. Also check local laws about documentation fees. "The documentation fee is simply more profit for the dealership," Royce says. "The way you handle this fee depends on the laws in your state." If your state puts a cap on documentation fees, then it's illegal for the dealer to exceed that. If not, then it's open season. Consider anything over $100 worth haggling over; anything over $300 is outright robbery — remember, this is the cost of pushing paper around the dealership. Also, feel free to question the cost of gas in the tank if it seems out of whack with what you see at local filling stations.
Regional ad fees are the fees paid by the dealer to the manufacturer for national advertising. Holdback and financial reserve fees are tricky bits of financial engineering between manufacturers and dealers; they're worth negotiating and asking about, but dealers will often fight for them.
As for the dodgy fees, put your foot down and say no. Vehicle prep, floor-plan fees and anything else added to the original manufacturer's invoice should be considered the cost of doing business for a dealership and shouldn't be passed on to you. The most laughable of all is the additional delivery fee, since it is essentially the dealer's attempt to make you pay him to keep you from buying the car from another dealership. If the dealer insists upon this one, tell him to send the car back to the other dealer, and you'll be glad to go purchase it there.
Sam Foley is a Connecticut-based automotive journalist who has written for GQ, Forbes, USA Today, the New York Post and various other publications.