Driving tips to keep your teen alive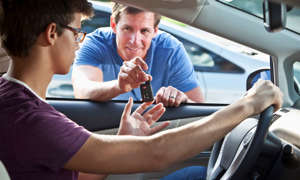 Before you toss your teen driver the keys to the family car for a run to the beach, know this: Motor vehicle crashes are the leading cause of death among 16- to 19-year-olds in the United States, accounting for a full 25 percent of total deaths in that age group, according to the Centers for Disease Control and Prevention. On top of that, the frequency of auto crash fatalities for teen drivers and passengers typically peaks in July and August, when it is almost 40 percent higher than its annual low point in midwinter.
Research
For teen drivers, the summer months can be perilous. School is out and teens typically spend more time driving and lead less-structured lives. This added time behind the wheel means teens have more opportunities to get into trouble on the road. Teens are already a high-risk group: The fatal crash rate per mile driven for 16- to 19-year-olds is three times that of older drivers. Experts say that while immaturity and simple inexperience will always expose young drivers to more risk, there are simple steps parents can take to help teens avoid the situations that most frequently lead to accidents.
Those steps are already paying off. Young drivers in the U.S. are more safe now than ever. Since 1996, fatal and police-reported crashes have fallen by more than 68 percent for 16-year-old drivers, by 56 percent for 17-year-olds and by 47 percent for 18-year-olds, according to statistics compiled by the Insurance Institute for Highway Safety, a nonprofit organization supported by the insurance industry.
The key factor behind the dramatic decline in teen driving fatalities and accidents is the adoption by states of graduated driver licensing (GDL) laws, according to Anne McCartt, senior vice president of research at IIHS and author of several studies on teen driving.
Search Bing: Graduated driver licensing
"Vehicles are safer, drunk-driving laws are tougher and more people are using seat belts, each of which contributes to the reduction in fatalities," McCartt says. "But for young drivers, the adoption of GDL laws, and the corresponding awareness among parents about teen driving risk factors, has been significant. It's also a fact that the states with the toughest GDL laws have the lowest rate of fatal and nonfatal crashes by teen drivers."
Graduated driver licensing laws — which encourage more supervised practice time, limit night driving and reduce driver distraction by keeping other teens out of cars driven by inexperienced drivers — can serve as a template for parents seeking ways to create a safer environment for young drivers. Combining GDL concepts with ideas offered by the IIHS, the National Highway Safety Administration and driving instruction professionals produced this list of driving practices and rules that parents can use to create a safer driving environment for teens.
Always wear a seat belt
Teen drivers have a lower rate of seat belt use than older drivers. The NHTSA reports that 55 percent of the 2,405 teen passenger vehicle occupants killed in crashes in 2011 were not belted. Remind young drivers that wearing a seat belt is the best way to protect themselves and passengers from severe injury or death.
Zero alcohol tolerance
Teens are less likely than adults to drive after drinking alcohol, but their crash risk is substantially higher when they do. Even though they cannot legally purchase alcohol, 29 percent of teen drivers killed in 2011 were drinking, according to a CDC study. Also remind teenagers that the consequences of an arrest for driving under the influence could include a trip to jail, loss of driving license, stiff fines, attorney fees and loss of scholarships and academic eligibility.
Follow your state's GDL law
Three-stage GDL laws help reduce the exposure of young drivers to high-risk situations by making sure teens gradually build up driving experience and skills under lower-risk conditions by limiting night driving, restricting teen passengers and requiring more supervised practice. All 50 states and the District of Columbia have a three-stage GDL system, but the specific requirements are determined by each state. States with the most restrictive laws have greater reductions in teen driver deaths than states with weak laws, according to the IIHS, which has produced an interactive guide to GDL rules in each state. If the GDL law in your state is weak, consider adopting the tougher standards of another state as your "family" GDL law.
No cellphone
Allow absolutely no texting while driving. Despite laws in all but nine states that ban texting while driving in all situations, a 2012 study commissioned by State Farm Insurance revealed that 57 percent of teen drivers admit to texting while driving. Distraction is a leading cause of driver error that causes most crashes by teen drivers. Ask your teen drivers to turn off the ringtone on the cellphone when behind the wheel, or consider using one of the apps or devices such as Cellcontrol, Sprint Drive First and iZup that disable a cellphone when it is in motion.
Establish a curfew
Per mile driven, the nighttime fatal crash rate for 16-year-old drivers is four times that of daytime driving. "Driving at night is always more dangerous," McCartt says. "For young drivers, the lack of experience is compounded by limited visibility. There are also more drunk drivers on the road at night, which has a collateral effect." Unlike driving to school or work, late outings tend to be recreational and thus more prone to risk-taking. With some exceptions, most GDL laws establish a curfew for young drivers of 11 p.m. or midnight, but some are as early as 8 p.m. The sooner your young driver is home, the better.
Supervise driving practice
Take an active role in teaching your teenager how to drive, with supervised driving practice for at least six months before the teen is allowed to get an intermediate license, and continued practice after he or she has a restricted license.
Be a good role model
Driver education starts when your child is in a car seat, already learning to drive by watching you. An IIHS study of driving records in North Carolina showed that children whose parents had three or more crashes on their records were 22 percent more likely to have had at least one crash than children whose parents had no crashes. And children whose parents had three or more violations were 38 percent more likely to have a violation. If you speed, engage in road rage, don't wear a seat belt or drive while texting or after drinking, it's likely your child will follow your example.
Search Bing: Car monitoring for teenagers
Consider a monitoring device
Various types of in-vehicle devices and phone apps (examples include Canary, MamaBear and Rapid Protect) are available to parents who want to monitor teen driving. These systems flag risky behaviors such as speeding, sudden braking, abrupt acceleration and non-use of seat belts, and can report that behavior and even the location to parents through email alerts or a website. Research conducted by the IIHS showed that a monitoring device can reduce teens' risks behind the wheel; incidence of speeding more than 10 mph over the limit dropped by almost 50 percent in some cases.
Some insurance companies are getting onboard with monitoring programs. American Family offers its free TeenSafe Driver Program to customers in all 19 of the states in which it operates. The program, which utilizes a camera triggered by erratic movement, has proven to reduce risky driving behavior by 70 percent within a few weeks, according to the company. Weekly reports help parents coach their young drivers. The program has served about 15,000 families since its launch in 2007.
Choose a safe vehicle
Your teen driver will be safer in a vehicle that offers the most protection and reduces the chance of a crash. Consult crash-test reports published by the National Highway Traffic Safety Administration and the IIHS, and put your teen in the safest car you can afford.
Graduate-level driver education
Many young drivers may benefit from driving instruction that gives them experience in skid control and emergency braking. Usually conducted at race tracks or closed-course driving schools, these programs combine classroom learning with behind-the-wheel instruction from professional drivers. The Skip Barber Mazda Driving School, which costs $1,000, is at the premium end of the instruction scale. Driver's Edge offers a free half-day program for drivers ages 21 and younger (with a valid license or permit). The program teaches real-life emergency avoidance and response techniques and overall driving skills. Driver's Edge programs are conducted semi-regularly in cities across the country, and on an ongoing basis in Las Vegas. Recent sessions in April at Las Vegas Motor Speedway attracted more than 1,200 students and parents, according to the organization. Remember, standard driver's education teaches kids to pass a test, not how to drive. A driving school provides teens with practical experience that could save their lives.
Veteran moto-journalist and Wisconsin-native Charles Plueddeman has been driving, riding and testingautomobiles, motorcycles, boats, ATVs and snowmobiles for more than 20 years. He is a regular contributor to Boating Magazine and Outdoor Life, and his product evaluation articles have appeared in Popular Mechanics, Men's Journal, AutoWorld, Playboy, Boats.com and many other national publications and Web sites.