How to avoid a purchase disaster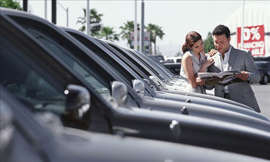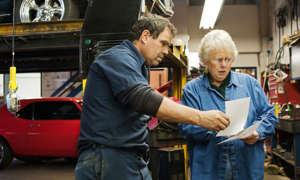 When you're in the market for a used car, the Latin phrase caveat emptor ("let the buyer beware") should be the guiding principle behind any purchase. Distinguishing a cream puff from a hard-ridden beater becomes an epic responsibility when so much of your hard-earned money is at stake. So how do you find the right used car? Due diligence is key. Having a plan about what to look for before scouring the Web and the streets in search of that diamond in the rough will help you find a vehicle that will serve as a reliable partner for miles to come.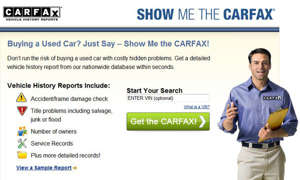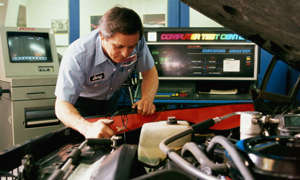 Repair history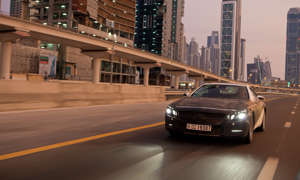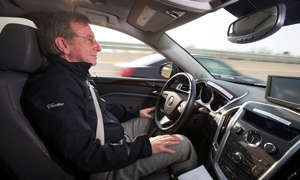 The more detailed the repair records, the better your understanding of the car's history and its condition. Repair receipts from current and previous owners are great indicators of a vehicle's condition. Allen Otto of Hansville Repair in Hansville, Wash., says to keep an eye out for recently completed big-buck maintenance on high-mileage vehicles; look for items such as timing chain and belt service, water pump replacement and transmission repairs.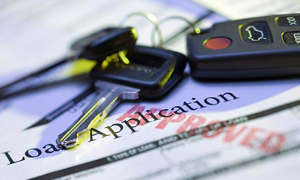 Vehicle history
On newer vehicles, it's wise get a history report from services such as Carfax, AutoCheck and Instavin.com. However, Otto says buyers should understand that these reports refer only to insurance claims for incidents such as accidents, vandalism and flood damage, and have little to do with the mechanical operation of your candidate.
Research
Signs of neglect
Always check a vehicle up and down, inside and out for any signs of damage or previous repair. Something as simple as the cleanliness of the interior can be a crystal ball into the quality of upkeep the vehicle has seen. Keeping a tidy cabin requires no technical ability and it illustrates the current owner's commitment to the vehicle.
MacGyver on duty
Escaping MacGyver-like from a jail cell with a paper clip, rubber band and ballpoint pen is one thing, but finding strange objects at work under the hood of a car is a red flag. Do you see some poorly executed do-it-yourself repairs? These can be another sign of neglect. Do all the tires match? A previous owner who cut corners on maintenance could be setting you up for a big fall.
A fluid situation
Checking oil and transmission fluid can provide key clues to an engine's internal health. Otto says the oil should not be gritty, watery or milky. Color is irrelevant. An oil-change sticker on the windshield can also provide insight. Transmission fluid is all about smell. An odor of dead fish means at some point the fluid got too hot, which leads to viscosity breakdown and potential damage. Be wary with your nose and also observe how the transmission shifts on your test drive.
Shimmy shimmy bang bang
Shimmy and bang may be great for the rockabilly enthusiast, but they're not so exciting when experienced by someone test-driving a vehicle. The steering wheel is a communications portal to the bones of the vehicle. The tightness of the chassis and suspension can be established through feedback. A wiggly wheel means trouble. Otto says worn steering components, tired shocks, damaged tires or warped brake rotors may be the culprits.
Taking it to the streets
Before your test drive, open the door, start the engine and listen for hesitation or other odd noises. Be sure your test drive is long enough that it warms up the engine and features roads where you can get up to freeway speeds. On a stretch of clear roadway, let go of the wheel and see if the car pulls left or right (a sign of poor steering or alignment), then apply the brakes a bit to see if the car pulls to one side — a sign of a stuck caliper piston.
Love stinks
Don't fall in love; buying a car isn't that kind of relationship. A pre-purchase inspection by an expert takes all the emotion out of the evaluation process. A PPI includes an in-depth examination and testing of the charging system, suspension, brakes and wheel bearings; a scan of the engine control module to detect any past or present error codes; a compression test that confirms the health of the engine's internal components; and a thorough test drive by an expert.
Inspector Detector shortcut
Otto suggests taking a prospective car in for an oil change as a cheap way to get an expert's eyes on your prize. Hansville Repair conducts a 36-point visual inspection with its oil change. The inspection checks for leaks; looks at steering components, engine belts and hoses; and assesses brake-pad wear. It also includes a spark-plug inspection for gap growth and residue, which can be harbingers of trouble.
Financing: The buck starts here
Get preapproved for the best loan terms before starting your car hunt. If your search ends at a dealer, be wary of letting the finance department try to beat it. Don't be cajoled with "it's only another $50 a month" — that's $3,000 plus interest over a five-year loan. On the flipside, be aware that when a monthly payment is lowered, time (meaning payments) is usually added to the terms of the loan.
Read: Used-car sales climb as Americans hold onto older vehicles
Evan Griffey served as an editor of Turbo & High Tech Performance, a pioneering publication about sport-compacttuning. Today Griffey freelances for Import Tuner, Sport Compact Car, Car Audio and Siphon.