How to survive a winter breakdown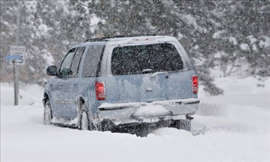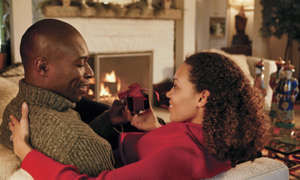 A few wrong decisions, a little bad luck and a forecast calling for snow — a recipe for disaster, if there ever was one. What starts as a routine holiday drive — over the river and through the woods to visit grandma — can quickly become a struggle for survival.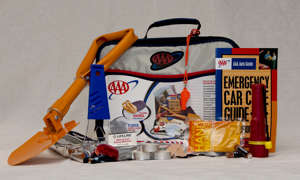 Consider the terrible case of former CNET senior editor James Kim and his family, who became stranded on a remote, unpaved logging road in the Pacific Northwest on Nov. 26, 2006. Driving home to San Francisco after spending Thanksgiving in Seattle, the Kims had missed a turnoff from Interstate 5 to Oregon Route 42, a main route to the Oregon coast. Instead of returning to the exit, they consulted a map and chose an alternative route through the Wild Rogue Wilderness, a remote area in the southwestern part of the state, and kept driving in the rain and snow after dark.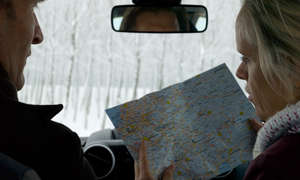 Lost, low on fuel and exhausted, the couple and their two daughters, Penelope and Sabine, stopped for the night. By morning, the family was snowbound in their Saab station wagon 20 miles from civilization, with no cell phone reception. A week later, searchers found Kati Kim and her two young daughters alive in the car. James Kim had set out on foot to get help two days earlier. His body was discovered Dec. 6 not far from the vehicle.
Research
The plight of the Kim family may be an extreme situation, but the Automobile Association of America predicts that 5 million drivers will be stranded this holiday travel season, and that more than 800,000 of those will be stuck in ice or snow. And you don't need to be in the mountains to get into winter-driving peril. Just last year, a driver in rural Wisconsin died after he left the safety of his stranded car and tried to walk to a farm just a mile across a snowy field on a subzero night. He made just half the distance before succumbing to exposure.
Don't let this happen to you. To help, here are some guidelines to follow when stranded in the cold.
Bing: Real-Time Road Conditions
Be smart
The easy way to avoid getting stranded on winter roads is to just stay home. And sometimes that's exactly the correct decision, says Howard Paul, a spokesman for the National Association of Search and Rescue, a nonprofit devoted to educating and training search and rescue personnel.
"With the Internet and today's cell phones, almost everyone has instant access to weather reports," says Paul, a 20-year veteran of search and rescue operations who lives in Denver and leads a team that covers three counties in Colorado's Front Range. "Often the best decision is just not to head out in the first place, or to turn around while you can. Too often people keep driving, thinking that certainly the road will get better, or the snow will let up soon. And 100 yards later, they are stuck."
Paul also cites an overreliance on 4-wheel drive, "which just gets you stuck further from the road," and on technology such as cell phones and GPS as factors causing drivers becoming lost and eventually stranded.
In January 2010, The Associated Press reported that Jeramie Griffin and his fiancée followed a GPS "shortest route" from their Willamette Valley, Ore., home across the Cascade Mountains, hoping to save 40 minutes on the trip. Following GPS, the couple became stuck on local roads, out of cell-service range and short on formula for their 11-month-old daughter. Three days later, all were rescued safely, but the incident left local law enforcement perplexed. It was the third time in a month that drivers had become stranded in the area while trusting navigation to GPS.
"You simply can't use GPS navigation without also looking at a map, especially in bad weather," Paul says. "In many parts of the country, there are roads that are only open seasonally and might not be plowed or patrolled in the winter. The GPS unit just sees a road. And if you only focus on the screen, you won't have a big-picture notion of where you are headed."
Be prepared
Whether your intended route takes you over the mountains of Oregon or across the frigid, wind-swept plains of North Dakota, it's important to be prepared for a worst-case scenario, says William Van Tassel, manager of driver training programs for AAA.
"Preparedness starts with letting someone know where you are going and what route you intend to take," Van Tassel stresses. "Just like a pilot or someone headed into the wilderness. Then if you go missing, there's a starting point for a search."
Every driver heading out in the winter also should carry emergency supplies in the vehicle. The contents of that kit will vary depending on your driving habits. If you are frequently in the mountains or other remote areas, you should have a more complete kit. (Read "Be Prepared For Winter Driving" for a complete list of must-have supplies.)
Finally, pack some reading material. Even if you're only "stranded" on Interstate 70 waiting with a few thousand other cars for an accident or snow slide to be cleared, a book will help pass the time and keep you from becoming frustrated.
Remain in the vehicle
That's always rule No. 1 if you get stranded in an isolated location, Paul says: "Your vehicle provides shelter, and probably heat. The best thing to do is just sit tight and let rescuers come to you."
Don't try to dig out the car. "You could become exhausted shoveling in vain, have a heart attack or get injured," Van Tassel says. "And if you work so much that you sweat a lot, your damp clothing won't keep you warm."
You do, however, want to make sure the car's exhaust pipe is clear of snow, as a blocked pipe will cause toxic carbon monoxide to seep into the car's cabin as you run the engine to make heat. It's OK to run the engine for 10 to 15 minutes each hour to warm the car with the heater, but open the window a crack as protection against carbon monoxide poisoning, whether you've unblocked the tailpipe or not. If you follow another rule of winter travel, and never let the fuel level go below one-half, you'll have enough gas to keep the car warm for several days and the battery charged.
Also, bring your emergency gear into the passenger compartment with you, and if you have a cell phone and service, call 911 for help.
If you're in a remote location, try to keep the hood and roof of the vehicle clear of snow so that you'll be more visible to searchers. At night, the emergency flashers will make it easier to spot the vehicle, or leave the dome light on. It draws less battery current and illuminates the entire interior.
If you are stuck off the roadway, you might not be visible to passing searchers. In this case, try to walk back up to the road — but only if it is a short distance — and place a marker or flag of some sort that will let people know you and the vehicle are down the embankment, for example. Then get back to the shelter of the car.
Remain calm, read your book, and wait for the cavalry to arrive.
Veteran moto-journalist and Wisconsin-native Charles Plueddeman has been driving, riding and testingautomobiles, motorcycles, boats, ATVs and snowmobiles for more than 20 years. He is a regular contributor to Boating Magazine and Outdoor Life, and his product evaluation articles have appeared in Popular Mechanics, Men's Journal, AutoWorld, Playboy, Boats.com and many other national publications and Web sites.
Become a fan of MSN Autos on Facebook.
Visit MSN Autos' "Exhaust Notes" blog to keep up on all things automotive.
In the market for a new car? MSN Autos is pleased to provide you with information and servicesdesigned to save you time, money and hassle. Click to research prices and specifications on any new caron the market orget a free price quotethrough MSN Autos' New-Car Buying Service.