Behold the Highs and Lows of the 2018 Paris Motor Show

The Drive
10/4/2018
The Paris Motor Show is alive and well this week, and over the course of two press-only days, it managed to pump out a plethora of vehicles that seriously stimulated our eyeballs from afar. Manufacturers have come from far and wide to put their pieces of art on display, and while some have pulled off creating their slice of perfection, others have made choices we've deemed to be questionable. We've thought long and hard about who and what makes the list, so let's explore exactly what's hot (and what's not) at this year's Mondial De L'Auto.
What's Hot
Infiniti Project Black S
Infiniti has built the Project Black S concept to be raw and overpowered; just how enthusiast-focused cars should be. But what makes the car interesting is that the power doesn't just come from its stout 3.0-liter twin turbo V-6, the car is, surprisingly, a hybrid.
Two turbochargers which feature electric motors sit nested in the Project Black S' engine bay, available to provide instantaneous spool thanks to the F1-inspired technology built into the snails. A small 4.4-kilowatt-hour battery pack helps store power which can be used to either help spool the turbochargers or deliver an estimated 160 supplemented horsepower to the car's electric drivetrain. An even cooler aspect about how hybridization is used comes in the form of electricity generation to recharge the tiny battery pack. Not only does the car utilize regenerative braking, but it also utilizes the small electric motors in the turbochargers to convert spent exhaust gasses into stored energy.
Our very own Caleb Jacobs said it best: "Project Black S is the best car Infiniti will never make."
Peugeot e-Legend
If you've been following the Paris Motor Show, you may have noticed that electricity is the new trend amongst automakers who are in attendance. Peugeot intended to take full advantage of that, showing the world its newest retro-inspired e-Legend concept.
The e-Legend builds its fame on its design, undoubtedly, by revisiting its 1970s 504 coupe for inspiration. The car's velvety blue interior screams vintage, while its futuristic controls, including a flat racecar-inspired steering wheel and a plethora of digital displays, complement the design of the interior perfectly. The French automaker shoved a 100 kWh battery into the e-Legend, permitting the 456-horsepower concept to drive an estimated 373 miles between charges.
Ferrari Monza
On the topic of modern design trends comes Ferrari's newest pair of Barchettas, the Monza SP1 and Monza SP2. The two sportsters are named appropriately, with the numeral in their names referring to the number of passengers it can seat at any given time.
The Monza nods its hat at its grandfather, the 1948 Ferrari 166 MM, designed to with a matching set of "gentleman driver" themed gear. The exotic Italian supercar produces 810 horsepower from its 6.5-liter V-12 engine and will propel the pair of Monza from zero to 62 miles per hour in just 2.9 seconds. Needless to say, the fine Ferrari will make the boy-racer in any man feel alive again, so as long as they can afford one of the 499 examples priced at a staggering $1.8 million.
What's Not
BMW Ditches the 3 Series' Manual Transmission
Probably the most unfortunate news for any person looking for their modern-day attainable dream car; BMW is dropping its manual transmission from all gasoline-powered 3 Series cars. Instead, the cars will be given an eight-speed "sport" automatic to fulfill the need for speed, joining the ranks of another luxury German automaker who has recently made a similar decision. Get used to it though; any automaker who explores the option of electrifying its entire fleet is likely to meet the same fate.
Fake Exhaust Tips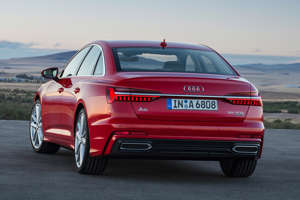 © Audi
© Drive Fake Exhaust Tips
One of the most interestingly annoying trends as of late are automaker's desire to create obviously fake exhaust tips for their vehicles. The Paris Motor Show was full of such examples, including Audi's new flagship A6 (which doesn't bother to even cut out its falsies), the BMW X5, and the entire lineup of new Mercedes-Benz vehicles present at the show. Maybe the argument that these fake tips make the aesthetics of their hosts flow a bit better, but we all know who's faking it.
Smart Forease
© Smart Smart Forease

Just when you thought electric was enough, it wasn't, at least not to the folks at Mercedes-Benz's compact sister brand, Smart.
The Forease has become one of the weirdest concepts to come out of the show. In typical Smart fashion, the vehicle's footprint is rather tiny, but unlike Daimler's usual conservatively-styled child, the Forease is clothed akin to a Lady Gaga concert on wheels. The car has electrifyingly bright accent colors scattered about, bubbly features all over the interior, a schnoz that only a mother could love, and its facia appears to be unreasonably angry at anybody who might cross the little bugger's path. But we'll give it points for the open-top steering wheel.
See more news from the Paris Auto Show on MSN Autos