2012 Dodge Durango: What You Need to Know

US News & World Report - Cars
1/5/2016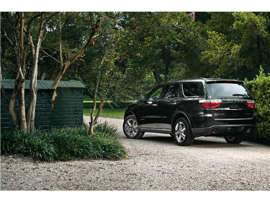 When it was new, reviewers said the 2012 Dodge Durango stood out with a strong base engine, an even more powerful available V8 and athletic handling.
The 2012 Dodge Durango is ranked:
The 2012 Dodge Durango comes standard with a V6 engine, and reviewers said that most shoppers should be pleased with this engine, which provides enough power for highway merging. A V8 engine is available, and test drivers reported that it offers plenty of power and a pleasing exhaust note. A five-speed automatic transmission is standard on V6 models, while V8-powered Durangos come with a six-speed automatic. Some reviewers said that the base Durango's transmission shifts smoothly, but they also noted that it can be slow to downshift when more power is needed. The 2012 Durango gets up to an EPA-estimated 16/23 mpg city/highway, which is typical for the class. When it was new, reviewers were pleased with the Durango's comfortable ride and nimble handling. Auto journalists also appreciated the Durango's small turning radius, as well as its responsive brakes and communicative steering.
Reviewers were pleased with the 2012 Dodge Durango's attractive cabin design and premium interior materials when it was new. Critics noted that the front seats are comfortable and have ample leg- and headroom, and while some said that the second row is spacious, others wrote that other midsize SUVs offer more legroom in the second row. The third row also received mixed reviews, as some considered it roomy enough for adults, while others remarked that it is best left to kids. Tri-zone automatic climate control, a six-speaker stereo system and satellite radio are standard. Available features include a premium nine-speaker stereo system, navigation, Bluetooth, a USB port, blind spot monitoring, adaptive cruise control, heated front and rear seats, ventilated front seats and a rearview camera. The 2012 Durango offers up to 84.5 cubic feet of cargo space, which falls short of the space in more cavernous rivals like the 2012 GMC Acadia.
Other SUVs to Consider
With nimble handling and responsive steering, reviewers said the 2012 Mazda CX-9 is one of the most enjoyable and engaging midsize SUVs to drive. The CX-9 also has more cargo space than the Durango.
The 2012 Chevrolet Traverse offers more overall cargo space than most midsize SUVs, and it won praise for its three rows of spacious seats. Additionally, reviewers said the Traverse has a smooth ride and good maneuverability.
Read the full 2012 Dodge Durango reviewon U.S. News & World Report for more details, photos, specs and prices.
More from U.S. News & World Report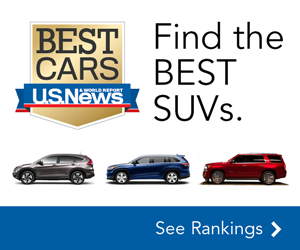 US News & World Report - Cars