2013 BMW 3-Series: What You Need to Know

US News & World Report - Cars
3/1/2018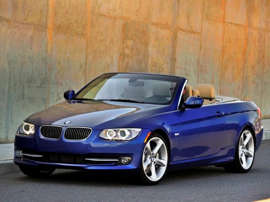 Agile handling and brawny acceleration come in spades with the used 2013 BMW 3 Series. However, a tricky infotainment system and a mediocre reliability rating for the class prevent it from placing near the top of our rankings. 
The 2013 BMW 3-Series is ranked:
Is the 2013 BMW 3 Series a Good Used Car?
With a powerful engine lineup, a roomy cabin, and comfortable, supportive seats, the 2013 BMW 3 Series is a suitable used luxury small car. That said, its average reliability rating and lack of standard leather upholstery make some competitors more appealing.
Used 2013 BMW 3 Series Performance and Interior
A 180-horsepower turbocharged four-cylinder engine powers the base 2013 BMW 3 Series sedan. Coupe and convertible models feature a 230-horsepower four-cylinder engine. There's plenty of power in the base engine, but there are several trims that come with more powerful engines – namely, the 414-horsepower V8 in the sport-tuned M3 trim. Ride quality is smooth and composed, and handling is precise. A six-speed manual transmission comes standard, but many used models have an automatic. An ActiveHybrid3 sedan is also available, but it doesn't improve fuel economy very much. The base 3 Series delivers 23 mpg in the city and 35 mpg on the highway – a good rating in the class. Rear-wheel drive is standard, but some models come with all-wheel drive (xDrive). In comparison to the 3 Series, the Infiniti G37 has sharper driving dynamics.
The 3 Series comes in sedan, coupe, and convertible forms, and it seats five in two rows of supple leatherette seats. The cabin is nicely laid out and offers a good amount of passenger room, but it falls short of rivals that come with standard leather upholstery, like the Lexus GS. Additionally, some settings in the standard iDrive infotainment system require you to click through a lot of menu options, and you should keep in mind that convertible models don't offer much cargo space when the top is down. Otherwise, the 3 Series has a considerable amount of trunk space in sedan and coupe models. There are two sets of LATCH car-seat connectors on the rear outboard seats, and the middle seat features an upper tether anchor.
The 3 Series sedan comes standard with leatherette upholstery, a 6.5-inch iDrive infotainment system, a leather-wrapped steering wheel, power-adjustable front seats, Bluetooth, a nine-speaker audio system, HD Radio, a USB port, and dual-zone automatic climate control. You might find a used model with features like navigation and leather seats.
Used 2013 BMW 3 Series Prices
The 2013 BMW 3 Series ranges from about $15,700 to $36,740. Specific prices vary depending on the vehicle's condition, mileage, and demand.
We Did the Research for You: 33 Reviews Analyzed
To give you a complete overview of the BMW 3 Series – and make your car-shopping experience easier – we analyzed 33 BMW 3 Series reviews alongside reliability ratings, safety scores, and more.
Why You Can Trust Us
U.S. News Best Cars has been ranking and reviewing vehicles for a decade, and our crew has more than 75 years of combined experience in the auto industry. To ensure our objectivity, we do not accept expensive gifts from carmakers, and an external company manages the ads on our site.
How Reliable Is the 2013 BMW 3 Series?
The 3 Series has an average reliability rating of three out of five from J.D. Power. In contrast, the Mercedes-Benz E-Class has a higher rating of 4.5 out of five.
How Safe Is the 3 Series?
The Insurance Institute for Highway Safety gave the 2013 BMW 3 Series sedan the highest rating of Good in four crash tests and a Marginal rating in the fifth – the small overlap front crash test. The National Highway Traffic Safety Administration gave the 328i model five out of five stars in the side and rollover crash tests and four stars in the frontal crash test, for a five-star overall rating. The sedan comes with rain-sensing windshield wipers. Some models offer a rearview camera, adaptive cruise control, and front and rear parking sensors.
Is the 2013 3 Series the Best Model Year to Buy?
The 2013 BMW 3 Series is part of a generation that started in 2012 and includes the 2018 model year. When the 2013 3 Series was new, BMW added the 320i and ActiveHybrid3 trims, and it made all-wheel drive available in sedan models. Opting for the 2012 model year will make less of a dent in your wallet, but you won't find the 2013 model's add-ons. BMW made quite a few changes to the 2014 model, so it's definitely worth a look. It added Sports Wagon and Gran Turismo hatchback body styles, and 3 Series coupe and convertible models were rebranded as the 4 Series. A diesel model was also introduced.
Which Used BMW 3 Series Is Right for Me?
The 3 Series comes in three body styles: sedan, coupe, and convertible. The sedan comes in three trims: 320i, 328i, and 335i. Coupe and convertible models get 328i, 335i, 335is trims, as well as the sporty M3 trim. No matter what body style you choose, you can get the BMW 3 Series 328i trim. Its four-cylinder engine is more powerful than the base BMW 3 Series 320i trim (sedan models only) without affecting fuel efficiency very much. An ActiveHybrid model is also available.
Since the 3 Series has an average reliability rating, you might consider a certified pre-owned option. The BMW CPO program is offered on vehicles up to five years old and with less than 60,000 miles on the odometer. The program covers buyers for one year with unlimited mileage after the expiration of the four-year/50,000-mile new vehicle limited warranty for passenger cars and SUVs for a maximum of five years of coverage. Each BMW undergoes an inspection before earning CPO status. Additional benefits like towing and roadside assistance may be available. Restrictions apply on transferring certified-pre-owned coverage to subsequent owners. Read the BMW warranty page carefully. The model's original sale date determines whether it is eligible for the CPO program.
2013 BMW 3 Series and Other Cars to Consider
Which Is Better: 2013 BMW 3 Series or 2013 Mercedes-Benz C-Class?
The 2013 Mercedes-Benz C-Class is also part of the luxury small car class, and there are a couple of similarities between it and the 3 Series. Both vehicles come with leatherette upholstery and tricky infotainment systems. However, the 3 Series has a slight edge, with more cargo and passenger space, a more powerful base engine, and better fuel economy estimates. The C-Class gets a slighter higher reliability rating, but the 3 Series is the better vehicle overall.  
Which Is Better: 2013 BMW 3 Series or 2013 BMW 5 Series?
The 2013 BMW 5 Series is a luxury midsize car that is similar to the 3 Series. It has a strong engine lineup, good fuel economy estimates, a larger interior and lithe handling. On the other hand, the 5 Series has a higher reliability score of 3.5 out of five, but the 3 Series gets lower ownership costs. Go with the 3 Series. 
Read the full 2013 BMW 3-Series review on U.S. News & World Report for more details, photos, specs and prices.
More from U.S. News & World Report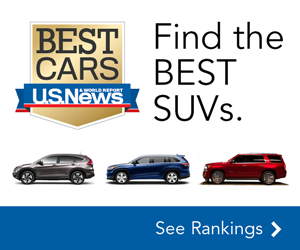 US News & World Report - Cars