2013 Honda Civic: What You Need to Know

US News & World Report - Cars
9/17/2018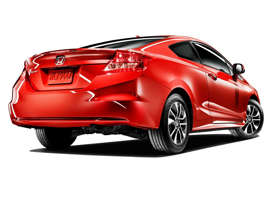 The 2013 Honda Civic has a nicer interior and a higher reliability rating than many of its rivals. It's also fun to drive, with unruffled handling and peppy engine performance. With so many positive traits, it's no wonder the 2013 Civic ranks among the best in our compact car rankings.
The 2013 Honda Civic is ranked:
Is the 2013 Honda Civic a Good Used Car?
The 2013 Honda Civic is a great option among used compact cars. There's a little something for everyone to like. The Civic has a comfortable ride and feels surefooted around turns, and its four-cylinder engines are energetic and fuel-efficient. It boasts quality interior materials, and it earns high marks for safety and reliability. The only area where the Civic falters is practicality. It's only available in sedan and coupe body styles, so you'll need to look elsewhere if you want a roomier hatchback.
Why You Can Trust Us
We've analyzed 47 Honda Civic reviews, as well as hard data points like reliability ratings and cost of ownership estimates, to help you make the best car-buying decision possible.
U.S. News Best Cars has been ranking and reviewing vehicles since 2007, and our team has decades of experience in the auto industry. Though we're passionate about cars, we're even more committed to providing helpful consumer advice. To maintain objectivity, we don't accept expensive gifts or trips from car companies.
How Much Is the 2013 Honda Civic?
You can expect to pay between $9,000 and $16,400 for a used 2013 Civic. These figures are based on listings for the 2013 Honda Civic on our site. The average price is $12,600. Prices vary depending on the vehicle's condition, mileage, features, and location.
How Much Does the 2013 Honda Civic Cost to Own?
The Civic's five-year costs for gas, insurance, repairs, and maintenance are projected to be $23,700 – or about $4,750 per year. That's average for a compact car.
Is It Better to Buy a Used or New Civic?
The 2018 Honda Civic starts at $18,940. Unlike the 2013, the new model is available as a hatchback, which is more practical for hauling bulky items. The new Civic is also more agile and fun to drive. Its cabin has a more upscale look and feel, along with more advanced tech features like forward collision warning, Apple CarPlay, and Android Auto. This refinement makes the 2018 Civic a better car overall, but it has a much higher price than the 2013 model. If you just want a reliable and enjoyable small car, a used 2013 Civic will get you there – and for thousands of dollars less.
Read about the new Honda Civic »
You aren't likely to find many new compact cars that cost less than a mid-priced 2013 Civic. As you move toward the higher end of the 2013 Civic's price range, however, you'll find several inexpensive new subcompact cars worth considering. The refined 2018 Kia Rio starts at $13,900. The 2018 Chevrolet Sonic and 2018 Toyota Yaris iA start at just under $16,000.
Which Model Year of the Honda Civic Is Best?
The ninth-generation Honda Civic spans the 2012 through 2015 model years, and all models are fine picks for used car shoppers. Each rates well for reliability and offers pleasant handling, good fuel economy, and the same engine options. There are some things to keep in mind though. Honda added a rearview camera to the 2013 Civic and spruced up its cabin materials. An available blind spot camera debuted in the 2014 Civic. While the rearview camera is a handy upgrade, Honda's LaneWatch blind spot camera is more distracting than helpful.
Honda also replaced the Civic's five-speed automatic transmission with a continuously variable automatic transmission (CVT) for 2014. CVTs function differently than traditional automatics, and some models with a CVT suffer from excessive engine noise when accelerating. The Civic's CVT is especially refined though, and it provides a slight increase in gas mileage. Still, both are good transmissions.
How Reliable Is the 2013 Honda Civic?
The 2013 Civic has an above-average reliability rating of four out of five from J.D. Power.
2013 Honda Civic Recalls
At the time of this writing, there are no recalls for the 2013 Civic.
See more information on Honda Civic safety recalls »
Which Used Honda Civic Model Is Right for Me?
The 2013 Civic is available in coupe and sedan body styles, and it comes in five trim levels: LX, HF, EX, EX-L, and Si. A 140-horsepower engine is standard in the LX, HF, EX, and EX-L models. The Civic Si has a more powerful 201-horsepower engine.
The base model Honda Civic LX offers the best value in this lineup. It comes well-equipped with a 5-inch display, an AM/FM radio, a CD player, a USB port, Bluetooth, a rearview camera, cloth upholstery, air conditioning, power windows and door locks, remote keyless entry, and cruise control. The Civic HF trim (sedan only) adds aerodynamic enhancements, giving it slightly higher fuel economy.
The Civic EX trim adds a power moonroof, automatic climate control, alloy wheels, and a split-folding rear seat. The EX-L trim adds leather upholstery, heated front seats, and fog lights. The Honda Civic Si adds sport seats, a rear spoiler, larger wheels, and a limited-slip differential (in addition to its stronger engine). A navigation system and satellite radio are available, but only in the top three trims.
Certified Pre-Owned Honda Civic Warranty
Honda offers a certified pre-owned program for vehicles that are less than six model years old. Honda extends its original new-car limited powertrain warranty to seven years or 100,000 miles for all certified pre-owned models, and it extends the new-car non-powertrain warranty to four years or 48,000 miles. If the CPO Honda you purchase is more than four years old or has more than 48,000 miles, you'll receive a one-year/12,000-mile non-powertrain limited warranty. Honda CPO vehicles must pass a 182-point inspection. Additional benefits like towing and roadside assistance may be available, so read Honda's warranty page carefully.
According to our analysis, this is one of the more comprehensive certified pre-owned programs among non-luxury automakers.
How Safe Is the Civic?
The Insurance Institute for Highway Safety named the Honda Civic a 2013 Top Safety Pick+, the agency's highest honor. The Civic received the top score of Good in all areas tested. The National Highway Traffic Safety Administration gave the 2013 Civic sedan a perfect five-star rating for overall and side impact safety, as well as four stars for front and rollover crash safety. The Civic coupe received a five-star side impact rating, plus four stars for overall, front, and rollover crash safety.
Every 2013 Civic model comes standard with a rearview camera.
2013 Honda Civic Versus the Competition
Which Is Better: 2013 Honda Civic or 2013 Toyota Corolla?
The 2013 Toyota Corolla trails the Civic in almost every area. The Corolla has a cheap-looking cabin, sloppy handling, timid engine power, and lower fuel economy (27 mpg in the city and 33 mpg on the highway). Despite all of this, the Corolla is still a fine option for used car shoppers. It rates exceptionally well for reliability, and its soft suspension makes it a comfortable car for everyday commuting.
Which Is Better: 2013 Honda Civic or 2013 Hyundai Elantra?
The 2013 Hyundai Elantra is another fine alternative. The Elantra offers good fuel economy (up to 28/38 mpg city/highway), and it's available in a wide range of body styles (sedan, coupe, and hatchback). Used Elantra models are often much less expensive than comparable Civics. Still, the Honda remains the better pick. It provides a nicer driving experience, and it rates higher for reliability. The Civic's interior styling and materials also outshine the Elantra's.
2013 Civic Performance
How Does the 2013 Honda Civic Drive?
The 2013 Civic has a 1.8-liter four-cylinder engine with 140 horsepower. This engine scoots the Civic around town with adequate vigor. It supplies decent passing power at highway speeds, and it works well the standard five-speed manual transmission and the available five-speed automatic. The crisp manual gearbox is pleasant to shift, and automatic changes gear smoothly.
The Civic Si has a 2.4-liter four-cylinder engine with 201 horsepower, paired exclusively with a six-speed manual transmission. Don't let that power rating fool you. This muscular engine has no trouble racing the Si up to speed, and its close-ratio transmission is a joy to shift.
The Civic supplements its refined engine performance with great driving dynamics. It feels balanced in tight turns, with responsive steering and strong brakes. The suspension does a fine job of filtering out bumps and dips, resulting in a nicely cushioned ride. The sport-tuned Si has a noticeably stiffer ride, but not to the point of discomfort.
Does the 2013 Honda Civic Get Good Gas Mileage?
The Civic earns great fuel economy for a compact car. It delivers 28 mpg in the city and 39 mpg on the highway when paired with its five-speed automatic (29/41 mpg city/highway with the Civic HF). This rating dips to 28/35 mpg with the manual transmission, and it sinks further for the Civic Si model (22/31 mpg).
2013 Civic Interior
How Many People Does the 2013 Civic Seat?
The five-seat Civic is available in two body styles: a two-door coupe and a four-door sedan. The front seats are comfortable and provide adequate head- and legroom for taller adults. The rear seats are adult-friendly in sedan models, but they are only suitable for children in coupe models. Cloth seats are standard; leather upholstery and heated front seats are available.
The Civic's interior received a noticeable upgrade for 2013. Additional sound insulation has made the cabin quieter at highway speeds. The dashboard also has a sleeker design and nicer soft-touch plastics. That said, there are still some cheap-looking plastics in less visible areas.
How Many Car Seats Fit in the 2013 Honda Civic?
The Civic has two full sets of LATCH connectors for securing child car seats in the rear outboard seats. There's also a tether anchor for the rear center seat.
2013 Honda Civic Features
The 2013 Civic has a wealth of standard features including a 5-inch Multi Information Display (i-MID), Bluetooth, an AM/FM radio, a CD player, a USB port, a rearview camera, and remote keyless entry. Available features include a touch-screen navigation system and satellite radio.
The basic audio and climate controls are simple to use, and the Civic's i-MID screen – located high on the dashboard – makes it easy to see audio and driving information without glancing away from the road. The optional navigation system is trickier to use though. Its reflective screen can be hard to see in direct sunlight, and it uses smaller buttons instead of lower trims' simple audio controls.
2013 Honda Civic Dimensions
Honda Civic Cargo Space
The Civic sedan has 12.5 cubic feet of trunk space, and the coupe has 11.7 cubic feet. Those dimensions are small for a compact car. The rear seats in both models fold down to accommodate longer items. Consider hatchbacks like the 2013 Kia Soul, 2013 Scion xB, and 2013 Mazda3 if you need more cargo room.
2013 Civic Length and Weight
The Civic sedan is 15 feet long. It has a curb weight of between 2,740 and 2,992 pounds. The Civic coupe is 14.6 feet long, and its weight ranges between 2,716 and 2,966 pounds.
Where Was the 2013 Honda Civic Built?
Honda built the 2013 Civic at factories in Indiana and Canada.
Read the full 2013 Honda Civic review on U.S. News & World Report for more details, photos, specs and prices.
More from U.S. News & World Report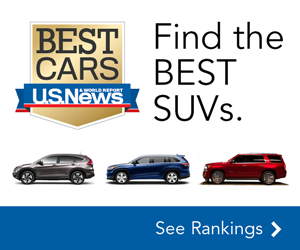 US News & World Report - Cars