2017 Acura RDX: What You Need to Know

U.S. News & World Report - Cars
11/17/2016
The 2017 Acura RDX does well with auto reviewers based on the data and reviews that fuel our rankings. Whether you're in the driver's seat or just along for the ride, you'll enjoy the comfortable, quiet interior and ample cabin space. Don't think it's all prim and proper, though: A V6 engine boasts all the power you need for highway cruising, and a large cargo space makes the RDX capable of handling a weekend getaway or hauling kids and their soccer gear. While the infotainment system can be troublesome at times, the RDX is an ideal choice for a family on the go or a young professional couple who wants to mix practicality with style.
The RDX is a great value thanks to its long list of standard features and options, which are tied to packages and not trim levels. Translation – you don't have to buy the high-end model to get the option you most covet. An all-wheel drive model with the highest-level package will cost under $44,000, about what you'd pay for a base model BMW X4 or Audi Q5.
The RDX receives high safety and crash test ratings, so you'll feel assured hauling the most valuable cargo – your family.
The 2017 Acura RDX is ranked:
RDX Interior
Comfort and Room to Spare
The 2017 Acura RDX's roomy cabin, more-than-adequate storage space, and overall comfort are its hallmark. The elevated back seat provides good views for rear-seat passengers who will also enjoy headroom and legroom to spare.
Behind the second row, the RDX offers 26 cubic feet of cargo space, which is only slightly less than what's available in the Audi Q5 but better than what the Lincoln MKC and Lexus NX provide. Folding down the back seat increases cargo space to 61.3 cubic feet. That's enough space for a family's suitcases or camping gear.  
While the interior is perfectly comfortable for short jaunts around town or longer road trips, a feeling of complete luxury is missing. Soft-touch plastics fill the interior, and leather seats are optional.
Two-Screen Trouble
An available dual-screen interface dominates the RDX's center console, with the top screen committed to navigation, and sound and climate controls beneath it. Various buttons and dials are littered haphazardly around the screens, making it difficult to know which dial controls which function on which screen.
RDX Performance
Under the Hood
The luxury compact SUV segment is dominated by competitors with turbocharged four-cylinder engines. Acura bucks that trend by powering the RDX with a 3.5-liter V6 engine. Paired with a six-speed automatic transmission, the RDX is most at home cruising on the highway. Shifts are smooth and quiet, and you may not even notice them. For those so inclined, you can shift manually via paddles mounted on the steering wheel.
Fuel economy is decent for a V6, with the RDX returning class-average numbers. EPA estimates for the standard front-wheel drive are 20 mpg in the city and 28 mpg on the highway. Opting for all-wheel drive will cause you to lose 1 mpg in both city and highway driving.   
Behind the Wheel
It may be tempting to compare the RDX with more sporty European rivals such as the BMW X3 or Porsche Macan, but that would be misleading. The RDX doesn't have the power of these SUVs or their higher price tags. Still, it capably does everything it's designed to do.
Steering and handling are easy, whether maneuvering tightly in parking lots or coming up to speed on highway on-ramps. Acura offers front-wheel and all-wheel drive configurations. The latter will make you feel confident on smooth roads, ice, snow, or gravel.
Overall, the RDX's ride quality is quiet and smooth, complementing the comfortable interior. Bumps and shocks on the highway are no match for the RDX suspension.
RDX Pricing, Options, and Trim
The RDX is one of the best bang-for-your-buck deals in its class, eschewing multiple trim levels for more extensive standard features and optional add-on packages. The base RDX starts at $35,370 with front-wheel drive, while the optional all-wheel drive will run an additional $1,500. The only available engine is a 3.5-liter six-cylinder paired with a six-speed automatic transmission. Other standard features include power and heated front seats, rear climate control vents, a rearview camera, keyless entry and ignition, a seven-speaker Acura Premium Sound System, a USB port, satellite radio, Bluetooth integration, and a remote-operated rear tailgate, which you can open or close by pushing a button on the key fob.
The AcuraWatch Plus package is available for $1,300 and features a suite of advanced safety technologies that include collision mitigation braking, which alerts you to apply the brakes in the event of an impending collision and then begins braking if no action is taken; adaptive cruise control, which automatically adjusts cruising speed to match vehicles in front of you; and lane keep assist, which works to keep the RDX in the boundaries of a detected lane. An in-dash entertainment and climate touch screen are also included.
Adding $3,700 gets you the Technology Package, featuring a navigation system and an additional in-dash display screen, leather sport seats, a premium audio system with 10 speakers, blind spot detection, rear cross traffic alert, GPS-enhanced climate controls, and a voice recognition system for navigation, audio, and temperature commands.
Finally, the Advance Package runs for $6,650 and provides ventilated front seats, remote start, rain-sensing windshield wipers, auto-dimming side mirrors, front and rear parking sensors, 18-inch alloy wheels, and fog lights. The cost of this package also includes all the goodies from the AcuraWatch Plus and Technology packages. An RDX with all-wheel drive and the top-level Advance package comes in just under $44,000, comparable to base offerings from BMW or Audi, where you would still have to pay for features that are standard on the RDX. A bare-bones Audi Q5 starts around $41,000, while a BMW X3 with few standard features will cost just about $40,000.  
RDX Safety and Reliability
The 2017 RDX receives a five-star overall rating from the National Highway Traffic Safety Administration. In individual NHTSA tests, the RDX earns five stars in frontal and side crash tests and four stars in the rollover test. Standard safety features include a multi-angle rearview camera and stability and traction control.
Acura offers two add-on packages, which include many of the advanced safety technologies that are quickly finding their way into new–model vehicles. The AcuraWatch Plus package features adaptive cruise control, which adjusts your set speed to match cars in front of you, a lane keep assist system, and collision mitigation braking, which warns the driver to apply the brakes in the event of an impending collision and then automatically applies the brakes if the driver does not respond. The Technology Package offers a blind spot monitoring system to detect vehicles or objects in the driver's blind spots, as well as rear cross traffic monitoring, which warns you of obstacles before you back up.
A few caveats about these systems: Test drivers report that the collision warning is too quick to sound the alarm, while the adaptive cruise control is too eager to hit the brakes and too lethargic at returning to speed.
Data on reliability is currently unavailable for the 2017 Acura RDX. The RDX comes with a four-year/50,000-mile basic warranty and a six-year/70,000-mile powertrain warranty.
Other SUVs to Consider
If you want a sportier ride and the quality that comes with a high-end badge, the BMW X3 may be for you. BMW offers turbocharged four-cylinder or six-cylinder engines, perfect for short commutes or overtaking other vehicles on highway road trips. You'll find a high-quality interior filled with wood and leather, and a comfortable, roomy cabin that's a pleasure to ride in.
The 2016 Lexus NX earned our 2016 Best Luxury Compact SUV for the Money award, while still offering a modern and luxurious interior. The ride quality is comfortable, while steering is sharp and nimble. Just because the NX is a good bargain doesn't mean Lexus strayed from their reputation of quality. J.D. Power ranks it Better than Most in its Vehicle Dependability Study, which is good news for those who want to stay on the road and out of the shop.
Details: 2017 Acura RDX
The 2017 Acura RDX seats five, and front-wheel drive is standard. All-wheel drive is optional. The RDX comes in one trim. Three option packages are available: AcuraWatch, Technology, and Advance. The RDX comes with a 3.5-liter V6 engine with automatic transmission. The Acura RDX was redesigned for the 2013 model year and sees no notable changes for 2017. As a result, this overview uses applicable research and reviews from the 2013 through 2017 model years.
The 2017 RDX comes standard with sport seats, leatherette interior, a 10-way power-adjustable driver's seat, a four-way power-adjustable front passenger seat, heated front seats, a multi-angle rearview camera, a keyless access and ignition system, a seven-speaker premium sound system, USB audio input and iPod integration, Bluetooth phone interface, and a remote power-operated tailgate.
Optional features include collision mitigation braking; adaptive cruise control; lane keep assist; a navigation system; a premium audio system with 10 speakers; leather interior; an eight-way power-adjustable front passenger seat; voice recognition for navigation, audio, and climate systems; blind spot monitoring, rear cross traffic monitoring, ventilated front seats, remote-engine start, rain-sensing windshield wipers, front and rear parking sensors, 18-inch alloy wheels, and fog lights.
Read the full 2017 Acura RDX reviewon U.S. News Best Cars for more details, photos, specs and prices.
More from U.S. News & World Report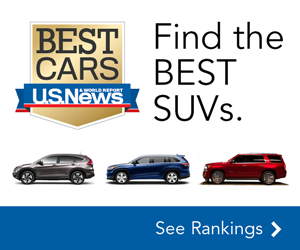 U.S. News & World Report - Cars