2017 Subaru Impreza

Car and Driver
5/17/2018
WHAT WE LIKE: Just over a year into our test of the Subaru Impreza, the 30,000-mile malaise has set in, and positive logbook comments have grown few and far between. What praise there is has, at least, been consistent. Way back at 12,000 miles, associate online editor Greg Fink declared the Impreza's Starlink system "seriously one of the best touchscreen infotainment systems in the business." While 18,000 miles later the bloom has fallen off the rose for many editors, Fink stands firm. "Is there a better overall infotainment system available today?" he ponders. His affection is not misplaced: The Impreza's touch controls are large and easy to pinpoint while driving, and the menu setup is simple. It even did well in our test of touchscreen response times, earning a Good rating while several competitors managed only Poor.
For even deeper coverage of the Impreza, view our Buyer's Guide in-depth review.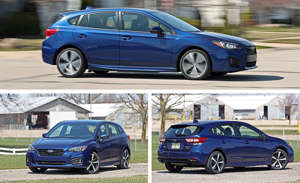 We like driving much better than we like fiddling with even the best touchscreens, however, and after a particularly snowy Michigan winter we can now faithfully attest to this Subie's prowess when the going gets slippery. Buyer's Guide senior editor Rich Ceppos drove the Impreza to Wisconsin during a snowstorm and came away impressed by the unflappability of Subaru's famous all-wheel-drive system abetted by a set of excellent Michelin X-Ice winter tires. This steely confidence in the face of adversity has become Subaru's hallmark of late; it's not unusual to hear Michiganders in search of a new car say that a Subaru is the only brand they will consider. Never mind that virtually any all-wheel-drive car-or two-wheel-drive car, for that matter-with decent winter tires and functional ABS and traction-control systems would perform similarly well. Safety in bad weather is now a cornerstone of the Subaru mystique, and after what seemed like an interminable winter regularly punctuated by blizzards or blizzard-like events, we can't argue with owners' sense of security. The Impreza is entirely unshakable in inclement weather. Which brings us to . . .
WHAT WE DON'T LIKE: The Impreza is too good in the snow. Or, rather, not good enough at playing in the snow. Here's some more context from Ceppos's Wisconsin adventure: "It's virtually impossible to have any fun behind the wheel of the Impreza, even on snow. You can do full-throttle launches on the white stuff with no wheelspin. Ugh." That "ugh" was echoed by Josh Jacquot, reviews editor and owner of a 1997 Subaru Impreza RS, who took our Impreza to a snowy cul-de-sac in hopes of ripping off a few donuts and came away dejected after his young daughter said that she had preferred the previous week's joyride in an Audi A4.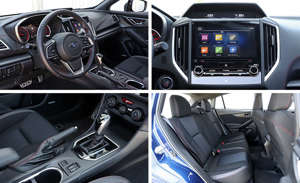 WHAT WENT WRONG: After 11 almost entirely trouble-free months, the Impreza has begun to feel the effects of age. At around 26,000 miles, people began to notice a slight rocking in the driver's seat. A trip to the dealer validated our concerns, and the seat-bottom assembly and both driver's-side seat rails were replaced under warranty. Shortly after the seat was fixed, a high-pitched whining noise developed. One driver thought the sound was coming from the HVAC fan motor, another referred to it as unspecified "driveline noise," but virtually everyone who drove the Impreza during this period complained. A trip back to the dealer showed a worn wheel bearing in the left-rear wheel. The dealer had the parts on hand and seemed somewhat less than surprised to discover the problem, which was fixed under warranty. In the time since our last update, the Impreza has also had two oil changes, a tire rotation, and received new cabin and engine air filters as part of its regularly scheduled maintenance, which cost $119 for one visit and $108 for the other. And we ditched the winter tires for Yokohama all-seasons in late February, just in time for a late-season snowstorm to drop several more inches of heavy snow on the upper Midwest. Yes, the car did fine.
WHERE WE WENT: Winter makes homebodies of us all, and the Impreza hasn't traveled far afield since it returned from its sojourn in Montana. Trips to Wisconsin, northern Indiana, and Ohio helped add miles, but we look forward to longer journeys as summer road-trip season approaches.
Months in Fleet: 14 months Current Mileage: 30,830 miles Average Fuel Economy: 28 mpg Fuel Tank Size: 13.2 gal Fuel Range: 370 miles Service: $380 Normal Wear: $0 Repair: $0