2018 Mini Cooper Clubman JCW

Car and Driver
8/21/2018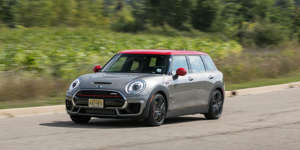 Overall Rating:
The Clubman is the wagon member of Mini's quirky clan of misfit autos, and the Mini Cooper Clubman John Cooper Works is the most powerful-and most expensive-rendition. You might think that its snorty 228-hp turbocharged engine and sport-tuned suspension would enhance the Clubman's already funky and fun personality, but instead the JCW's tepid acceleration and harsh ride spoil the experience. Still, the sportiest Clubman is entertaining to toss around town and take to the track on weekends. While its retro styling is evident inside and out, the aesthetic doesn't appeal to everyone. The cheaper and cheekier Clubman S offers a better balance of price, performance, and driving enjoyment than the ultimately unsatisfying JCW version.
What's New for 2018?
Research the Mini Clubman on MSN Autos | Find a Mini Clubman near you
For 2018, Mini makes a host of minor changes to its entire lineup, including the Clubman JCW. The most notable updates are the addition of Apple CarPlay to the options list and a standard driver-attention monitor. Inside, the Clubman has blink-and-you'll-miss-it revisions such as some relocated controls and a redesigned fuel gauge. Otherwise, the JCW trim uses the same sport-tuned suspension, turbo four-cylinder engine, and manual or automatic transmission as before.
Trims and Options We'd Choose
Interest in a Mini product indicates a desire to drive something with a unique aesthetic, and a JCW version separates the more serious drivers from the crowd even further-but it comes at a price. Read: $5600 more than the S All4, which is one step down in the Clubman lineup. We'd be betraying ourselves if we did not get the JCW with the six-speed manual transmission, and all but one paint color costs either $500 or $1000 (Moonwalk Gray Metallic is a no-cost option), so add that to the ticket. The $750 Cold Weather package brings heated front seats, a must for anybody with a temperature-sensitive tush. We'd also add the $1800 Premium package for a better sound system, plus a panoramic sunroof, LED headlights, and 40/20/40 split-folding rear seats. Thus equipped, our Clubman also includes:
• Rear parking sensors
• All-wheel drive (All4 in Mini terminology)
• Heated front seats
A $2250 Technology package, which brings an 8.8-inch touchscreen with navigation, might also be a consideration but only for those whose eyes don't continuously dart to the climbing sticker price. Without that, the final price with a $500 paint job comes in at $39,800.
For details about the 2017 Mini Cooper Clubman JCW, see our in-depth review.
Continue Reading:
• Mini Cooper Clubman JCW – Overview
• Engine and Transmission
• Fuel Economy and Driving Range
• Performance and Driving Impressions
• Interior and Passenger Space
• Audio and Infotainment
• Cargo Space and Storage
• Exterior Design and Dimensions
• Safety and Driver Assistance
• Video Overview: Interior, Infotainment, Cargo Space