Engine and Transmission

Car and Driver
6/21/2018
Engine and Transmission Rating:

Whether it has the standard 123-hp turbocharged three-cylinder or the optional 166-hp inline-four, the EcoSport is the opposite of quick. Both engines share a dutiful six-speed automatic transmission and-surprisingly-can tow more than most rivals.
We don't expect blistering acceleration from any subcompact, but the EcoSport is significantly slower than the competition. The disparity was most obvious at highway speeds, where both engines needed patience and a heavy foot to bridge the gap between 50 and 70 mph. While this lack of urgency persisted at lower speeds, the sensation was less obvious. We prefer the naturally aspirated 2.0-liter four-cylinder, which pairs exclusively with all-wheel drive. That engine's power is more linear than that of the turbocharged 1.0-liter inline-three, which is limited to front-wheel drive. The six-speed automatic transmission is a common denominator. Although it was quick to upshift and slow to downshift, its smooth transitions helped disguise the busy machinations under the hood.
Test Results: Acceleration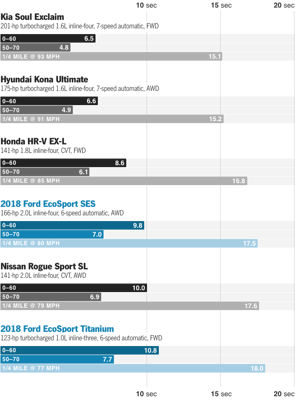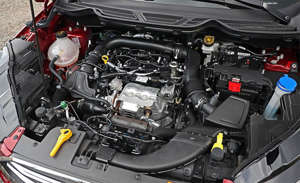 Manual Shifting Capability
Most models can only be manually shifted via buttons on the shifter; the SES version alone has steering-wheel-mounted paddles.

Automatic Stop/Start

Tow Ratings Compared
Unlike most subcompact crossovers, the EcoSport can tow up to 2000 pounds when equipped with the four-cylinder engine. Even the three-cylinder version can handle as much as 1400 pounds.