Fuel Economy and Driving Range

Car and Driver
6/21/2018
Fuel Economy and Driving Range Rating:

Those who believe the "Eco" in EcoSport stands for economical will be disappointed. Neither of the two available engines are inefficient per se; they just lag behind the competition in EPA estimates, real-world highway fuel economy, and highway driving range.
Fuel Economy Ratings Compared, Ford EcoSport FWD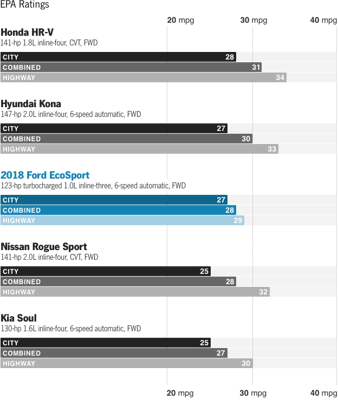 Fuel Economy Ratings Compared, Ford EcoSport AWD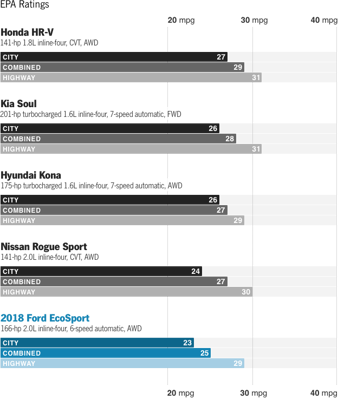 We've devised our own fuel-economy test in an attempt to replicate how most people drive on the highway. Our procedure entails a 200-mile out-and-back loop on Michigan's I-94 highway. We maintain a GPS-verified 75 mph and use the cruise control as much as possible to mimic the way many drivers behave during long trips.
Surprisingly, the all-wheel-drive, four-cylinder EcoSport performed better on our real-world highway test than the front-drive three-cylinder version. We observed 30 mpg with the larger engine and just 28 with the 1.0-liter three. However, neither were as efficient as the Hyundai Kona or the Nissan Rogue Sport we tested.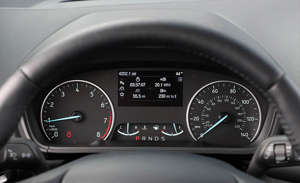 Test Results: Highway Fuel Economy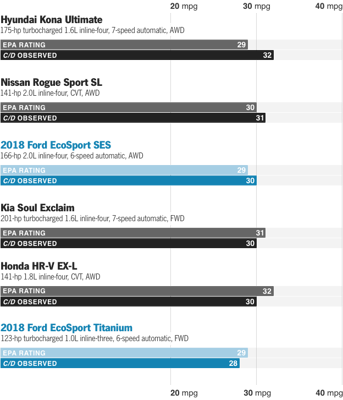 Both EcoSport engines are fed from a 13.6-gallon fuel tank, but the larger four-cylinder has a longer estimated highway range because it performed better on our fuel loop. Still, only the Honda HR-V had a shorter range per tank than the Fords.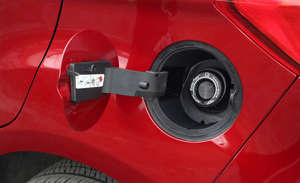 Test Results: Highway Range