Fuel Economy and Driving Range

Car and Driver
5/9/2018
Fuel Economy and Driving Range Rating:

We haven't yet tested an XTS on our highway fuel loop, but EPA ratings suggest that the V-Sport's powerful engine is not as efficient as comparable engines from superior competitors.
Every car in this class is large, heavy, and powered by either a six- or eight-cylinder engine, so we weren't expecting much in the way of fuel economy. Still, several of the vehicles listed here, including the BMW 7-series and an XTS fitted with front-wheel drive and the entry-level V-6 engine, come close to 30 mpg on the highway according to the EPA. The XTS's available all-wheel-drive powertrain robs 2 mpg across the board compared with the front-wheel-drive model. Moving up to the desirable twin-turbo engine drops the XTS's highway fuel economy into the mid-twenties, not an unforgivable result for a vehicle this size but also not an impressive one.
Fuel Economy Ratings Compared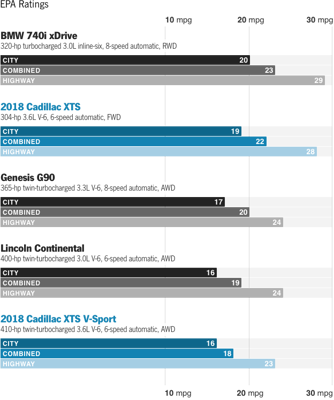 We've devised our own fuel-economy test in an attempt to replicate how most people drive on the highway. Our procedure entails a 200-mile out-and-back loop on Michigan's I-94 highway. We maintain a GPS-verified 75 mph and use the cruise control as much as possible to mimic the way many drivers behave during long trips.
We haven't had the chance to test an XTS on our highway fuel loop, but nearly every competitor we did test outdid our expectations. An XTS V-Sport would have to significantly overshoot its 23-mpg EPA estimate to earn accolades in this test, but an XTS fitted with the base engine could simply match its EPA ratings and still keep up with the pack.
Test Results: Highway Fuel Economy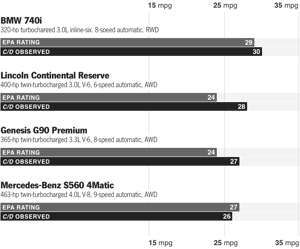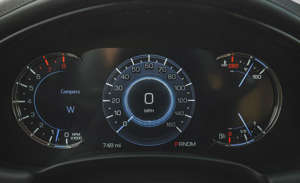 Test Results: Highway Range