Fuel Economy and Driving Range

Car and Driver
5/24/2018
Fuel Economy and Driving Range Rating:

It's unfair to expect economy-car fuel efficiency from a hulking three-row such as the Enclave, but rivals such as the Volvo XC90 and the Acura MDX simply outshine it in this category. The EPA's ratings have these people haulers in a close heat with each other, and in our testing the Enclave delivered exactly what it promised.
Fuel Economy Ratings Compared
We've devised our own fuel-economy test in an attempt to replicate how most people drive on the highway. Our procedure entails a 200-mile out-and-back loop on Michigan's I-94 highway. We maintain a GPS-verified 75 mph and use the cruise control as much as possible to mimic the way many drivers behave during long trips.
Test Results: Highway Fuel Economy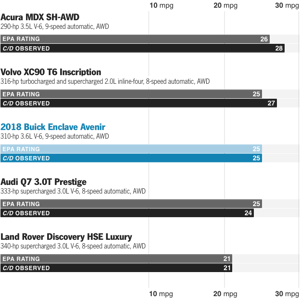 Despite its middle-of-the-road result in our highway fuel-economy test, the Enclave has a large 21.7-gallon fuel tank that gives it a long cruising range and creates a three-way tie for first place in this matchup.
Test Results: Highway Range