Fuel Economy and Driving Range

Car and Driver
7/10/2018
Fuel Economy and Driving Range Rating:

Neither X6 powertrain is particularly efficient, although the six-cylinder we tested exceeded its EPA highway number, delivered similar real-world fuel economy to its rivals, and provides the longest range per tank.
The V-8–powered X6 is only available with all-wheel drive, but the six-cylinder model offers either rear- or all-wheel drive. The EPA estimates that they earn the same 18 mpg city, but the rear-drive model adds 1 mpg to its highway rating.
Fuel Economy Ratings Compared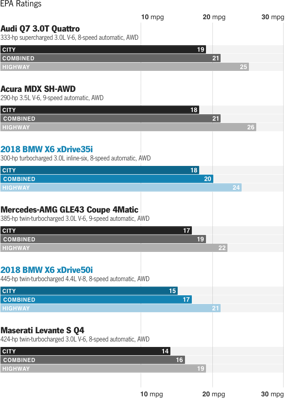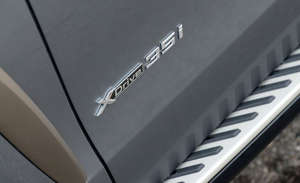 We've devised our own fuel-economy test in an attempt to replicate how most people drive on the highway. Our procedure entails a 200-mile out-and-back loop on Michigan's I-94 highway. We maintain a GPS-verified 75 mph and use the cruise control as much as possible to mimic the way many drivers behave during long trips.
The X6 xDrive35i exceeded its EPA highway estimate on our fuel loop. Still, its observed 25 mpg was only 1 mpg more than the Audi and Maserati. Since we haven't tested an X6 with the V-8, we don't know how efficient it is in the real world.
Test Results: Highway Fuel Economy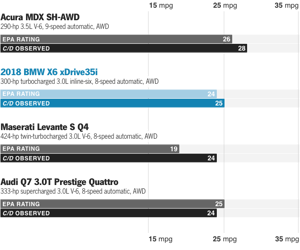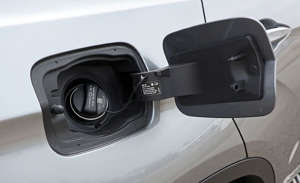 Test Results: Highway Range