Performance and Driving Impressions

Car and Driver
5/9/2018
Performance and Driving Impressions Rating:

The XTS is not intended to be a sports car. Its power is meant for highways and its suspension is tuned for comfort, not sharp handling. It does its job well, but this heavy cruiser will never be the right choice for an enthusiast driver.
Acceleration
An XTS V-Sport we tested recently sprinted from zero to 60 mph in a mere 5.2 seconds, placing it nearly in line with competitors such as the BMW 740i and the Genesis G90. The V-Sport's acceleration comes effortlessly, and the gas pedal is progressive, with long travel that allows precise control. A front-wheel-drive XTS with the standard 304-hp engine needed 6.6 seconds to accelerate to 60 mph in our most recent test. That's still quick enough to satisfy most drivers.
Test Results: Acceleration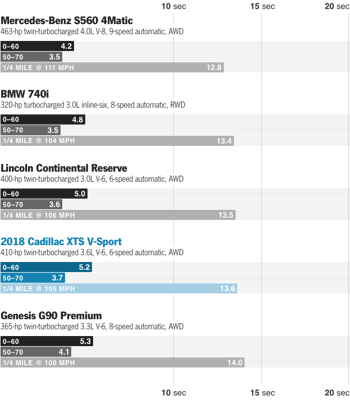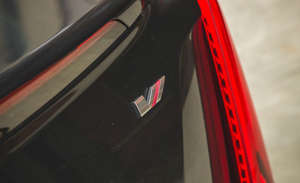 Ride, Handling, and Steering
The XTS is big and feels every bit its size on the road. Our test car wore the available adaptive suspension, and the ride was smooth and airy even over rough surfaces. None of the available drive modes seemed quite worthy of the V-Sport badges our car wore, which are more honest when they grace the Cadillac CTS V-Sport. There is very little feedback through the large steering wheel, and it's hard to imagine any driver taking the XTS for a joyride. The XTS simply is not a sports sedan, and we'd wager that most people who buy this car are perfectly happy with its luxury-minded tuning.
Test Results: Maximum Cornering Capability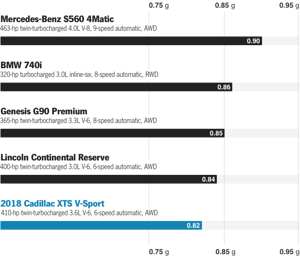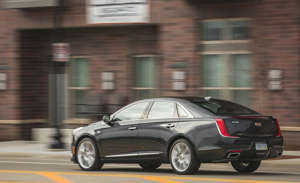 Braking
The XTS had the longest 70-mph-to-zero stopping distance of any car in this set but only by a nose.
Test Results: Maximum Braking Capability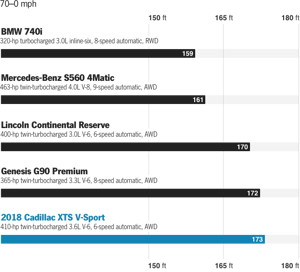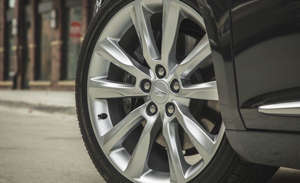 Test Results: Curb Weight and Weight Distribution