Performance and Driving Impressions

Car and Driver
5/24/2018
Performance and Driving Impressions Rating:

Buick's trademark ride comfort is present and accounted for in the Enclave, sheltering passengers from the unpleasantries of our nation's crumbling roads and highways.
Acceleration
The 3.6-liter V-6 provides more than enough power to shuttle the Enclave's sizable frame around town with some verve and to merge into highway traffic with authority, even though it was the least fleet in testing of this competitive set. The nine-speed automatic transmission makes the most of the engine's 310 ponies by quickly kicking down a cog or two in response to sharp throttle inputs.
Test Results: Acceleration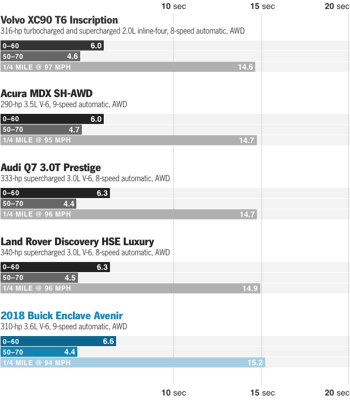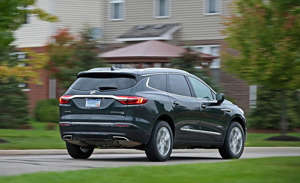 Ride, Handling, and Steering
A well-damped suspension helps the Enclave hide its mass, but it never feels as athletic as the Audi Q7. Instead, it trades on comfort with a smooth, luxurious ride, gliding over pockmarked asphalt and barely registering harsher impacts. The steering provides an appropriate amount of feedback for a crossover, responds relatively crisply, and is nicely weighted.
Test Results: Maximum Cornering Capability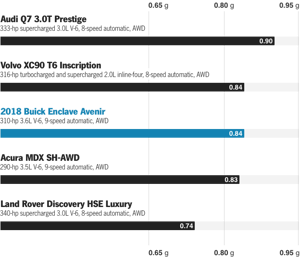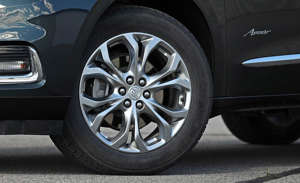 Braking
Brake-pedal firmness is spot on and offers assuring deceleration right away while avoiding any abruptness; maximum stopping performance is good, too, despite the Enclave's midpack finish in our emergency-braking test.
Test Results: Maximum Braking Capability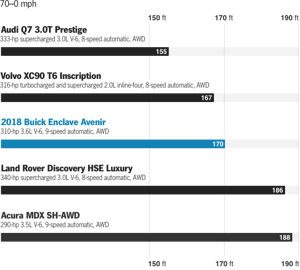 Test Results: Curb Weight and Weight Distribution