2017 Toyota Sienna: What You Need to Know

US News & World Report - Cars
8/7/2018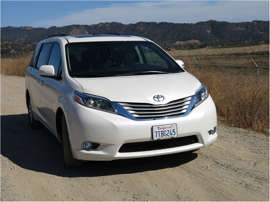 Busy, active households will love the Toyota Sienna's convenient, well-built interior, ample cargo room, and available all-wheel drive. However, some of its rivals post better safety and predicted reliability ratings, which results in its midpack spot in our rankings.
Is the 2017 Toyota Sienna a Good Used Minivan?
The Toyota Sienna is a great minivan. Among its attributes are user-friendly technology, high-quality cabin materials, and a class-leading amount of cargo space behind the third-row seats. You can fit up to eight people inside, depending on the configuration. The Sienna is also the only minivan available with all-wheel drive.
Why You Can Trust Us
Our goal is to make shopping for your next car as easy as possible. You'll find everything you need to know about the Toyota Sienna in our comprehensive review. It combines concrete data (like fuel economy estimates, horsepower specs, and cargo space dimensions) with 71 professional Toyota Sienna reviews.
At U.S. News & World Report, we rank the Best Jobs, Best Hospitals, and Best Colleges to guide readers through some of life's most complicated decisions. We've been ranking and reviewing the Best Cars since 2007, backed by a team with more than 75 years of combined automotive experience. To keep favoritism out of the picture, we maintain a separate advertising team and decline expensive gifts and trips from car companies.
How Much Is the 2017 Toyota Sienna?
The Sienna holds its value better than some rivals. While this will be good news when you're ready to sell, it also means you may spend more than expected to buy one. Prices for a 2017 Toyota Sienna range from about $22,400 to $37,000, based on more than 900 listings on our used car site. Its average list price is $27,800. In comparison, the average 2017 Kia Sedona costs $21,400. Exact prices depend on factors such as mileage, vehicle condition, trim level, and regional demand.
How Much Does the 2017 Toyota Sienna Cost to Own?
Over five years, you can expect to pay a little less than $25,000 to insure, fuel, repair, and maintain a 2017 Sienna. That's in line with the estimated class average for these expenses. 
Is It Better to Buy a Used or New Sienna?
If your ultimate goal is to get a solid minivan without overspending, you should pick a used Sienna over a new model. This option will save you around $3,000 – the difference between the average 2017 Sienna ($27,800) and an entry-level 2018 Sienna ($30,850).
Shoppers who can comfortably work that extra $3,000 into their budgets should take a closer look at the new Sienna. Toyota added a vital safety package to every 2018 Sienna, so even the base trim comes with advanced technology like a pre-collision system, pedestrian detection, lane departure alert with active steering assist, automatic high beams, and adaptive cruise control. To get some of these features in the 2017 Sienna, you'll have to opt for the top-of-the-line Sienna Limited. The Insurance Institute for Highway Safety noted that every 2018 Sienna offers a Superior level of front crash prevention, which is much higher than the Sienna's previous rating. Additionally, five USB ports, smartphone integration, and navigation are among the new standard infotainment features for 2018. Because these improvements add value and convenience, the 2018 Sienna is the better buy.  
If you'd like a new vehicle for about the same price as a 2017 Sienna, consider the 2018 Kia Sedona (starting at $27,000). Its cabin feels swankier than the Sienna's, and it has a higher safety score and a Top Safety Pick award from the Insurance Institute for Highway Safety. The Sedona comes with an exuberant V6 engine, but it doesn't quite match the Sienna's roomy cabin (especially in the third row) or its list of family-friendly features.  
Which Model Year of the Toyota Sienna Is Best? 
Since its redesign for 2011, the most significant change to the Sienna was for 2015. Toyota refreshed its styling and added an infotainment system to every trim level. For 2017, the Sienna received a new eight-speed automatic transmission and a more powerful V6 engine. While these new components are nice, they don't drastically enrich this minivan. For the best combination of value and reliability, we recommend models from 2011 to 2014.
How Reliable Is the 2017 Toyota Sienna?
J.D. Power gave the 2017 Sienna a predicted reliability rating of three out of five, which is average for a used vehicle.
2017 Toyota Sienna Recalls
As of this writing, there are three recalls for the 2017 Sienna. The largest recall replaces a potentially faulty brake booster vacuum pump. Two smaller recalls, each affecting fewer than 1,000 vehicles, adjusts the air pressure in the spare tire and replaces a label with the incorrect load capacity information. Before buying a used Sienna, make sure that any applicable recalls have been addressed by an authorized Toyota dealer. 
See more information on Toyota Sienna safety recalls »
Which Used Toyota Sienna Model Is Right for Me?
The 2017 Sienna comes in five basic trims: L, LE, SE, XLE, and Limited. The SE, XLE, and Limited trims are also available as Premium editions, which come with added goodies like Driver Easy Speak and a rear-seat entertainment system. Every model comes with a V6 engine and an automatic transmission. Some higher-level models have all-wheel drive instead of the standard front-wheel drive. If having eight seats is a necessity, skip the base Sienna L and any all-wheel-drive models, as they come with only seven seats.
Every trim level is equipped with durable materials and convenient features. The Sienna SE has a more athletic demeanor (with components like a sport-tuned suspension). Spirited drivers will appreciate its more controlled body movements, but some may find its ride too stiff. The Sienna LE offers one of the best values of the bunch. Upgrades like dual-power sliding doors, an extra seat for the second row, a larger touch screen, and navigation significantly boost the minivan's convenience factor, without drastically increasing its price.
Certified Pre-Owned Toyota Sienna Warranty
You may want to consider a certified pre-owned Sienna for added peace of mind. For its CPO program, which is one of the best among nonluxury brands, Toyota provides a one-year/12,000-mile limited warranty on all its certified pre-owned vehicles, and it extends the original new-car powertrain warranty to seven years or 100,000 miles. Each CPO Toyota must pass a 160-point inspection. Additional benefits like towing and roadside assistance may be available, so read the Toyota warranty page carefully.
According to our analysis, Toyota has one of the best CPO programs among nonluxury brands. However, CPO programs from Chevrolet and GMC may provide additional services and advantages.
How Safe Is the Sienna?
Due to its mixed crash test results, the 2017 Sienna has a lower safety score in our rankings than rivals like the Honda Odyssey. In four of its five Insurance Institute for Highway Safety tests, the Sienna took home a top score. It received a second-place Acceptable score in the fifth test. The Sienna earned a perfect five-star overall rating from the National Highway Traffic Safety Administration, plus five stars in its side crash test. However, the Sienna was given four stars in the frontal crash and rollover tests.
A rearview camera and brake assist (which adds extra stopping power during emergency braking) are included in every 2017 Sienna. Some models may also come with front and rear parking assist, blind spot monitoring, rear cross traffic alert, a pre-collision system that attempts to prevent or limit the damage from a frontal impact, and Toyota's Safety Connect (which includes emergency assistance, roadside assistance, and automatic collision notification).
2017 Toyota Sienna Versus the Competition
Which Is Better: 2017 Toyota Sienna or 2017 Honda Odyssey?
The Honda Odyssey and Toyota Sienna are longtime rivals, partly because they are so closely matched in price and quality. You won't go wrong with either one, though there are a few differences to be aware of. The Odyssey tends to be a little more expensive of the two when it comes to its average listing price and select ownership expenses (insurance, fuel, maintenance, and repair bills). However, the Odyssey also earned better crash test scores, and it comes with more LATCH equipment (so you can clip in more child safety seats). Each minivan carves up the interior space differently; the Sienna offers more cargo room, while the Odyssey offers more passenger space (even with its usually cramped third row).
Which Is Better: 2017 Toyota Sienna or 2017 Chrysler Pacifica?
The Chrysler Pacifica (and the separately reviewed Pacifica Hybrid) offers a better all-around package than the Toyota Sienna. A used Pacifica tends to cost less than a used Sienna, yet it doesn't shortchange you by cutting out features. Instead, every Pacifica includes lots of high-quality materials, a nice array of standard features, and one of the best infotainment systems around. Its second row (in nonhybrid models) and third row of seats fold easily into the floor. This setup makes it easier to maximize your cargo space than in the Sienna, which requires you to remove the second row. Every occupant will also get more room in the Pacifica. This Chrysler outranks the Toyota because it posts higher safety and predicted reliability scores.
2017 Sienna Performance
How Does the 2017 Toyota Sienna Drive?
Toyota upgraded the Sienna's powertrain for 2017, starting with a more powerful V6 engine. Even when the minivan is packed to the brim, the 296-horsepower engine helps it accelerate with ease. Front-wheel drive is standard, but some higher-level trims may be equipped with all-wheel drive. (Toyota is the only brand that offers an all-wheel-drive minivan.) On the highway, the Sienna feels stable and responsive, and all but the Sienna SE (which is outfitted with a firmer suspension) have a comfortable ride.
Does the 2017 Toyota Sienna Get Good Gas Mileage?
The other half of the Sienna's upgraded powertrain is a new-for-2017 eight-speed automatic transmission, which replaced the previous six-speed. This increases fuel economy slightly to 19 mpg in the city and 27 mpg on the highway, which is typical for a minivan.
2017 Toyota Sienna Towing Capacity
A properly equipped Sienna can tow up to 3,500 pounds.
2017 Sienna Interior
How Many People Does the 2017 Sienna Seat?
The Sienna seats seven people in its standard configuration. Some trims come with a middle seat in the second row, which allows space for eight. This compact seat fits in between the second-row captain's chairs, can slide extra far forward (conveniently positioning a young child within arm's reach of front-seat occupants), and can easily be removed to create a passage back to the third row. While the Sienna doesn't have as much legroom as some other vans, every row still feels spacious and comfortable.
How Many Car Seats Fit in the 2017 Toyota Sienna?
Two second-row and two third-row seats in the Sienna come with full sets of LATCH child-seat connectors. The Sienna's system earns the second-highest rating of Acceptable from the Insurance Institute for Highway Safety for its ease of use. It doesn't take much effort to clip a child safety seat onto any of the anchors, but you may have to search a bit for the tether anchors or the deeply mounted lower anchors.
2017 Toyota Sienna Features
Overwhelmed drivers will appreciate the simplicity of the Sienna's infotainment system. Its standard 6.1-inch touch screen is responsive, the menus are intuitive to navigate through, and an array of physical buttons is within easy reach. Beyond the standard technology (Bluetooth, a USB port, and a rearview camera), we recommend upgraded treats like advanced smartphone integration and Driver Easy Speak (a system that amplifies the driver's voice in the back rows through the speakers).
2017 Toyota Sienna Dimensions
Toyota Sienna Cargo Space
Without laying down any seats, the Sienna gives you more room for groceries and gear than the Honda Odyssey or the Chrysler Pacifica. You can expand this 39.1-cubic-foot area to as much as 150 cubic feet by folding the third-row Split & Stow seats and removing the second-row captain's chairs. A generous amount of storage cubbies are placed throughout the cabin, and some models features power-folding third-row seats and a power liftgate.
Toyota Sienna Length and Weight
The Sienna stretches 16.5 feet from bumper to bumper, and it has a base curb weight of 4,375 pounds.
Where Was the 2017 Toyota Sienna Built?
The 2017 Sienna was built in Indiana.
Read the full 2017 Toyota Sienna review on U.S. News & World Report for more details, photos, specs and prices.
More from U.S. News & World Report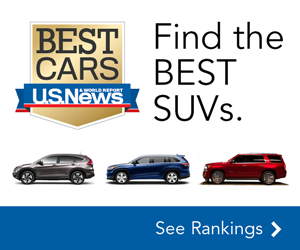 US News & World Report - Cars