Debunking the week's tabloid stories

Gossip Cop
2/10/2017
Jennifer Aniston is exacting "revenge" on Angelina Jolie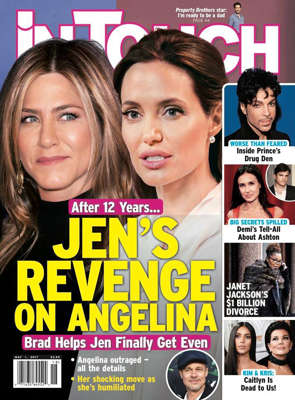 © Provided by Gossip Cop Jennifer Aniston is exacting "revenge" on Angelina Jolie by taking a movie role from her, reveals In Touch. And it gets even more juicy because the film, Ad Astra, co-stars Brad Pitt, who's also producing the sci-fi picture.
The magazine reports Pitt has now recast Aniston in the lead female role, which was originally meant for Jolie. An insider tells the publication that Aniston "loves the idea of sticking it to Angelina," so she immediately jumped at the opportunity to join the project. The publication's source adds, "Jen's all charged up over the idea of acting with Brad," and she's willing to put aside their past issues because "stepping into Angie's shoes" is the "sweetest revenge."
Gossip Cop investigated, and virtually ever detail in the tabloid's cover story is either wrong or made up. Here's what's true: Brad Pitt will be starring in a movie titled Ad Astra. Here's what's not true: Everything else.
An Aniston pal tells Gossip Cop she's 100 percent not co-starring in the film, and a source close to Jolie assures us she was never attached to the project either. Gossip Cop also checked in with a rep for Pitt, who exclusively confirms the tabloid's tale is "complete and total nonsense on every possible level." 

Gwen Stefani dumped Blake Shelton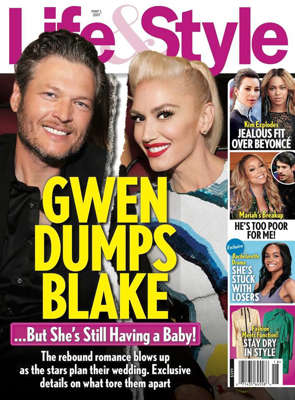 © Provided by Gossip Cop Gwen Stefani dumped Blake Shelton, reports Life & Style. Still, the publication notes, she's "having a baby." The magazine writes, "Unsure they can ever come to an agreement over big issues like kids and where to live, Gwen decided to pull the plug on her relationship with Blake." 

An insider tells the outlet, "Friends are saying it's over." The source continues, "Gwen and Blake had been on the fast track to marriage and babies, but all talk of getting married… has stopped. They just live two completely different lifestyles, and now it's humiliating for Gwen to admit that the relationship is done." Stefani is now planning to adopt on her own, adds Life & Style.
Fake news alert! It's all untrue. Stefani has no intention of dumping Shelton in the near future, despite the tabloid's claims. And no real "friends" of the couple are telling the gossip magazine that their relationship is "over."
Stefani's rep tells Gossip Cop the publication's story is "BS." Meanwhile, a second Stefani insider also assures us the claims are untrue. Of course, this is all coming from the same tabloid that Gossip Cop nailed several months when it falsely alleged the No Doubt was already pregnant with Shelton's child. 
Brad Pitt is "wasting away" after split from Angelina Jolie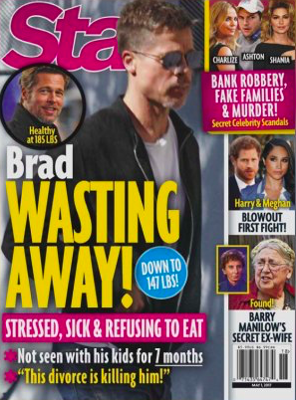 © Provided by Gossip Cop Brad Pitt is suffering from an eating disorder and "wasting away" following his split from Angelina Jolie, reveals Star. The publication reports claims Pitt's tumultuous divorce is taking a major toll on both his physical and mental health. 

An insider tells the magazine that Pitt is in a "very bad place" and "collapsing under the strain" of his broken marriage. The source further notes the stress caused by Pitt's breakup is "killing him," and he's barely eating or sleeping as a result. In fact, the outlet says the actor's weight has plummeted nearly 40 pounds since his split, and now even Jolie "fears he's caught in a dangerous downward spiral."
Gossip Cop, however, checked in with a mutual friend of ours and Pitt's, and we're told he does not have an "eating disorder" nor are those around him "concerned" about him having a health issue. Additionally, Pitt's rep exclusively assures Gossip Cop he's "totally fine," and the tabloid's claim is simply "false."
Divorces are inherently stressful, but the publication's assertion about him being ill is entirely inaccurate. And while the actor has appeared slightly more svelte as of late, his lighter frame is not at all due to a decline in his health. 
Katie Holmes and Jamie Foxx have a "wedding album"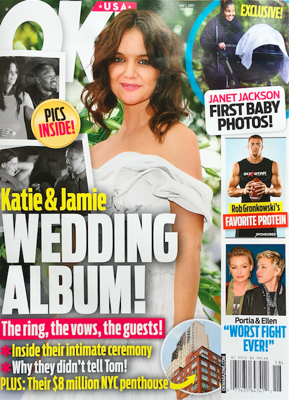 © Provided by Gossip Cop OK! boasts on its latest cover that it has Katie Holmes and Jamie Foxx's "wedding album" and details about "the ring, the vows, [and] the guests." The magazine, which features a photo of Holmes in a white dress, also reveals "why they didn't tell Tom [Cruise]" about their nuptials. 

Inside the publication, however, the outlet acknowledges Holmes and Foxx aren't married yet, but are "planning their wedding." The magazine notes the ceremony will take place in the Hamptons in October, Holmes will wear a dress by designer pal Zac Posen, and she and Foxx two will exchange rings from Cartier. As for guests, Eva Longoria and Robert Downey Jr. are among those who will make the 50-person cut.
Of course, the real reason neither Holmes nor Foxx has told Cruise about the upcoming nuptials, Gossip Cop has learned, is because there is no impending wedding. The details about the ceremony were made up by the tabloid, which has falsely alleged in the past that Holmes was marrying Foxx and already pregnant with his baby.
Tellingly, the magazine's invented pregnancy claim from five months ago isn't mentioned anywhere in this new cover story. Regardless, a rep for Foxx exclusively tells Gossip Cop, the tabloid's new article is "a complete fabrication." 
Jennifer Garner is going out of her way to flirt with Josh Duhamel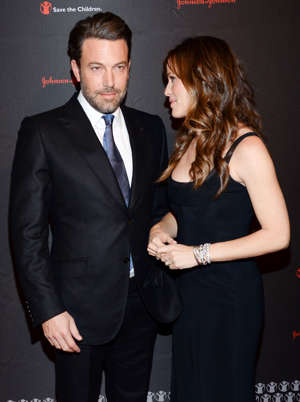 © Evan Agostini/Invision/AP Ben Affleck et Jennifer Garner Is Jennifer Garner going out of her way to flirt with Josh Duhamel on the set of their upcoming movie to make Ben Affleck jealous? That's what the National Enquirer is reporting. 

The publication reveals Garner and Duhamel have recently grown very close while filming Simon vs. the Homo Sapiens Agenda in Atlanta. As Gossip Cop reported, Garner and Affleck officially filed for divorce last week after separating nearly two years ago, and now a friend of hers tells the magazine, "Josh is exactly what Jen needs right now." The outlet's source goes on to say Duhamel is "making her see things in a whole new light," but Affleck is "insanely jealous, because Josh is even better looking than he is." The Enquirer's source further notes that Garner has started "ramping up her flirting with Josh" because she "gets a thrill out of making Ben jealous."
Really?
No. Gossip Cop fact-checked the claim, and we're exclusively told by a source close to Garner there's "no truth" to it. An Affleck confidante also says it's not true.
It should also be noted, Duhamel is happily married to Black Eyed Peas singer Fergie. Of course, the tabloid is not always trustworthy. Not too long ago, Gossip Cop busted the Enquirer for wrongly claiming Affleck and Garner were having a baby to save their marriage.

Celebs who went from rags to riches: