Why Hollywood Is the Land of Friendly Exes

E!
10/30/2020
Precisely five hours and 16 minutes after joining Instagram last October, Jennifer Aniston had reached 1 million followers. An impressive feat and a new record, besting none other than Prince Harry and Meghan Markle, but she was more focused on the ones that hadn't subscribed.
Because she had already double-tapped ex-husband Justin Theroux, one of 452 accounts she currently follows, it was easy to notice he hadn't responded in kind. "She actually texted me," the actor revealed to Entertainment Tonight. "She said, 'You haven't followed me,' and I said, 'Of course I followed you!' and she's like, 'No you haven't!" The Lady and the Tramp actor soon deduced that the mix-up was due to the crash Aniston caused when eager fans scrambled to see what she would add to the platform. "I realized I was one of the people caught in the glitch," he continued. "So I had followed, commented..."
And he did so again, his "Woot woot! #first" was meant to be tongue-in-cheek "because I was, like, the 40-trillionth-billionth person to comment," he told Access Hollywood, "and I think she had only been on a couple hours."
Celebrities Who Love Jennifer Aniston
He continued to comment on successive posts, including her recent Oct. 23 reminder to vote, so safe to say they really meant it when they said they looked forward "to continuing our cherished friendship."
With the entertainment industry's insular nature, navigating a relationship in Hollywood is a bit like dating a coworker. You're probably going to have to keep working together—and there's no HR department to intervene.
That's quite literally the case for many former pairs, movie and television sets being hot beds for romance and the most likely place for celebrities to meet a mate, right ahead of a publicist set-up. And while for most people, spending their days face-to-face with a person who just torpedoed their heart seems as traumatic as pulling off their fingernails, celebrities do it on the regular, often continuing an onscreen romance long after the love has fizzled IRL.
Penn Badgley noted on Watch What Happens Live in 2015 that after he and Gossip Girl paramour Blake Lively split they were "consummately professional, to be honest," as they continued to work together for another two years. "I think we should both pat ourselves on the back for getting through it—because, you know, anything is complicated in that way, and we handled it."
Kaley Cuoco and Johnny Galecki did more than just handle it. For some nine seasons after ending a two-year relationship that was so quiet no one really knew it was happening, the pair continued to act as partners, and then husband and wife, on Big Bang Theory.
The key, Galecki shared on The View, was "massive doses of mutual love and respect." Convincingly acting out a love that no longer exists isn't easy, he continued, "but with those two ingredients, pretty much anything is possible." Though the show has since wrapped, the two remain tight, Galecki even turning up at Cuoco's 2018 vows to Karl Cook. As he put it, "We're dear, dear friends."
Even if they're not actually coworkers, it's fairly inevitable that famous exes will cross paths at some point, except instead of it being at a coffee shop while wearing their rattiest sweats like us normals, it'll be on a red carpet with dozens of cameras trained on them to capture the moment. (Hi, Brad and Jen!)
And if they don't at least make the effort to say hello, everyone will be talking about how they avoided each other, so best to just engage in a bit of small talk and get on with it. At least they're dressed for the occasion.
Celeb Exes Who Worked Together After Breakups
And if the relationship progressed far enough along that kids were involved, well, that's another layer of careful communicating that Hollywood exes tend to ace. Gwyneth Paltrow and Chris Martin and Jennifer Garner and Ben Affleck are the gold standards, but there are plenty of others in their conscious uncoupling club.
Nothing like knowing the whole world is watching to motivate healthy coparenting.
"We said, 'We need to try to create something for the kids where they feel like they're gaining something rather than losing something,'" Kate Hudson told Allure in 2015 of continuing to hang—and even vacation—with former fiancé Matt Bellamy, dad to her middle child, 9-year-old Bingham. "Kids just want to see their parents be cool. Everybody's cool; everybody's good."
And perhaps that's part of it too. On the whole, celebrities tend to be a little more suave, a bit more urbane—or at least really good at acting that way. So in honor of National Text Your Ex Day Oct. 30 (a holiday you should likely skip unless you're really, truly on good terms) check out these stars who seamlessly made the transition from partner to pal with nary a headline suggesting otherwise.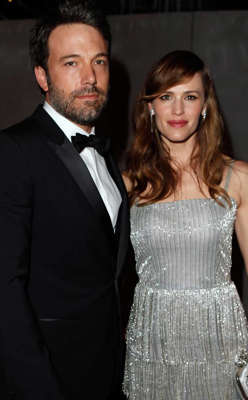 (Originally published Oct. 30, 2019, at 3 a.m. PT)