Willy Wonka star Diana Sowle passes away aged 88 with family by her side

Daily Mail
10/22/2018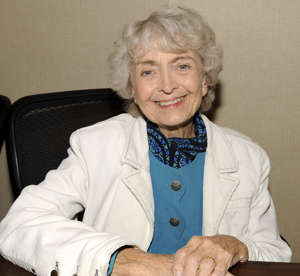 © Bobby Bank/WireImage/Getty Images Diana Sowle attends the Chiller Theatre Expo at Sheraton Parsippany Hotel on October 26, 2013 in Parsippany, New Jersey. Actress Diana Sowle sadly passed away in the early hours of Friday morning, at the age of 88. 
The star was best known for playing Mrs Helen Bucket, Charlie's mother in Willy Wonka And The Chocolate Factory. 
In a statement, her agent told various publications: 'It is with deep sadness that we announce the loss of beloved friend, family member and actress Diana Sowle at the age of 88.'
'Diana passed away in the early morning hours of Friday, October 19, with family by her side.' 
'She was a loving wife, mother, grandmother and friend, and will be dearly missed.'
The Willy Wonka movie is an adaptation of the 1964 novel Charlie and the Chocolate Factory by Roald Dahl.
After Gene Wilder died two years ago aged 83 following a secret battle with Alzheimer's, the cabbage-loving matriarch became the last surviving adult principle cast member of the movie.
Talking about the role to Media Mikes, Diana spoke about how she got her coveted role:
She said: 'Well I basically auditioned for it. My husband and I were living in Germany at the time. My husband worked for the government.
'I have been producing plays and we toured in what were known as the America houses. They are like cultural centres. 
'They were just finding out who was around in Germany. One day, I got a call-in to audition for it and that was it.' 
She also spoke about working with Gene Wilder in an interview with CTV News.
'We'd be working on a scene and having a lunch break and he would be coming in to film another scene, and he would join us on a lunch break and we'd have lunch. 
'He was so nice, he never acted like, "Oh I'm a bigger star than the rest of you", he was always friendly and courteous and funny and told nice stories. 
'He never bragged about himself at all and I'm very sorry he passed away because I think he was a great talent and was liked by many many people.' 
© Provided by Associated Newspapers Limited Cast of Willy Wonka: (L-R) Michael Bollner, Julie Dawn Cole, Peter Ostrum, Diana, Paris Themmen and Julie Dawn Cole at The Hollywood Show - Day 2 at Westin in LA on July 20, 2014 Diana's only other screen roles were in 1994, when she appeared in Clear and Present Danger and Guarding Tess.

She also gave her voice to the character Agatha in the 2008 video game Fallout 3.
Diana lived in Washington DC with her husband until he sadly passed away in 2013.
Related slideshow: Stars we've lost in 2018 (via Photo Services)