Anthony Bourdain talks about leap from Travel Channel to CNN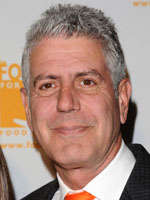 By Alexander C. Kaufman
TheWrap

Anthony Bourdain has opened up about his jump from the Travel Channel to CNN, saying the news network's resources and vast connections will expand his opportunities to eat in previously inaccessible places.

Bing: Anthony Bourdain vs. Paula Deen

His new show, as yet unnamed, will premiere in early 2013.

In an interview with Adweek, Bourdain said CNN will make places like Libya "doable."

"There are a lot of places where me and my team have been wanting to make television for a long time and haven't been able to," the "No Reservations" star said. "And CNN has the infrastructure and inclination to make those places doable."

Asked what countries he has struggled to gain access to before, Bourdain named Libya, where the Arab Spring uprising threw the nation into turmoil.

More:Sharon Osbourne's discrimination claim shot down by NBC

"Getting to do a show in, for instance, Libya would have been very difficult," he said. "We have contacts all over the world, but you've got to get there."

"When we finally got out of [the Lebanese capital] Beirut with my crew in 2006, an LCU [Landing Craft Utility troop transporter] comes in with the Marines and the door drops and the first person we see is [CNN correspondent] Barbara Starr -- you know, they're there."