AP PHOTOS: The many roles of Michael Clarke Duncan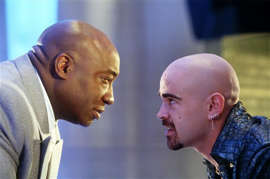 Michael Clarke Duncan, who died in a Los Angeles hospital Monday at age 54, played many roles in his life — on screen and off. His sheer physicality could be intimidating — that is, until he flashed that super-sized smile.

He played bodyguards and murderers, kingpins and nice guys. His large, husky voice brought gravitas to cartoon characters and heavies, action films and comedies.

In real life, he was a bodyguard, too — for such celebrities as Will Smith and Jamie Foxx. But he could also turn on the charm as an award-show presenter, reality-show participant and fiance of reality-show starlet Rev. Omarosa Manigault.

"Michael has left us far, far too soon," said Frank Darabont, who directed Duncan in "The Green Mile." ''We lost a great man and a great spirit today."