'Baggage Claim' should have been kept on the conveyor belt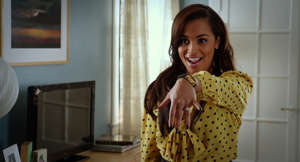 Paula Patton is an appealing enough performer that she deserves to be known as something more substantial than the United States' most prominent Miley Cyrus apologist. For this critic, the wafer-thin, amateurishly produced romantic comedy "Baggage Claim" is not the vehicle to change the lot of the actress also known as Mrs. Robin Thicke.

Written and directed by David E. Talbert, adapting his own novel (the busy fellow, whose work I have not seen before, strikes me from this piece as a more liberal Tyler Perry), "Baggage Claim" tells the tale of flight attendant Montana, whose multiply-married mom has filled her head with all sorts of dire notions of what will happen if she makes it to 30 without landing a husband. Within about a half hour of the movie's opening, Montana's sassy colleagues, gay white person Sam (Adam Brody) and sassy, wannabe-promiscuous, curvy African-American woman Gail (Jill Scott), have concocted the premise from which this movie derives its title: Montana will look up her varied ex-boyfriends via tracking their airline travels between Thanksgiving and Christmas. Sound silly? Of course it is. Sillier still is the fact that the guy who's perfect for her, who in this movie is actually named William Wright (Derek Luke), lives right across the hall from her. And so the audience is compelled to witness various meant-to-be-comic assignations with a rap-game playa/dawg (Trey Songz), a prissy politician (Taye Diggs), and one or two newbies, including a mogul played with exceptional Continental suavity by Djimon Hounsou, before she realizes who she really is and what she really wants.

Bing: More about Paula Patton | More on Taye Diggs

The proceedings are shot in a flat fashion likely to make a discerning cinephile long for the more rococo stylings of, oh, I don't know, "The Room." The rear-projection work (or variant thereof) in the car-interior scenes hearkens back to the technical wizardry of American cinema circa 1935, while the digital rain falling on Patton during a stranded-on-the-fire-escape comedic bit is special in an up-to-the-minute inept way. And so on. What the movie lacks in technical finesse it makes up for in ... well, very little. While "Baggage Claim" doesn't necessarily see itself as coasting on the appeal of its cast, which is stacked from top to bottom with at least appealing talent (heck, Ned Beatty even shows up for a bit), it is that cast that winds up making it anything like tolerable to watch. The closest the dialogue ever comes to wit is in the exchange "I don't trust black Republicans" countered with "Actually, I'm a Libertarian," and if that doesn't sound so hot, well, it's not, and it doesn't even come up until close to the end of the movie. I'm going to keep rooting for Ms. Patton, who proved herself highly game in a thankless role in the recent "Two Guns," and who, as we've seen in the media in recent weeks, is an all-around good sport.

Want more Movies? Be sure to like MSN Movies on Facebook and follow MSN Movies on Twitter.

Glenn Kenny is chief film critic for MSN Movies. He was the chief film critic for Premiere magazine from 1998 to 2007. He contributes to various publications and websites, and blogs at http://somecamerunning.typepad.com. He lives in Brooklyn.