Billie Joe Armstrong bouncing back for VMAs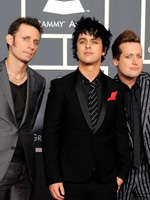 WENN

Green Day frontman Billie Joe Armstrong has bounced back from his recent health scare in time to perform at the MTV Video Music Awards on Thursday.

Bing:Green Day teams up with Angry Birds

The singer was hospitalized in Italy over the weekend with a mystery illness, which prompted the band to cancel a show in Bologna. He was subsequently discharged from the medical facility and flew back to Los Angeles.

More:Billie Joe Armstrong discharged from hospital in Italy

Speculation has mounted over whether Armstrong would be well enough to take part in the band's scheduled performance at the upcoming award show, but MTV has now confirmed the group is still planning to play and will attend a rehearsal on Wednesday night. A post on MTV.com reads, "(Green Day) will be in Los Angeles for their rehearsal on Wednesday and ... they are ready to plug in for the big show after a recent health scare for singer Billie Joe Armstrong." Other performers at the Staples Center show will include One Direction, Taylor Swift and Pink.